Updated 15.26
THE CURLS NO longer spilled from under his cap, a big change for Rory McIlroy.
Prompted to reveal the rest of his free haircut, he removed his hat and wild brown locks sprang to life.
"Still a little bit on the top," he said Wednesday with an easy smile.
Only then did McIlroy resemble the Boy Wonder who dominated golf last summer, starting with his win at the PGA Championship at Kiawah Island by a record margin. He didn't walk down the fairways that week, he bounced. He was No. 1 in the world, and looked every bit the part.
McIlroy would love to rediscover that kid at Oak Hill this week.
In its place is a 24-year-old from Northern Ireland who has reason to feel much older. He hasn't won a tournament, and only once did he even come close. He has finished over par in all three majors, with only two rounds at the British Open. He has failed to make the cut five times this year, which includes walking off the course in the Honda Classic with sore wisdom teeth that still haven't been removed.
Among betting favorites, he was second only to Tiger Woods at the Masters at 5-to-1. For the PGA Championship, the odds are 30-to-1, higher than two players (Henrik Stenson and Brandt Snedeker) who have never won a major.
And he can't wait to get to the first tee this afternoon.
Inspiration comes from videos he has been watching of his eight-shot win at Kiawah Island, along with his back-to-back FedEx Cup playoff wins against some of the strongest fields of the year. Some of what he noticed was technical, such as the position of his club in the swing. What really stood out was the body language.
"It's how you carry yourself. It's all that sort of stuff, your little mannerisms," McIlroy said. "I guess it's just trying to remember those feelings and remember how I felt that week and trying to carry some of that into this week and just get those good, positive thoughts going.
"I think everyone sees when I walk and I'm playing well, I have that little bounce in my step."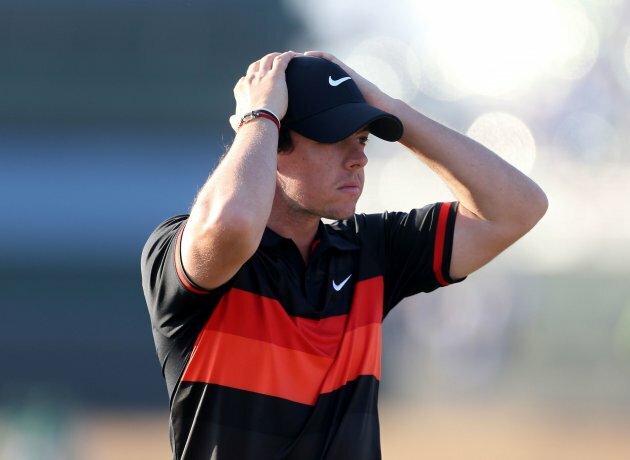 Peter Byrne/PA Wire/Press Association Images
What would go a lot longer at Oak Hill is keeping the ball in play on a traditional, tree-lined course — so many trees that even being in the fairway doesn't mean a clear shot at the green if the ball is slightly out of position. The greens are small and slope toward the front. Oak Hill is a hard golf course, and the evidence comes from the previous five majors held on this Donald Ross design — only 10 players in those five majors have finished under par.
"This may be the toughest golf course, but the fairest golf course that we play," said Tom Watson, playing this major for the 32nd time. "Somebody is going to win this thing, and that person is going to play awfully well, awfully good golf this week. Wish I could say that's me."
Watson was joking. Not so funny is that the way McIlroy's year has gone, there isn't much reason to believe it could be him, either.
Most of the attention is on Woods, even though he has gone five years and 17 majors without winning one. Woods won the Bridgestone Invitational last week by seven shots, sparked by a 61 in the second round that tied his personal best. That gave Woods five wins this year, which is five more than McIlroy.
Phil Mickelson opened with a 65 in 2003 the last time the PGA Championship was played at Oak Hill until fading badly in one of his worst seasons as a pro. He is coming off an astounding win at the British Open, where his 66 in the final round is regarded as one of the best closing rounds in a major. If he could pick off another PGA Championship, Mickelson would be a shoo-in as PGA Tour player of the year, an award he has never won.
McIlroy, meanwhile, has been largely forgotten through ordinary play and endless questions about a season gone wrong from his opening tournament when he missed the cut in Abu Dhabi. Some of his troubles have been attributed to a wholesale equipment change, others to his decision to change management companies.
Chipping away
McIlroy said his switch to Nike is no longer an excuse, not with 15 tournaments under his belt. He says it has taken longer than usual to work his way out of bad habits.
"I guess every time you play and you don't play well, it sort of chips away at your confidence a little bit," he said.
McIlroy has gone through this before. Only a year ago, he had gone five months without a win and missed the cut in four out of five tournaments. With a spark at Firestone, he showed up at Kiawah Island and overwhelmed the strongest field in golf in ways only Woods used to do.
"I love proving people wrong," McIlroy said.
Ian Poulter's advice was everyone to "give him a break."
Poulter tied for third — by nine shots — last year at Kiawah Island and has watched the fall of a kid who looked one year ago that he would be on top of golf for a long time. Now it's back to Woods and Mickelson at Nos. 1 and 2 in the world, with the kid trying to claw his way back.
"I think sometimes we forget how young he is and what he's been able to achieve at a very early age," Poulter said. "So the second he feels comfortable again, whether that's with his swing or equipment or whatever it is, then Rory will be winning golf tournaments. That natural swing of his doesn't just disappear overnight."
Despite all the scrutiny — on everything from his new equipment to new management, to girlfriend Caroline Wozniacki and moving from Northern Ireland to south Florida — McIlroy hasn't dodged the questions for which he has no tangible answers.
"I'd definitely rather be up here talking about more positive things, but I guess that's the way it is," McIlroy said. "Should you lay off me? That's not for me to decide. I'm here and I'm answering your questions and that's all I can do. As I said, it would be nicer just to sit up here, talk about some more positive things. But the way the year's gone, it's understandable why I'm not."
First published at 13.59