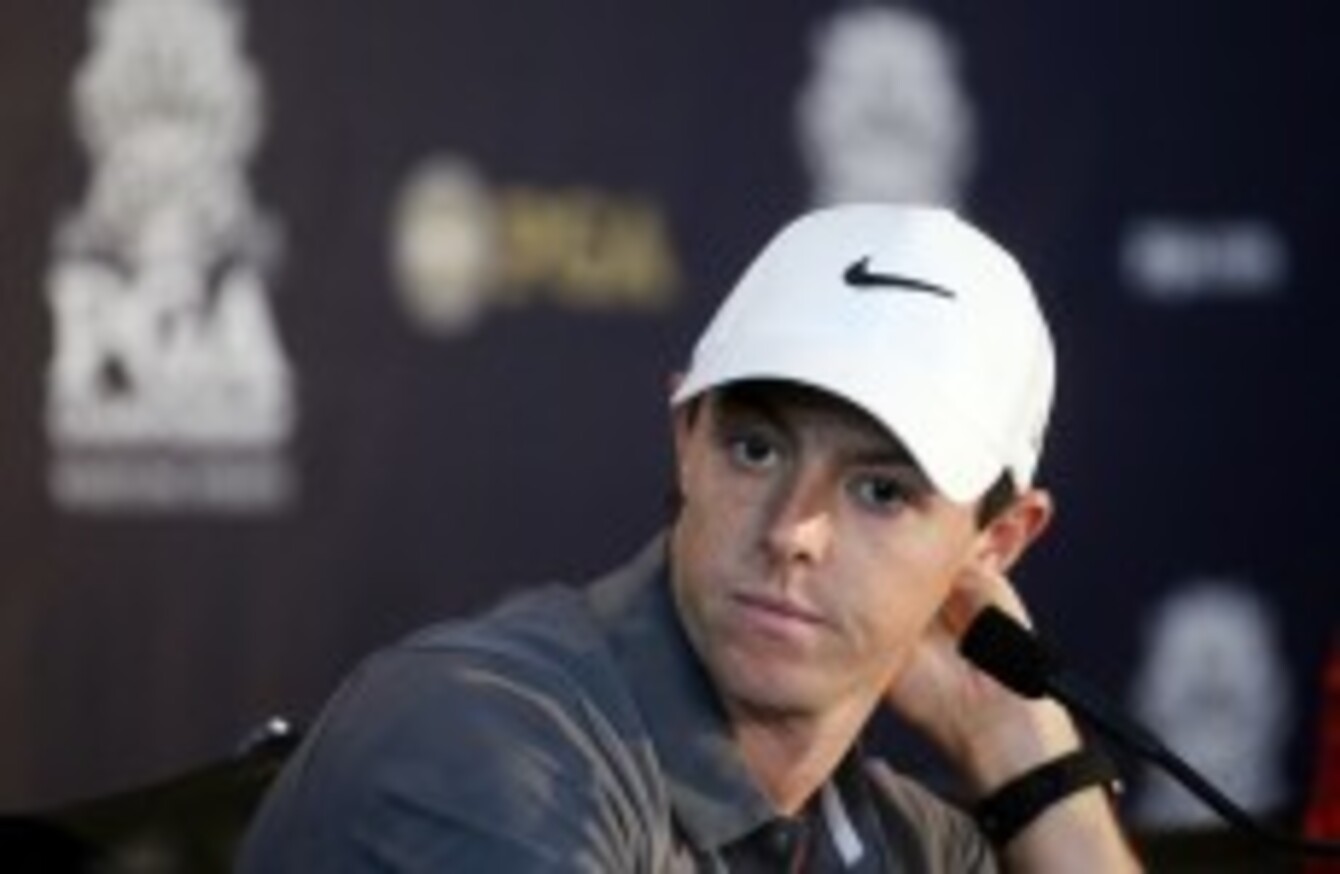 Rory McIlroy answers a question at a news conference before a practice round for the PGA Championship golf tournament.
Image: AP/Press Association Images
Rory McIlroy answers a question at a news conference before a practice round for the PGA Championship golf tournament.
Image: AP/Press Association Images
WORLD NUMBER ONE Rory McIlroy expects to be in the mix this week as he defends his PGA Championship crown after a five-week injury absence.
"Expectation levels are the same," the 26-year-old Northern Ireland star said Wednesday on the eve of the championship at Whistling Straits.
"I have played quite a number of rounds of golf. I've been practicing for over three weeks getting my game ready, getting my game sharp.
"I expect to play well. I don't see any reason why I can't bring the sort of form that I've shown in practice rounds and on the range to the tee on Thursday afternoon."
McIlroy admitted he feared the worst when he hurt his left ankle playing football with friends on July 4.
"I thought I broke it, because as soon as I went over on it I heard like a snap," said McIlroy, who in fact ruptured his anterior talofibular ligament, one of three ligaments that stabilize the outside of the ankle.
"As well as that, I tore the joint capsule. I looked down and 30 seconds later it got the size of a tennis ball, basically because all the fluid came out of the joint capsule."
McIlroy also suffered a partial tear of another ligament, but says he was ultimately "lucky" that the damage wasn't worse.
Although the ruptured ligament "is basically just scar tissue now" he believes strengthening exercises can maintain the integrity of the joint for the rest of his career.
"It's really not anything to be concerned about in the long-term," he said.
McIlroy will tee it up on Thursday just 40 days after he was hurt, having missed title defences at the British Open and the World Golf Championships Bridgestone Invitational.
It's a quick turnaround after an injury some experts said would need six weeks of rehab at least, but McIlroy said the constant treatment he was able to receive made that possible.
While still in a walking boot he practiced putting to keep the feel in his hands.
By the time of the British Open at St. Andrews he was walking regularly, and now he's running and playing golf without pain or swelling.
"I played 72 holes walking in Portugal last week, and once I completed that, that was basically like my fitness test," he said. "Four days in a row, 72 holes, playing with no pain, no swelling, no anything like that.
"Then we knew that, OK, you're ready to go."
McIlroy won't be easing back into the game.
He's paired in the first two rounds with Open champion Zach Johnson and Jordan Spieth, the breakout American star who won the Masters and US Open.
Spieth has been closing in on McIlroy's number one ranking for weeks, and again has a chance to supplant him.
"I knew I wasn't going to have a low key return to the game, and this definitely isn't," he said.
McIlroy's four major titles include two PGA Championship victories. He also won the final major of the year in 2012.
- Sense of perspective -
He said missing his British Open title defence at St. Andrews wasn't as hard as he expected it to be.
"It gave me a huge sense of perspective," he said of his forced absence. "When you're playing week in, week out and you're thinking about winning these tournaments, you get so wrapped up in what you're doing and your own little life and your own little bubble, sometimes you forget there's a bigger wider world out there.
"In the big scheme of things, it's not life or death."
With that in mind, McIlroy isn't about to give up his friendly kick-arounds for fear of a career-changing injury.
"I might take some precautionary measures next time," he conceded, saying he might don ankle braces. "But apart from that, I'm not going to stop doing what I do."
– First published 21.27, 12 August