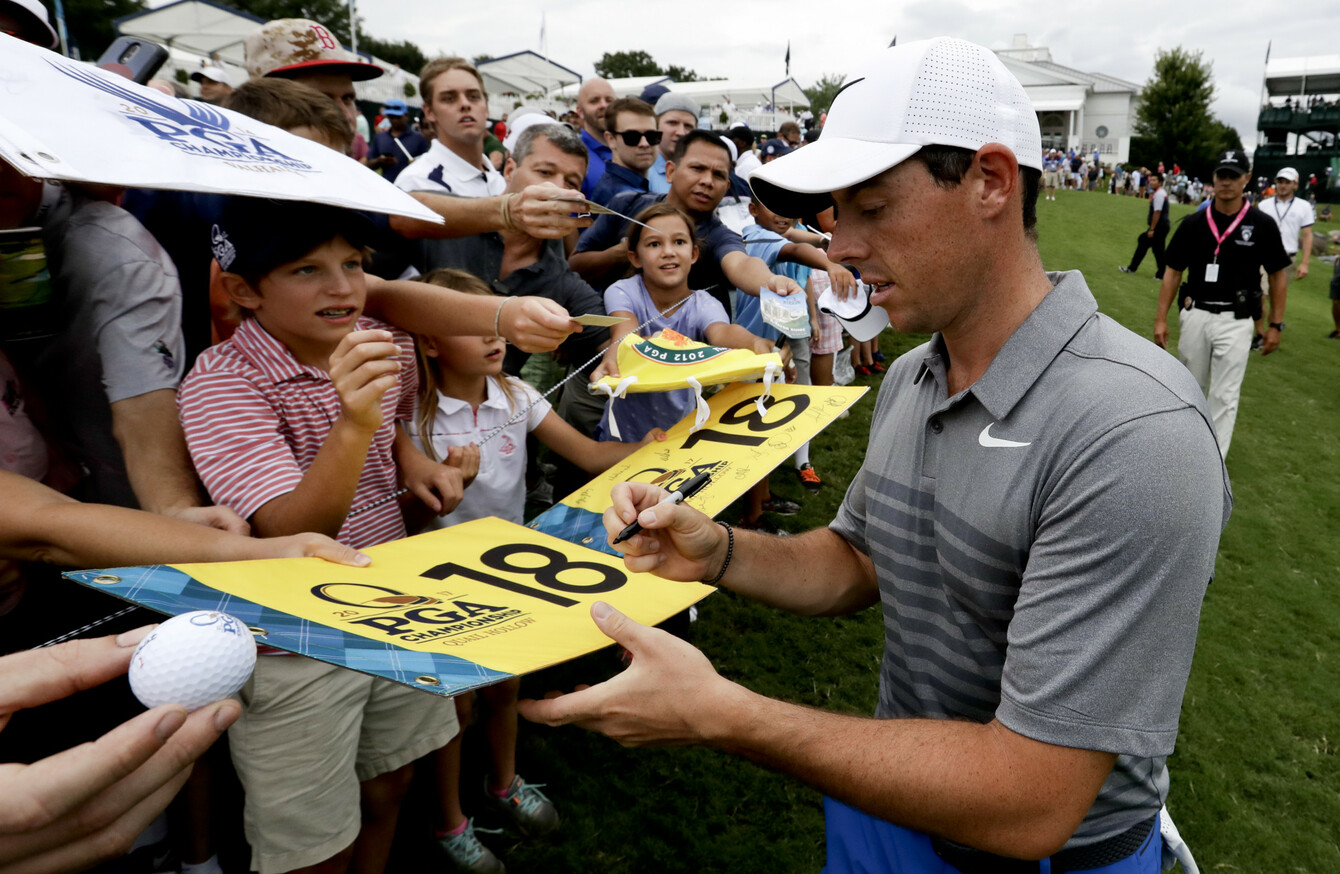 McIroy following a practice round yesterday.
Image: Chris Carlson
McIroy following a practice round yesterday.
Image: Chris Carlson
RORY MCILROY SAYS he has nothing to prove this week as he chases his first major title in three years on a Quail Hollow layout where he has two wins and the course record.
The world number four will be a favorite when the 99th PGA Championship tees off Thursday even though the 28-year-old from Northern Ireland hasn't won since last September's US PGA Tour Championship.
"I'm not putting that much pressure on myself. I don't feel like I need to prove anything to anyone," McIlroy said Tuesday. "I never lost faith. I've always believed in my own abilities. I still do."
It was a contrast from how four-time major winner McIlroy felt in 2015, when he fired a third-round 71 to break his own course record on the way to victory while world number one, saying he needed to show how well he could play.
"I definitely don't want to be in the mind-set this week of wanting to make any type of statement or go out and prove myself. I'm past that point," McIlroy said. "I've proven myself enough over the last nine years of my career.
"Obviously I wouldn't have won as much as I would have liked this year, and there's been a few components to that, injury-wise, changing equipment and stuff. It has been a bit of a transitional year. But I feel like everything has settled. I just want to go out and play my game and hopefully that will be good enough."
McIlroy, the 2012 and 2014 PGA Championship winner who also took the 2011 US Open and 2014 British Open, could become only the third player to win five majors before turning 30, joining Jack Nicklaus and Tiger Woods.
It won't hurt that he has played well in majors in wet conditions, which are expected this week, and that he has a comfort zone with Quail Hollow despite changes to toughen the opening third of the course.
"You don't really have to have your best game and you still feel like you have a chance to win — that's sort of how it feels here," McIlroy said.
"For the most part, 15 of the 18 holes are the same. I just feel good around here. I don't know what it is. I've got some great memories. Once you go back to a place where you have great memories, all that starts to come flooding back to you and it makes you feel good about yourself. That's sort of how I feel around here."
McIlroy admits he has been looking forward to this major since it was announced.
"This has been a week I've been looking forward to for a long time," he said. "I'm glad I'm showing up for this week feeling like my game is in good shape as well."
A poor start doomed his fightback bid at the British Open, but he still shared fourth at Royal Birkdale and followed by sharing fifth at last week's WGC Bridgestone in Akron.
"My form is better coming into this event than it was going into the Open," McIlroy said. "I'm coming off the back of a couple of top-5s. Things are a bit different than they were a couple of weeks ago."
McIlroy trades in a wedge for a 3-iron in his bag this week and the man carrying it will be pal Harry Diamond after his split with long-time caddie JP Fitzgerald. Last week was a test for the new combination.
"We had a good warm-up last week at Akron. It was good for both of us," McIlroy said.
"It's all about chemistry and it's all about how you get along. That's why, for at least these two weeks, I wanted to have someone that I knew beside me and didn't have to get to know them and there wasn't that awkward spell. Last week I really enjoyed myself with Harry."
Plenty of people have made pitches to be McIlroy's new bagman.
"We've been inundated with people wanting to have a chance to carry the bag," McIlroy said. "But I can't really think about that until I have a week off."
The42 is on Instagram! Tap the button below on your phone to follow us!