TIGER WOODS IS still chasing Jack Nicklaus even as he finds more to life than competition, while red-hot Rory McIlroy is content to enjoy each victory as it comes.
Both stars tee off at Valhalla in the 96th PGA Championship next Thursday with very different momentum behind them.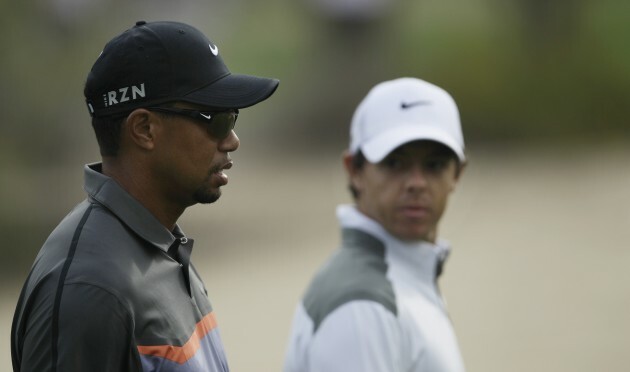 AP / Press Association Images Tiger and Rory at the Dubai Desert Classic in January. AP / Press Association Images / Press Association Images
McIlroy claimed his third major title at The Open Championship following a breakup with tennis-star fiancee Caroline Wozniacki in May while Woods, who missed three months after back surgery, shared 69th at Royal Liverpool in his worst 72-hole professional showing in a major.
McIlroy, 25, needs only win the Masters to complete a career Grand Slam after also taking the 2011 US Open and 2012 PGA.
Former world number one Woods, a 14-time major winner chasing the record 18 majors won by Jack Nicklaus, has not won a major title since the 2008 US Open.
Woods, who won his first major at age 21 at the 1997 Masters, is now 38 — the age at which Nicklaus won his 15th major. Although his pursuit has been stalled, Woods says breaking the record remains as important a goal as ever.
"I'll tell you what, it's a hell of a lot closer now than I was in '97," Woods said. "These 14 weren't easy. I've passed a lot of people on the way to get to this point. You look at the who's who and the history of the game and the fact there's only one person ahead of me, it's not too bad."
McIlroy, however, says topping Nicklaus has never been his goal the way it was for the California son of a military dad who was swinging a golf club on television at age two.
"It's not something I ever thought about or dreamed of," McIlroy said. "The next number in my head is four. I've won three of them. I'd like to win my fourth and that's it, just try and keep going like that, one after the other.
"You need goals, but obviously that's too much of a long-term goal. I don't want to put that pressure on myself. I don't want to put that burden of a number to try and attain."
Comparisons to legends has not been a priority for McIlroy.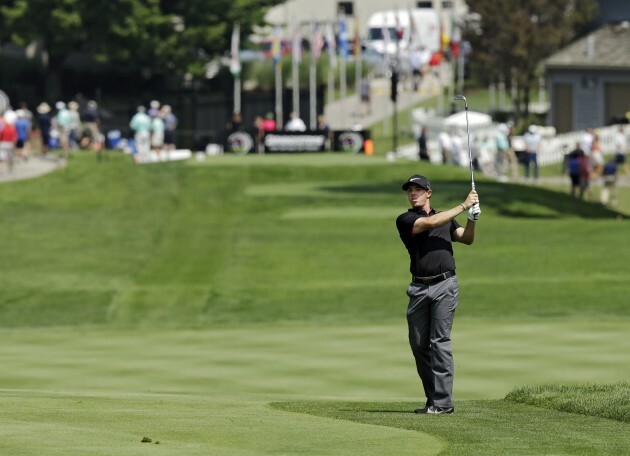 AP / Press Association Images AP / Press Association Images / Press Association Images
"I know how many majors the greats of the game have won but I never wanted to compare myself," McIlroy said. "At least at the end of my career, there's not going to be a disappointment.
"'Oh, I wanted to get to 15, but I only got 12, bummer.' I just don't want to end my career like that. I'd love to end my career with 12 majors, but I don't want it to be a disappointment."
Majors vs. normal life
In the days after the British Open, McIlroy shared the Claret Jug with some Belfast buddies, Woods went on vacation with his children and ski-star girlfriend Lindsey Vonn and Nicklaus praised both of them.
He predicted Woods "will be back and do pretty good," and said he belives McIlroy "is going to win a lot of major championships."
"Some players want to live a normal life and others decide records are important and want to leave a legacy," Nicklaus said. "Whichever direction Rory heads, he will be successful."
One under par after a solid but unspectacular opening round at the Bridgestone invitational yesterday, McIlroy hungers for majors.
"My life since I was 10 was golf. It's just waking up every morning with that drive to want to get better and be the best," he said. "That's my main objective and my main focus."
But that single mindedness could give way to a more normal life.
"I didn't grow up wanting to lead a normal life. I grew up wanting to win major championships," he said.
"I think you can still do both. You can still have the drive and the dedication to try to become one of the best players ever and still lead a relatively normal life."
Woods became the largest endorsement figure in sport at the peak of "Tiger-mania" but he has not won a major title since his infamous sex scandal that led to a divorce.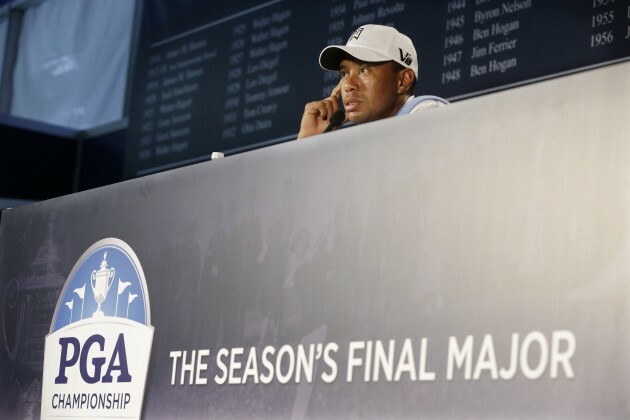 Charlie Neibergall Charlie Neibergall
Last week, when Woods once might have worked to improve his form ahead of Valhalla, he relaxed with his children and Vonn.
"That to me is so much more enjoyable than what I used to do," Woods said.
Such joys might keep Woods from catching Nicklaus, but there might be greater satisfaction found elsewhere despite his competitive nature.
"I love competing. The satisfaction of that, it does feel good. I haven't lost that," Woods said. "I've got a little five-year-old right now that is really pushing me pretty hard. He wants to beat me in everything. And that said, I was able to kick his butt in putt-putt."