EVERYONE IN PEARSE Stadium on Sunday and watching at home was treated to a record.
Not a record most teams will want or fans want to see, but a record nonetheless.
In over 180 championship games that I have analysed, Galway and Roscommon combined for the the highest count of hand passes that I have recorded: 474.
We've yet to break the 500 mark, but that can't be too far away.
Defending in numbers
When you look at the graph below you would be hard pressed to see when the defensive revolution began. The orange line tracks the average points per game across the last 60+ years.
Despite all the tactical changes in the game, sweepers and defensive systems have not put a dent in the number of scores we are seeing in a game.
As Tomas Ó Sé said during the week, "Blanket defence isn't just about numbers. It is about management of space." Unfortunately teams still think defending is a numbers game.
Roscommon retreated, got men behind the ball, but too often didn't manage the space well enough and even in the first half, playing with a strong wind at their backs, they failed to create more opportunities than Galway.
In the third minute we had an example of Roscommon getting the bodies in place without creating pressure or limiting space.
Galway win their own kickout and after a slow build-up, end up with the ball at the Roscommon 65; Roscommon have nine players across the line.
This is defending in numbers – but what about the skill of defending?  These nine Roscommon players seem happy to watch Galway play the ball back and forth across half-way but where is the pressure?
They never lay a glove on any Galway player. Galway play the ball back and forth looking for a moment to attack.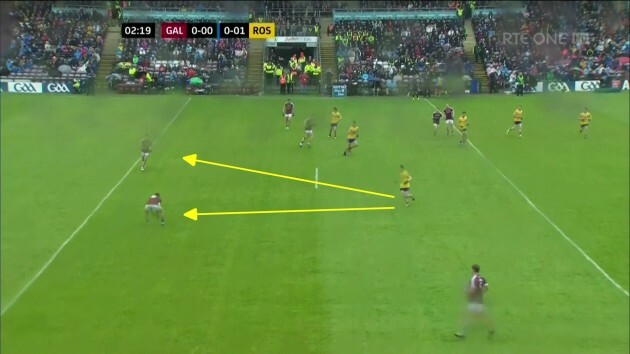 When the ball reaches Gareth Bradshaw, Roscommon's Ciaran Murtagh has a decision to make. He hasn't pushed up to put any pressure on, now he can see that he is facing a 2 v 1 situation. The worst thing to do here is get caught in no man's land – either push up or drop off.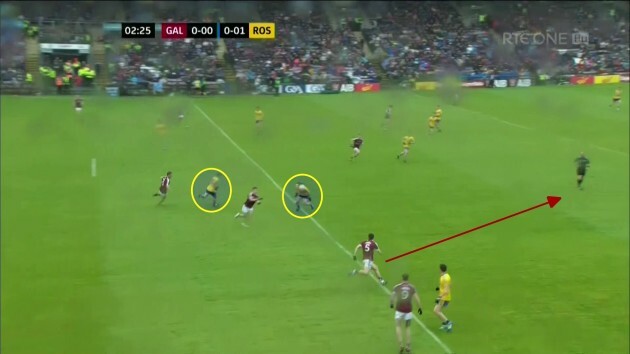 Galway complete some nice interplay but the Roscommon defenders are caught between two stools and the space left behind them is hard to believe considering there were nine Roscommon players along the line just a few moments ago.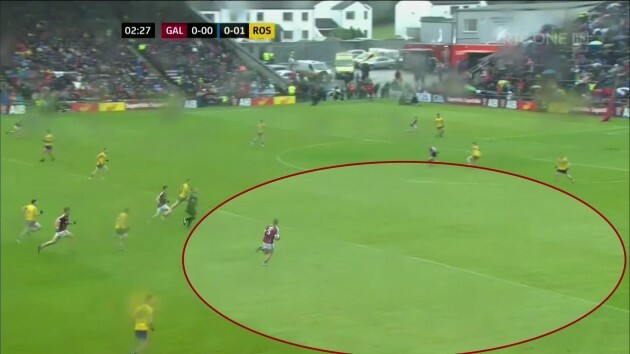 Galway create their first score of the game from this move and the signs weren't great for Roscommon.
Later in the same half, we see an almost identical situation. Galway win their own kickout and 50 seconds later, they have the ball on their own 65. Every Roscommon player is inside their own half at this stage.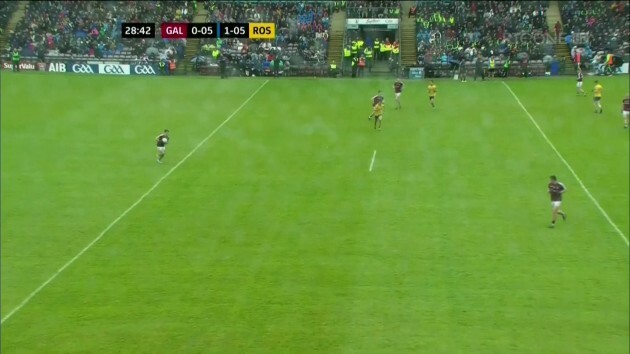 This shouldn't be a difficult situation to defend. It's not a quick transition from defence to attack — you couldn't have more defenders in place — but still Galway find it too easy.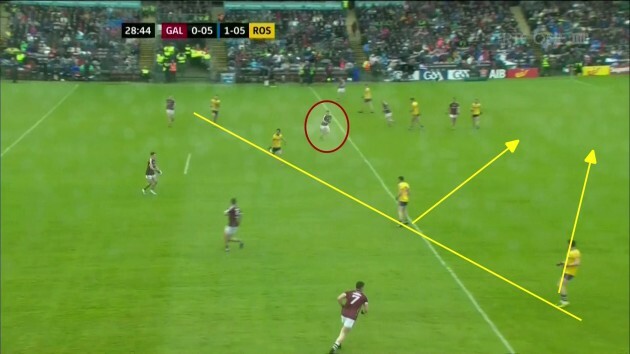 Roscommon have a line of defenders across the 65, seven in total, yet nobody is aware of the run made by Johnny Heaney. Everyone is either preoccupied with their own man or the ball. Where is the awareness of the danger or the space where he is headed?
If you're not putting pressure on the ball, you have to leave no space behind you, but again Roscommon do neither — no pressure on the ball and unaware of the space behind them.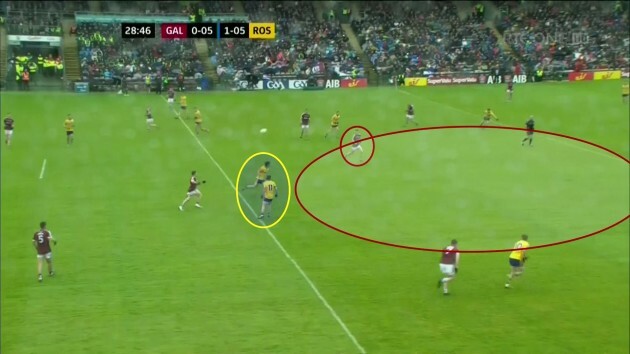 Two Roscommon players move towards the ball without affecting anything and leave a giant hole behind them. However, while this pass takes out four players, there still should be 10 outfielders ready to pounce; instead Heaney kicks a lovely point without any fuss.
The sweeper has a decision to make once the first Roscommon line is broken. This decision should be based on team instructions. Is the sweeper's primary role to stop goals or does he have license to push out here? He has time to go and meet Heaney and put in a tackle — but maybe he's concerned about the threat inside and needs to drop back?
When the shot is taken, we have another Roscommon defender caught between two stools. He hasn't pushed up to stop the runner and hasn't dropped to protect a ball inside.
Despite having all the numbers they could need, Roscommon too often didn't manage the time and space well enough.
Galway Pressure
Galway did change tactics in the second half by pushing up a bit more on the Roscommon kickouts, but when they lost possession, they retreated back to their own 45. Dropping to your own 45 obviously limits the type of space we saw above from Roscommon who held the line on their 65.
As in the Mayo game, Galway can be very happy with their defensive shape. Roscommon had 300+ hand passes in the game, a sign of their slow build-up play but also an indication of how well organised Galway were.
Because of how compact Galway are, it allows them to squeeze the space between the lines very well. Even when Roscommon could see space to kick if forward, which was rare, their forwards were immediately closed down.
Exclusive Six
Nations Analysis
Get Murray Kinsella's exclusive analysis of Ireland's Six Nations campaign this spring
Become a Member
It takes great concentration and commitment to constantly be aware of what's behind you. Galway have been brilliant at this for two games in a row and if they keep it up, they will be hard to get a big score against.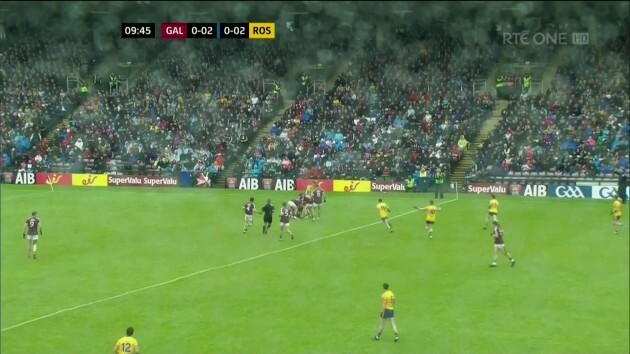 By the time Colin Compton fouls the ball, there are four Galway players waiting to dispossess him.
Cathal Cregg was one of the few Roscommon players to try and inject some pace in their attacks but often he was met with a wall of Galway defenders.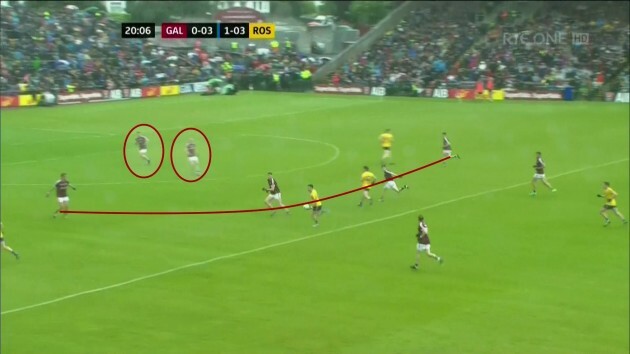 Galway's defenders don't try and win the ball most of the time. They are happy to be patient and force Roscommon wide, where in this case they take a wild shot. They have a nice ring of defenders around the D and two spare defenders inside.
At most times in the game Galway had at least two, if not more, spare men inside. It is a different defensive strategy to Roscommon but Galway were better at restricting time and space for Roscommon.
Game Management
There were three key passages of play in the last few minutes where Galway will look back and be a bit disappointed.
With two points between the sides, Galway won a free-kick. They had gone short with most kickouts but finally, with game in the balance, Roscommon push up. They win the ball and get the score, cutting the gap to one.
As a warning to those who say 'you have to push up on kickouts', here is the danger that comes with that. The very next kickout bypasses most Roscommon players and within a couple of passes, Galway have this in front of them.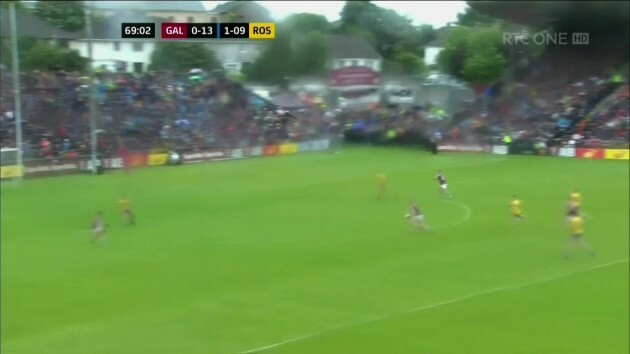 Excuse the rain drops but, leading by point, when they look at this image Galway will be really disappointed they didn't close the game out. They fail to convert and from the following attack, they commit a very scoreable free.
Roscommon will certainly feel the happier with a draw. Galway, perhaps unfamiliar with such a big prize at stake, just failed to manage the game in those last few minutes.
Galway will feel like the team with the least to change. Their defensive shape looks solid and Cummins and Walsh showed their skill going forward.
But Roscommon are a Division 1 team and will have a big performance in them at some stage.
The42 is on Snapchat! Tap the button below on your phone to add!