THEY HAVE ALREADY slayed the big ogre, now all Roscrea has to do is kill a slightly smaller but no less angry behemoth.
Nobody gave Roscrea a chance of upsetting a Blackrock freight train en route for a three-in-row when they played in the quarter-final of the Leinster Schools Senior Cup back in February but a late try from prop Dylan Murphy snatched a historic win for the underdogs.
Roscrea had only beaten Blackrock one other time in cup competition but that victory – plus an impressive semi-final replay win over an exciting Newbridge side – indicates that the Offaly school are ready to take the senior cup trophy back home for the first time in their history.
Belvedere stand in their way, looking to win their 11th title which would put them second on the all-time list. Both finalists have one huge scalp on their CV – Roscrea have Rock and Belvo upset Clongowes – but the bookies don't see it as an even game.
You could have backed Roscrea at the tempting odds of 3/1 and their South African coach, Pieter Swanepoel, thinks the public are underestimating his team.
"I certainly am," Swanepoel said when asked if he was surprised that Roscrea were such big underdogs.
"We haven't been given the respect we deserve. We beat Blackrock who were one of the favourites and I don't really understand why we are such big underdogs to be honest. It is definitely something that we could bring up [before the game]. At this point it is about turning all the negatives into positives."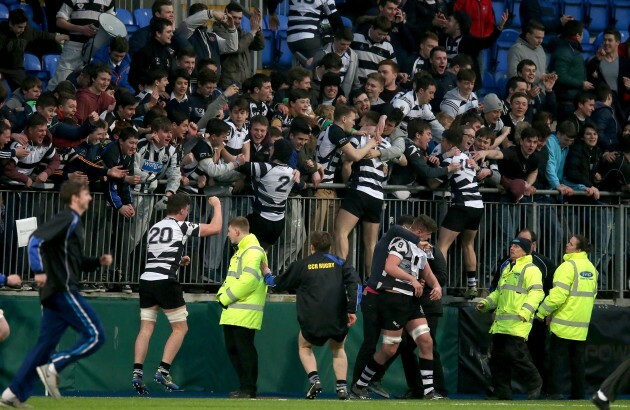 Ryan Byrne / INPHO There were fantastic scenes after Roscrea ousted Blackrock. Ryan Byrne / INPHO / INPHO
Swanepoel started coaching at Roscrea back in 2007 and was in charge of the junior cup team until this season – he laughed that his first year running the senior team 'hasn't been too bad so far'.
His says the pre-season ambition was to win the senior league – the pre-cup tournament played by the schools outside the traditional 'big six' – but Newbridge pipped them by a point in the final.
That left the big show as the only tournament in town, and Roscrea needed to beat a very talented Blackrock side to advance to the final four.
Whenever the two sides have met in recent years, the fans have been winners as well as the eventual victors. In 2013, Blackrock hauled back a rampant Roscrea side with two late tries on the way to an eventual senior cup win but this year the opposite occured as Roscrea eked out a 17-14 victory at the death.
"It was unbelievable," Swanepoel said.
"Before the cup all the talk was about Blackrock and St Michaels, nobody else was given a chance. We knew we had to come out all guns blazing because we would only have one chance to beat them. It was only the second time the school has ever beaten Blackrock so it was pretty special."
Even if you haven't had a chance to catch a Roscrea game in the run-up to today's final, you will be able to pick out number eight Dan Trayers pretty quickly. The bulldozing back row attracts a stream of defenders whenever he sets off on one of his marauding runs and his huge frame makes him almost impossible to stop.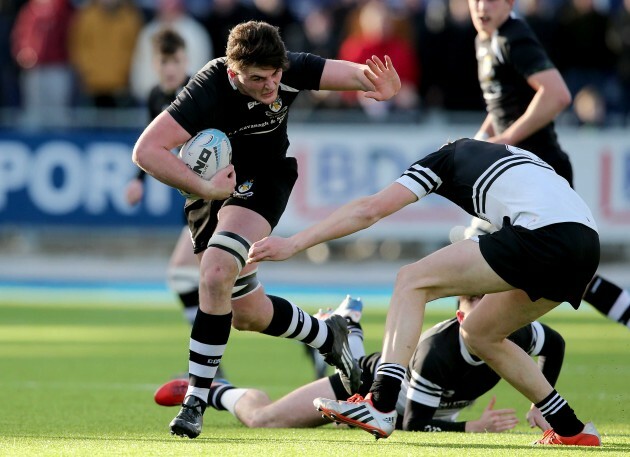 Ryan Byrne / INPHO Trayers has been one of the stars of the cup so far. Ryan Byrne / INPHO / INPHO
His coach is able to contextualise his power for us.
"He is a strong boy, he can bench press 130kg," Swanepoel said.
"He is one of those guys that everyone loves to see play. Going forward with the ball in hand he is great and he is a very strong defender too."
Roscrea have tried four times to win a Leinster Schools Senior Cup final (1910, 1941, 1999 and 2011) and four times they have failed. This is arguably their best chance and while they face a formidable Belvedere side whose tigerish tackling is reminiscent of a professional defensive scheme, Swanepoel is bullish about his team's chances.
"We are in the final but competing is nothing, winning is the important thing," Swanepoel said.
"We need to change history. It is great for a small school to reach a final but all the coaches have worked really hard to prepare the team."
The Leinster Schools Senior Cup final takes place in the RDS today at 4pm.