LAST UPDATE | Feb 8th 2023, 8:31 AM
ROSS BYRNE PICKED up in Cardiff on Saturday where he left off at the Aviva in the autumn, making a key contribution to Ireland's cause as he steered Andy Farrell's side towards their bonus-point score against Wales.
They were vastly different circumstances, obviously: in November, Byrne was brought into the fold only four days before he kicked the winning points against Australia. This time around, he has been part of Farrell's squad since they first met up to map out their Six Nations campaign.
The extra few weeks' integration were plain to see as Byrne combined with many of his fellow replacements at the Principality Stadium to replicate some of Ireland's earlier fluidity, all of which resulted in Josh van der Flier's crucial fourth try — and almost yielded a fifth by way of Mack Hansen.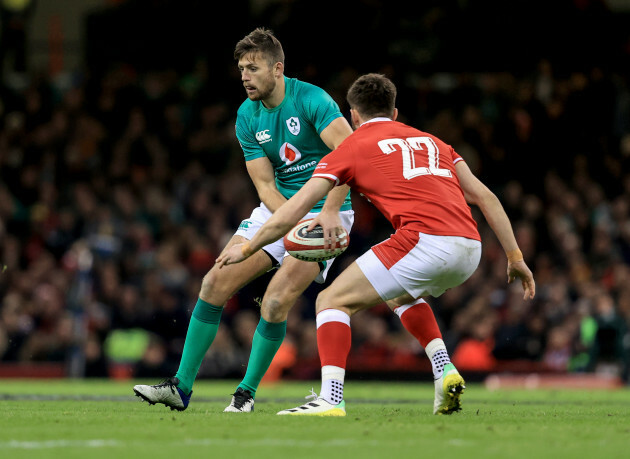 Dan Sheridan / INPHO Dan Sheridan / INPHO / INPHO
Momentum generated in the saddle with Leinster and those added reps in Ireland camp have helped Byrne to not only properly reintegrate into the national-team setup but to take pole position as Ireland's second-choice out-half behind his skipper in both blue and green.
"It's great to be in from the start," Byrne says. "November was very different, pretty last-minute you could say. Whereas to be in from the start now, to get full preparation and see how the whole environment works and know the plan inside out, that's been brilliant.
"As a 10, you just want clarity. To be in from the start, you get that straight away."
Winning the race — for the moment, at least — for the 22 shirt is evidence of how Byrne has been able to translate his excellent provincial form to the training pitch with Ireland.
Whereas the transition from elite-level club rugby to the international stage is typically described as being a leap, Byrne feels the two as being only "slightly different".
"But I suppose one of the benefits of having so many Leinster lads is that there are so many familiar faces around," he says. "When you are playing, you're used to playing with these lads week in and week out. That makes a big difference."
The 27-year-old Dubliner laughs, though, at outside depictions of this Ireland team as being ostensibly Leinster in green jerseys. "Yeah, there's a bit more to it than that!
Like, Leinster have the majority of players in the squad but it's definitely not just a Leinster team. I think you see that from the individuals but also how we play, there are some subtle differences as well.
"I can't give away trade secrets," Byrne smiles when asked the natural follow-up question.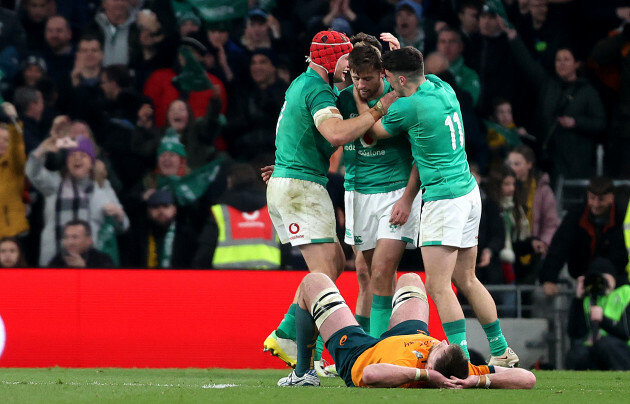 Bryan Keane / INPHO Byrne's teammates celebrate with him after Ireland beat Australia in November. Bryan Keane / INPHO / INPHO
Zooming in, then, on the difference between his couple of years outside of Ireland fold versus now, when he's clearly seen as integral, the mind wanders back to that kick against the Wallabies.
Nobody was especially surprised to see Byrne bisect the sticks that November night: he's one of the best kickers of a ball in the game, he's done it on the biggest stage for Leinster more often than virtually any other out-half not named Johnny Sexton, and his temperament is probably the aspect of his game which has been questioned least since he his days playing schools ball with St Michael's.
Equally, he's playing career-best rugby with Leinster on an almost weekly basis, and it could be easily argued that he would warranted inclusion in Farrell's Six Nations squad even if he had missed out on November entirely.
From the outside looking in, though, it's difficult not to interpret that weighty moment against Australia as a turning point in Ross Byrne's career arc. So, did it feel like one?
"It was probably a turning point for all of you," Byrne laughs, ribbing the Irish rugby media.
As for whether he felt the media had undervalued his overall ability during those years when it seemed his Ireland turn might not come, Byrne says almost as much with a wry smile and a shrug of his shoulders as he does with his words. Almost.
"Everyone's entitled to their own opinions. Maybe they did. I'm sure you know better than me."
He's doubtful, though, that his winning kick against Australia especially swayed Andy Farrell one way or the other.
I don't think so. As in, we've had conversations when I haven't been in the squad and he's given me little work-ons to do and I've been trying to implement those as best as possible. I've probably done that a lot more this season that I've done in the past.
"I think I've improved. A lot of that comes with experience and some of the coaches I've had as well. But it's probably just little things and it's not been one big fix. Obviously my strengths as well, it's trying to improve that. Because what you're good at, you've got to make sure you keep improving that as well."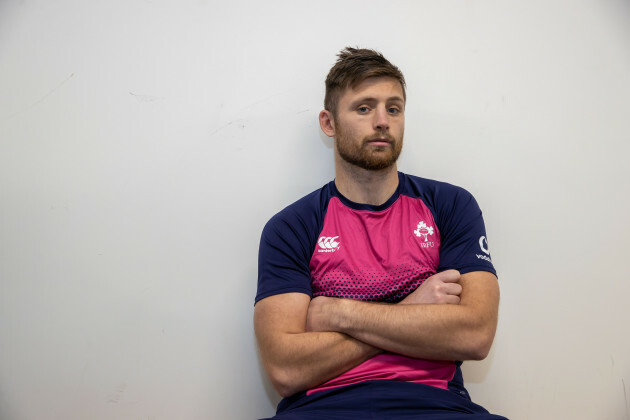 Morgan Treacy / INPHO Ireland out-half Ross Byrne. Morgan Treacy / INPHO / INPHO
Much of the noise around this World Cup cycle — and indeed the one before it — was dedicated to the role in which Byrne now finds himself for Ireland.
The consensus has always been that Ireland need a backup to Johnny Sexton with significant test-match exposure. It's a testament to Byrne that, for the moment, Andy Farell has demontrated a willingness to tear up that blueprint and back a man boasting less than a third of Joey Carbery's international experience.
And if Byrne continues to lead that race — or indeed, if circumstances dictate that he starts for Ireland against South Africa or Scotland in France — he's politely confident that he'll seize his moment just as he's managed to do all season so far.
"Well, I think, yeah, you have to back yourself," he says. "I can't tell you the future so I don't know. But the only thing you can do is play week in, week out, and if you get the opportunity, hopefully you take it.
"I can't control the experience that I've had, d'you know what I mean? There's no point in me worrying about the lack of experience I have. The only thing I can worry about is my own performance and my own preparation."