NOW IN HIS eighth season with Leinster, Ross Byrne arrives at the biggest game of his career in the best form of his life.
Today's meeting between Leinster and La Rochelle sees the out-half start a Heineken Champions Cup final for the first time, where Byrne's job will be to ensure the province aren't left cursing the absence of captain Johnny Sexton.
In previous seasons Sexton's unavailability would have been a major talking point ahead of such a crucial fixture, but the 37-year-old has only been a periphery figure in the pre-match talk this week.
That's partly down to the fact his absence has long been flagged, with a groin injury sustained against England in the Six Nations ending his season early, but it's also a result of the confidence and composure Byrne has displayed across what has been an excellent season for Sexton's long-serving deputy.
Former Leinster flanker Dan Leavy, who retired last year after a long battle with a knee injury, feels the credit now coming Byrne's way is long overdue.
Leavy looks at the leadership Byrne brings to this Leinster team and remembers their schooldays together in St Michael's College.
"He's been like that since he was a kid," Leavy says.
I think he was born to be a 10 and it's great to see him finally get his time in the sun. It's well deserved and Leinster and Ireland are lucky to have him.
"If you have Johnny Sexton in your squad, it is a travesty if he's not playing, but I think Ross has been in the wings for a hell of a long time. I think he got scapegoated at the last World Cup [after the warm-up games], he got thrown in the deep end having very little exposure to that kind of rugby.
"He's been unbelievable for Leinster. He's been orchestrating one of the best attacks in Europe for years now and to finally see, pretty much since that kick against Australia, him to properly get the backing from the Ireland and Leinster coaching staff is amazing."
Even before Sexton was ruled out of the season run-in, Byrne was steering the province through their European campaign comfortably. He's started all seven Champions Cup games along the run to the final, playing 480 minutes out of a possible 560.
"He's just at the helm," Leavy continues. "His kicking against Toulouse, his distribution, everything was really top class. The more exposure you get to these big games, the more you grow."
In the semi-final win over Toulouse, Byrne was 100% off the tee in kicking 16 points, but it was his general play which really caught the eye.
With Toulouse 7-6 up approaching the 15 minute mark, Byrne takes a lovely pass from Ringrose and delays his own offload to Jimmy O'Brien, the Leinster winger then shooting down the space created on the right wing.
Across the season, Byrne's passing has been accurate and sharp. 
A good example came in the pool stage win against Racing in Dublin. After a slow start, Byrne grew into the contest and with Leinster trailing 10-7 early in the second half, he beats the first defender and then throws a difficult pass out wide to Dan Sheehan, before Hugo Keenan finishes from close range.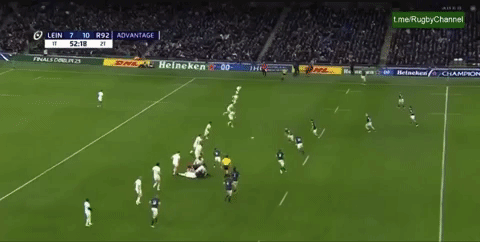 It's a great pass which Byrne manages to execute at full speed.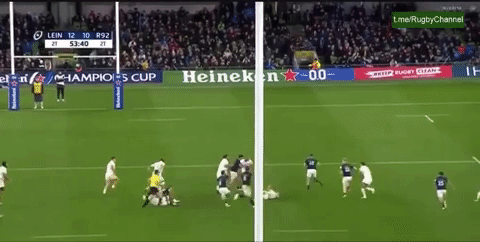 In the pool stage win at Gloucester, he was heavily-involved in the move that led to Hugo Keenan's second-half try.
First, his clever reverse pass opens the door for James Ryan to tear through the Gloucester defence.
As Leinster move through the phases Byrne then shows good awareness to release Hugo Keenan on the wing with a smart flick-on pass.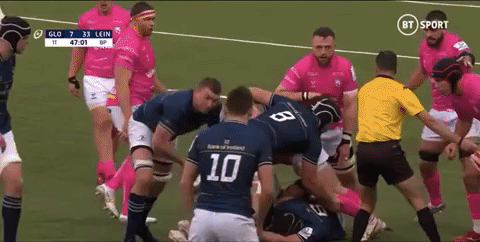 Another bonus of Byrne's extended run leading the team has been the understanding between the out-half and scrum-half, Jamison Gibson-Park – their partnership looking increasingly slick across the season.
"Jamison works well with everyone," Leavy adds. 
"He just has that ability to scoot off the base of rucks and off the scrum and it just ties in defenders so much. And when you have him making two or three defenders sit down every time then you can distribute the ball, it is a lot easier for Ross to play and for the backline to play off the back of that."
Byrne was just as influential in the quarter-final win over Leicester, making big plays straight from the off as the home side made a blistering start.
First, he hangs the kick-off beautifully to allow Hugo Keenan bat the ball back and keep possession.
He then gets three touches across the opening minute as Leinster move into the Tigers 22, playing to the line and supplying the final pass as Garry Ringrose gets Leinster up and running with an early try.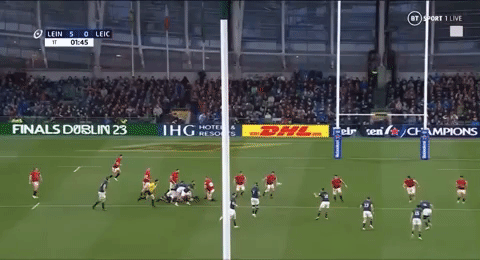 Ringrose added a second try 15 minutes later and again Byrne was instrumental.
Here, Byrne carries into contact and draws defenders in as Robbie Henshaw runs the decoy line which allows Leinster create the space for Ringrose to run in a brilliant first phase try.
Byrne plays right up to the line again for Leinster's third try, taking the hit from Dan Cole just after releasing Henshaw, with Gibson-Park finishing the move.
A similar example came in the pool stage defeat of Racing in Dublin, where again, Byrne delays the pass and takes the contact after releasing Ringrose, who ran a beautiful line to provide the assist for O'Brien to score the first try of the contest.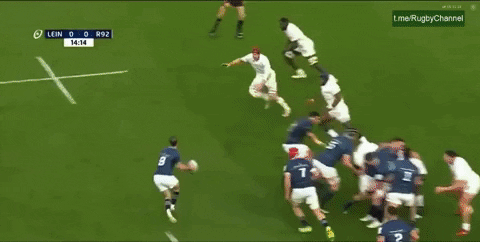 The close up offers a clearer picture of Byrne's role in a slick Leinster move.
"The more you play, the more you are able to read the situations at that level," Leavy explains.
"I think it was one of those things that the media kinda clung on to, saying that he doesn't take the ball to the line. He always did but I think, having said that, he has probably grown in confidence now, he is used to the physicality and everything like that."
Against Leicester, Byrne even made some big defensive plays. Towards the end of the 10-minute spell where Leinster put to game to bed while down to 14 men in the second half, the out-half wins a turnover penalty deep in the Leicester half.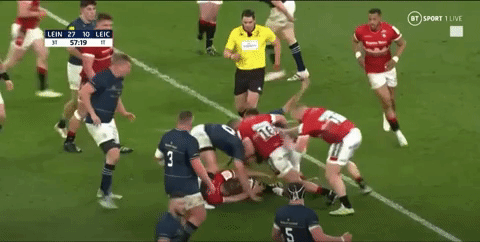 It's a moment he clearly enjoys and from here, Byrne kicks to the corner, Leicester's Charlie Clare receives a yellow card for collapsing the maul and Leinster get a penalty try.
And while all these areas of Byrne's game have improved this season, his basics are still exceptional. Byrne is one of the most reliable place-kickers around and in open play, he still carries a kicking threat – a good example being this early crossfield in the pool win over Racing, where he quickly identifies the space and hits O'Brien.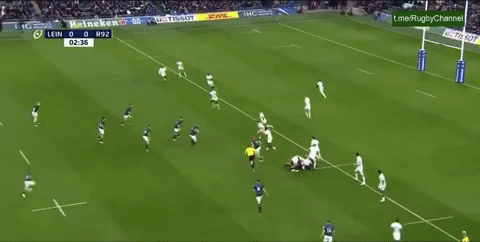 All season, Byrne has been superb in a Leinster side that have waltzed their way to today's final in Dublin, but this will be his biggest test yet.
He's sure to have felt the pressure this week. Byrne had some poor moments off the bench in last year's decider and he'll probably do well to avoid glancing at the big screen today, given how often the TV directors have focused on Sexton over the past few weeks.
But he'll approach the challenge with confidence. Byrne has improved his game over the last 12 months and this season, more than ever, he's been a leading light for this Leinster team. Today that form sees him rewarded with a shot at leading his home province to a Champions Cup title on home soil.
"He's been exceptional," says Ringrose, who starts in the Leinster 13 jersey today.
Big shoes to fill in Johnny who we all know how good he is, how much of a competitor and how he drives standards on the pitch and off of it and leads from the front and I think Ross has done exactly that.
"Since the start of the competition, since the start of the season, there isn't a Wednesday – a day off – when I come in and Ross isn't there, not just at the laptop himself, he's talking with two or three other people saying 'have you seen this? What do you think of that? We should do that here', sitting down with Goody [attack coach Andrew Goodman], going through stuff.
"In terms of him, he's stepped up and raised the bar even more in challenging other guys so he's as best prepared as he can be, but then making sure everyone else around him is best prepared as possible.
"His performances and his consistency speak for themselves. Off the tee you'd back him. If he gives you the nod and he thinks he's got it, there's no-one out there who'd question him for one second. Let him do his thing. He's been brilliant."
Get instant updates on your province on The 42 app. With Laya Healthcare, official health and wellbeing partner to Leinster, Munster and Connacht Rugby.