HE MIGHT BE some way down the pecking order as it stands, but Leinster lock Ross Molony hasn't given up hope of making it on the plane for this year's World Cup finals in France.
Despite remaining uncapped at senior level, Molony has found himself on the brink of an international breakthrough in recent times. A part of the wider squad for the summer test games against Japan and the USA in 2021, he was subsequently called into the Irish camp ahead of their encounters with Italy and Scotland during last year's Six Nations Championship.
He also played 72 minutes for Ireland 'A' in their 47-19 defeat to an All Blacks XV at the RDS last November. All of these experiences have offered Molony a flavour of what life is like within the test arena and he believes he is more than capable of stepping up to the next grade under Andy Farrell.
"It is my goal to get selected for the World Cup pre-season and then to get selected for the World Cup. It's 100% on my mind. With the landscape of rugby there are injuries, but I want to be selected there. I want to be brought into those squads," Molony remarked from Leinster's training base in UCD on Monday.
"It is great to be called into squads and to see the next level or the next step up from club rugby to test match rugby. It's hugely motivating, when you get in you want to get back in and obviously to get capped. It's massive, you get exposure and it probably drives your game."
Ben Brady / INPHO Leinster's Ross Molony. Ben Brady / INPHO / INPHO
If Molony is searching for any extra motivation in his bid to keep pushing for Irish recognition, then he doesn't have to look very far. It wasn't so long ago that Ross Byrne was in the same position as his namesake – focusing on his duties with Leinster while a host of his team-mates were in the international squad.
He had previously picked up 13 senior caps, but Byrne – a former schools rugby colleague of Molony at St Michael's College – was very much outside of the Irish picture until his dramatic reappearance against Australia in the Autumn Nations Series late last year.
His winning penalty off the bench in that contest propelled Byrne back into the limelight, however, and he has gone on to feature in the opening three rounds of the 2023 Six Nations. Last weekend's away trip to Italy represented his first Championship start at the age of 27 and Molony (who is just under a year older than Byrne) recognises how quickly fortune can change for the better in his chosen sport.
"You look at how he has performed for Leinster over the last few years and he is getting rewarded for that. He got rewarded in the Autumn Series just gone and now he is fully in the squad. His influence on the teams he plays in… I've played with him since I was probably first year in school and even before that, in primary school.
If you look at the influence he has on games and his career path… He's been in and out of squads. The fact that he has been able to get back in, let's call it later in his career, it's highly motivating.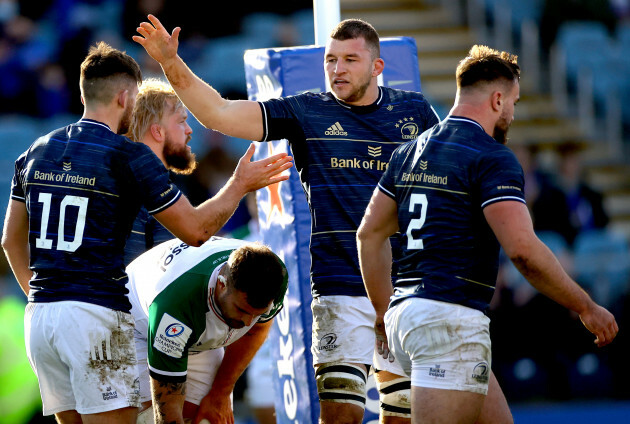 James Crombie / INPHO Molony celebrating one of Ross Byrne's tries last season. James Crombie / INPHO / INPHO
For now, Molony remains a vital figure for Leinster head coach Leo Cullen and is expected to feature against Edinburgh in the United Rugby Championship at The DAM Health Stadium on Saturday.
When Molony first joined the Leinster Academy, Cullen and former Ireland international Mike McCarthy were at the level he aspired to reach. Fast forward to 2023, the UCD graduate has 156 provincial caps under his belt and is now trying to be a guiding light for young prospects such as Joe McCarthy and Brian Deeny.
"There's such a high quality of second rows in the club and when you look at when I was coming into it, you had Mike McCarthy and Leo was in his final year when I was in first year Academy. There's been some unbelievable signings over the years between Hayden Triggs, Fards [Scott Fardy] and I was probably the young academy player looking up to them," Molony added.
"We have Joe coming in, Deeny as well. It's a brilliant conveyor belt and I think we all push each other to get better. We work well in mini groups around the set-piece and there's a lot of interaction around all the second rows to better the team to come up with a game plan."