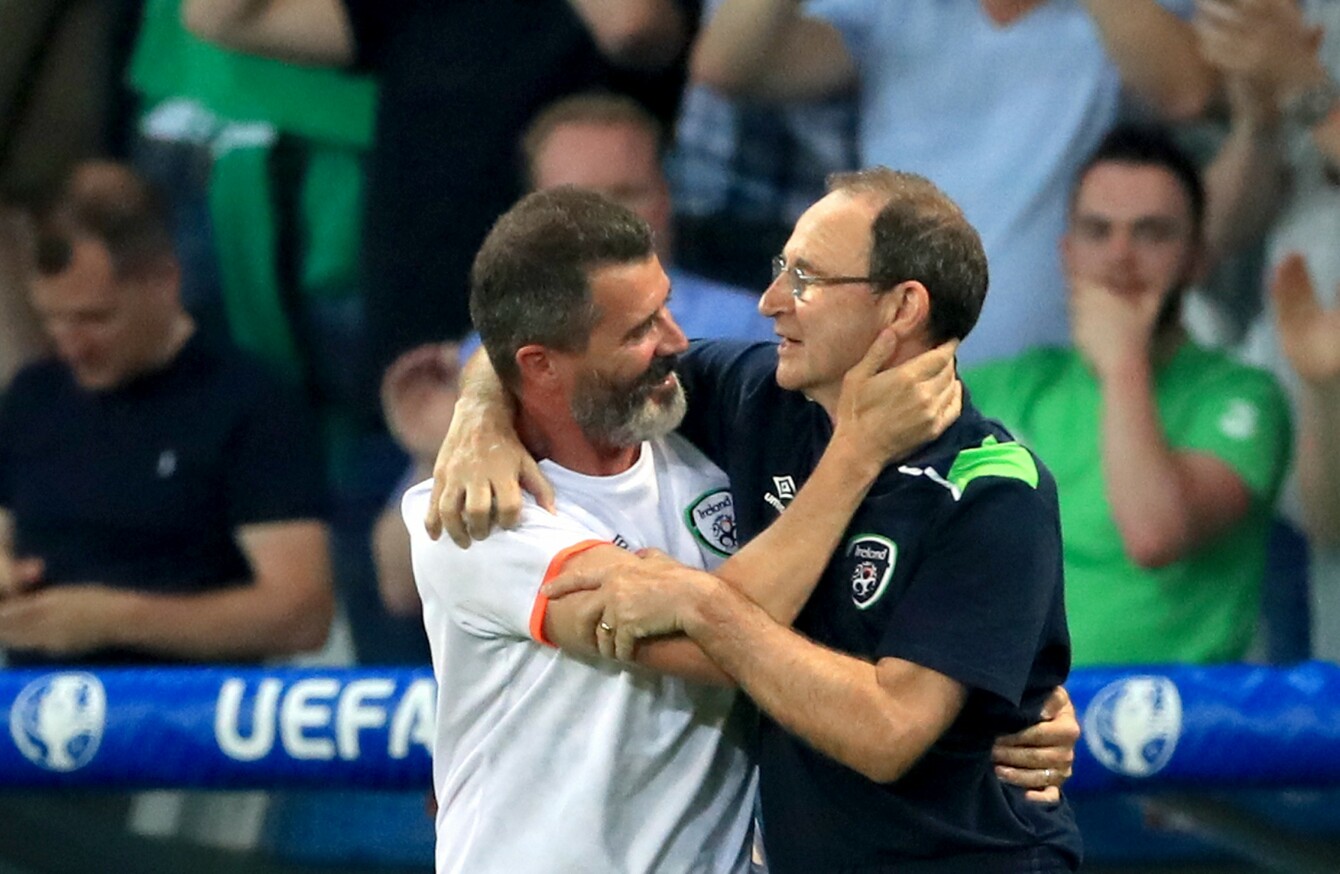 Republic of Ireland manager Martin O'Neill (right) and assistant Roy Keane celebrate qualifying for the round of 16 after the Euro 2016, Group E match at the Stade Pierre Mauroy, Lille.
Republic of Ireland manager Martin O'Neill (right) and assistant Roy Keane celebrate qualifying for the round of 16 after the Euro 2016, Group E match at the Stade Pierre Mauroy, Lille.
Updated at 15.42
- Paul Fennessy reports from Versailles 
IRELAND ASSISTANT BOSS Roy Keane was typically dismissive when asked about his post-match hug with Martin O'Neill following the 1-0 defeat of Italy on Wednesday.
The image of a glowing Keane embracing Martin O'Neill in the aftermath of one Ireland's most famous victories gained plenty of traction across social media.
The Corkman has often been portrayed as a somewhat cold, unemotional figure in the media, so some were taken aback by this emotional response at the final whistle — a stark contrast with how he reacted on another famous day when Ireland defeated Holland 1-0 in 2001.
Nevertheless, the Ireland assistant boss downplayed the moment, suggesting it was nothing out of the ordinary.
When a journalist suggested he was "emotional" after the Italy triumph, Keane responded: "It's called being happy. Try it, it's good."
He continued: "I'm not sure what you're supposed to say after a game, we were just pleased. We knew from when we got involved with the senior team a couple of years ago, it was going to be a tough old road ahead with the qualification, through the play-offs, the tough group we had, so we are just pleased for the players, the manager, the staff and the supporters.
"They were really great celebrations. You saw what it meant to the players with their interviews afterwards and like I said, sometimes when you are playing a game, you are doing it for yourself and your team-mates and your family and your manager and your staff.
"But I really felt the players the other night really wanted to give the supporters a night to remember. I just felt it in my bones, and they did and I think everyone really enjoyed it.
"It's just a shame that we won't have that many supporting us at the next game."
Speaking yesterday, when asked what was said between the two after the match, Ireland boss Martin O'Neill said: "I told him to shave his beard. It was rustling my chin and I don't want him to hug me again ever," the Derry native joked.
SEE SPORT
DIFFERENTLY
Get closer to the stories that matter with exclusive analysis, insight and debate in The42 Membership.
Become a Member
"He said: 'You are an ugly sod' and I agreed wholeheartedly. I then retorted and said he 'wasn't Paul Newman either.'"
Keane similarly reverted to humour on the subject of O'Neill. When asked whether the relationship with the 64-year-old coach was the closest he had ever had in football, the Manchester United legend responded:
"Even with team-mates you mean? No, I think you can pick certain moments out but it's hard to compare. I've only been working with Martin a couple of years but I'd like to think I have a good relationship with the people I've worked with since I started football going back to Rockmount — I was very close to people there and still am.
"From my Forest days, I'm in touch with a few lads there who were great team-mates of mine. I'm still in touch with a lot of the coaching staff I had when I was with Sunderland and Ipswich, I'm in touch with a few lads from United.
"I've been close to lots of people, you'd be surprised. I think there was too much of a song and dance made about it the other night because we were happy and we were celebrating. I don't think you can win — people either think you're too grumpy or you're too happy. They can't seem to find that line in between.
"The manager has made it clear we're actually not that close. We don't keep in touch, we don't go out for meals together but we certainly have a professional working relationship where we have lots of respect for each other and we both enjoy the game.
After the game, what are you going to do? Everyone was hugging each other, which was fantastic, and I'd like to think we if did get a win against France we will be doing exactly the same.
"There's a good spirit among everybody and I enjoy working with the manager. It's fantastic and long may it continue. Like I said, it's a normal reaction when you win a game of football. I've done it throughout my career and I will continue to do it.
It's just a bit silly that everybody seems to making a big song and dance about it. You must have very, very little to write about. You must be very bored just to make a song and dance about that.
"I'm always hugging people, it's just usually there aren't people around. I'm always hugging my dogs but no one seems to worry about that — family, friends — yeah, you do. We were happy."
And as for the Italy game itself? How memorable was it?
"It was a great night. It was a good performance that gave us every chance, we played with a lot of energy and spirit, a lot of quality and we are delighted.
We are obviously now just trying to get our mindset ready for the next game, get the recovery sorted out. It was a long night in terms of travelling back and we're on the move again tonight, so you kind of haven't got too much time to enjoy it.
"But it was great for the supporters — the players felt we owed them something after the Belgium game, and we also felt we weren't ready to go home yet. We really had a strong feeling in the dressing room that we want to stay a bit longer, and hopefully that will be the case as well after the next game."
The42 is on Snapchat! Tap the button below on your phone to add!