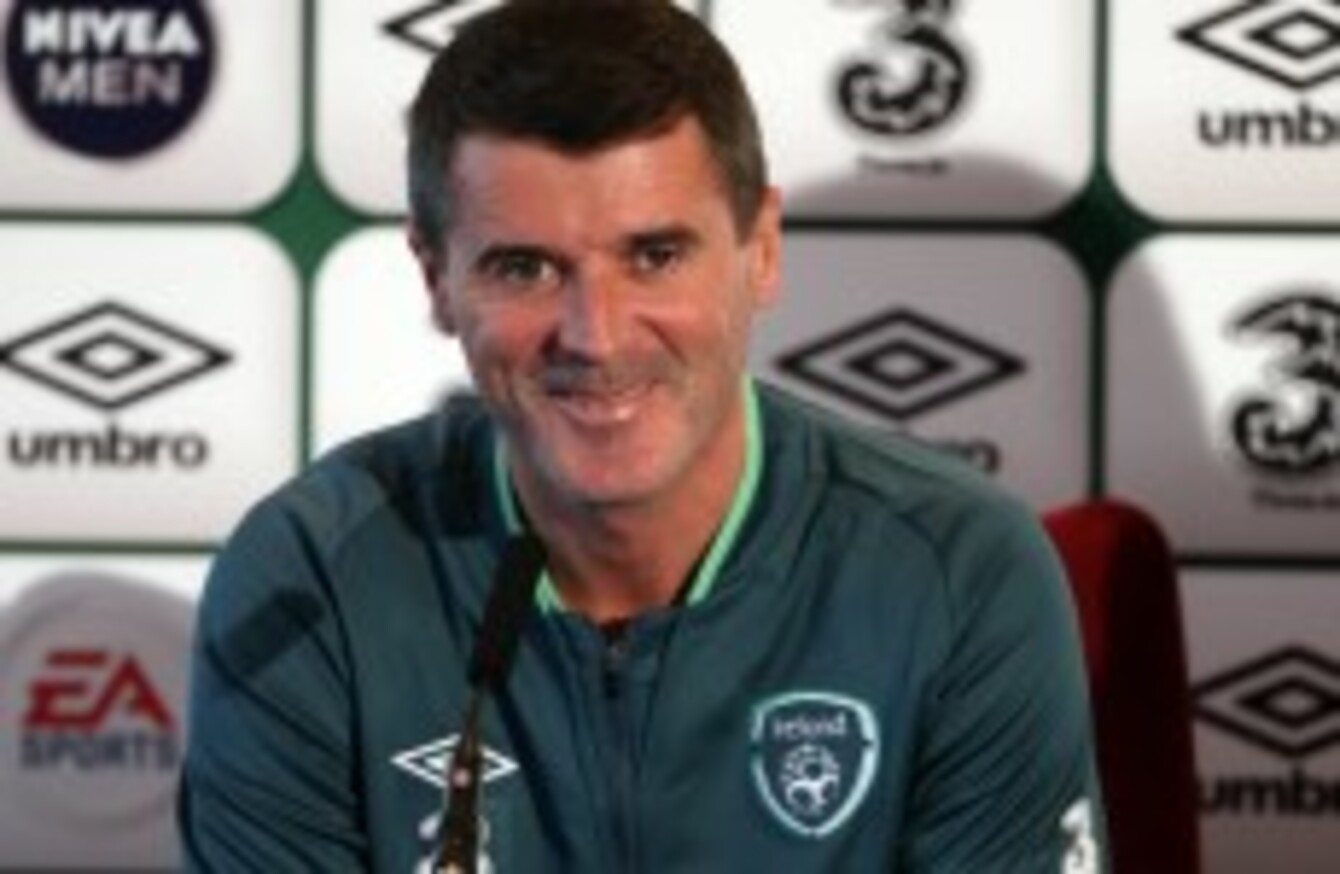 Roy Keane: 'there's respect there'.
Image: Niall Carson/PA Wire/Press Association Images
Roy Keane: 'there's respect there'.
Image: Niall Carson/PA Wire/Press Association Images
NOW THAT WE look at it through the prism of a dozen full years, it's a vividly-drawn postcard of a certain time.
The History of Lansdowne Road and the Aviva Stadium – An infographic by the team at Sandymount Hotel Dublin
Ireland have beaten Holland — the last time, the Boys In Green have defeated a top football power  – at the old Lansdowne Road.
Roy Keane has put in a superb display that will ultimately become distilled into one image in the footballing public's mind: him clattering into Marc Overmars on the halfway line.
In years to come, Keane will insist that Ireland shouldn't just 'go for the sing-song' but in Lillies Bordello off Grafton Street on the first evening of September 2001, it's the Corkman leading his teammates in a rendition of Bob Dylan's 'Positively 4th Street'.


"How does that one go again?" he asked Tom Humphries in the infamous 'Saipan interview' some months later.
"You've got a lot of nerve to say you are my friend, you just want to be on the side that's winning."
"Oh yeah, that one. Yeah, that would sum it up for me."
Maybe the words still ring true for Keane but yesterday the soundtrack in Malahide was another from Robert Zimmerman's brimming songbook. Ladies and gentlemen, the times, they are a changing.
Roy Keane of Ireland tackles Marc Overmars of Holland. Pic: INPHO/Billy Stickland
Yesterday, Roy Keane wanted to present himself in a new role; no longer the main man or top dog in the Ireland camp — this was about communicating that he's happy to ride shotgun with Martin O'Neill for the next two years. "It's all about the journey," he shrugged philosophically at one point.
But there were familiar names and tropes. Niall Quinn was once labelled Mother Teresa by the former Manchester United captain; yesterday Keane pulled on the habit himself. The cast on the training ground includes names like 'Robbie and Sheasy', men he soldiered with for club and country. Others in the Gannon Park dressing-room will know Keane, the manager; Anthony Stokes was warned publicly to stay out of Sunderland  nightspot, The Glass Spider, famously.
"Obviously there's that mutual respect there," said Keane of the familiar faces in Dublin. "And I know my role and they know what that is and that's to try to help the team be focused and ready. I've missed having the bit of craic and football chats. The last couple of nights we've had good craic with the staff and the players.
"No, I missed that side of it I have to say, that's one of the real plusses of getting back into football. I've even had a couple of one-to-one chats with a couple of the players so it's been good, I've really enjoyed it. "
In Alex Ferguson's new autobiography, the former Old Trafford boss targets a Saipan-shaped weak spot on Keane's chest and details a story about his former skipper seemingly freaking out over player accomodation at a Carlos Quiroz-organised training camp in Portugal.
"When we were embroiled in an argument once, Roy said to me, 'You've changed.'" writes Fergie.
"I replied, 'Roy, I will have changed, because today is not yesterday. It's a different world we're in now. We have players from 20 different countries in here. You say I've changed? I hope I have. I would never have survived if I hadn't changed.'
"He said: 'You're not the same man.'" Yesterday, Keane was self-aware enough to hint at past episodes.
"What happened in the past or what will happen in the future is almost irrelevant. Focus on the now, we've had a lovely couple of days, the hotel's been lovely, the food's been excellent, the training ground is excellent — no potholes — great football, it's been great, major progress."
As Ferguson said: 'It's a different world we're in now'. It will be interesting to see if he's taken a leaf out his estranged, former mentor's book as we head on the road for another qualification campaign… and hopefully another iconic win over someone like Holland.
Martin O'Neill said this week he wasn't out to tame Keane this week. The Mayfield native says he's not an animal anyway. But has he changed his stripes for this new role?