IT WAS THE morning after the night before as Ireland assistant boss Roy Keane addressed the media at the team hotel in Castleknock today.
There were wild celebrations up and down the country as two goals from Jon Walters handed the Boys in Green a 3-1 aggregate victory over Bosnia-Herzegovina to seal qualification to the Euro 2016 finals in France.
Given the circumstances, O'Neill afforded his players and management staff the chance to let their hair down and his right-hand man has urged them to cherish moments like this as they don't come around all that often.
"Last night and even this morning it's been about enjoying it," Keane said. "I bumped into a few of the lads there and you do have to enjoy the moment. It is not as if we qualify for every tournament.
"We'll enjoy it for the next few days but they are professionals and have to switch on as they will have games coming up this weekend.
"When we get together in the coming months we'll tell them to refocus. We will be able to do that better when the draw is made and we know who we are playing in the summer.
I knew how to enjoy myself as a player when you get a bit of success. You have to make the most of the highs because football and sport is about a lot of lows.
"The craic in the dressing room last night with the players and the staff was fantastic. It is brilliant for everyone."
Ireland were worthy winners at the Aviva Stadium and the victory caps off a remarkable turnaround in fortunes for the team, who had previously looked set to miss out on next year's finals.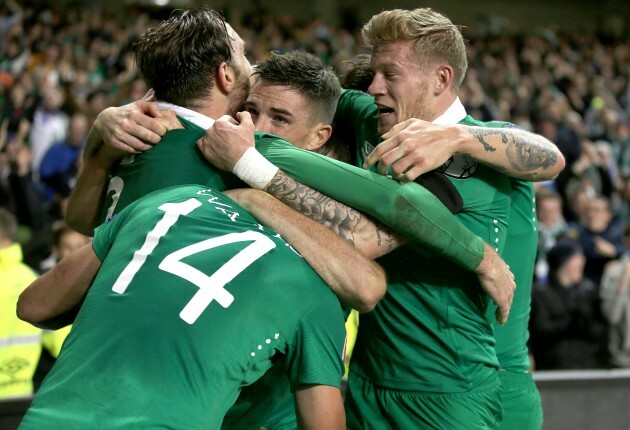 Donall Farmer / INPHO Several Irish players celebrate one of the goals. Donall Farmer / INPHO / INPHO
Keane believes O'Neill has shown his his class as a manager and says the result will give Irish football a badly-needed lift.
"The manager deserves great credit," he said. "Whatever we have and whatever we are short in terms of quality and options, we make up for it in work rate, desire and hunger.
"I didn't think for a minute last night that we were going to get beaten. There are moments that you are nervous of course but I just thought 'the lads are up for this' and particularly with the positive result on Friday.
"The crowd were fantastic last night and Irish football needed that. It has been a difficult few years and that is why it was a big boost for everyone.
The manager was written off after one or two of the Scotland games, but he has proved what a great manager he is."
Ireland, who will be in Pot 4 alongside the likes of Northern Ireland, Wales and Iceland, will learn the identity of their group opponents when the draw is made in Paris on 12 December and Keane plans to wait until then before setting any goals.
"Let's play it by ear and see the draw first. We'll cross that bridge when we get to it.
"Germany won't be a problem, we tend to take care of them but it is Spain and all the rest of them!" he joked.
"We'll have a look at that when it comes around. It is the morning after the big night so give me a chance to clear my head. We can have that conversation in a few months.
"That's the nature of the game and the challenge we face. The pool (of players) we have is not the biggest so we will have a look at that. I'm not sure many people expected us to get out of this group so if we get a tough one in the summer, which we will, we'll have to surprise one or two people.
We won't be short on hunger, determination and desire and with the manager we have hopefully we can give every team we play a good game."
Anticipation for the Euro 2016 finals has been rocked in recent days after the Paris attacks claimed the lives of 129 people. And while the threat of further acts of terrorism may put some fans off making the short journey, Keane is confident Ireland will be well-represented.
"We've seen shocking scenes in the last few days," he said. "We get carried away with football but there are more important things.
"It will be great for the fans as it's a short trip for them and you would expect 20,30,40,50 thousand to travel as they always do.
"I think it will be a better tournament with the Irish fans there. Everyone will admit that and there is no getting away from that."