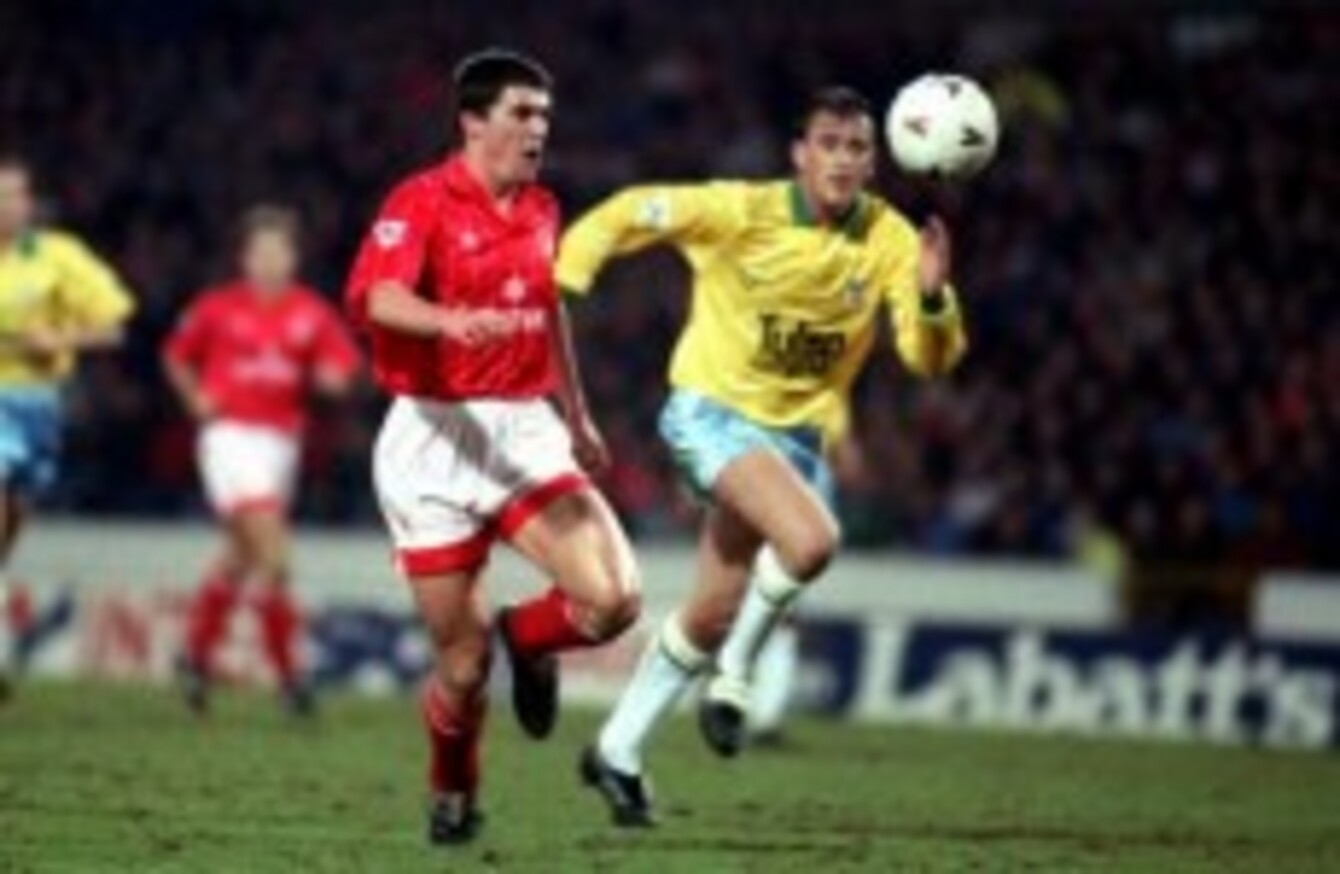 Man United? Pffft, Keane's best years were easily at Nottingham Forest.
Image: EMPICS Sports Photo Agency
Man United? Pffft, Keane's best years were easily at Nottingham Forest.
Image: EMPICS Sports Photo Agency
ROY KEANE'S SECOND autobiography, The Second Half, comes out this Thursday, but you probably already knew that. The entire book has basically been tweeted out line by line at this stage and all sorts of Keane fans and detractors have emerged.
There are people who love him, like him, hate him and worship him but what makes him such a fascinating figure is that everyone has an opinion on him.
With the release of his new book you might notice a new kind of Roy Keane fan: the Roy Keane hipster. Here are eight signs that you might fall into a group that the man himself would no doubt despise.
You would rather read about Keane's time at Notts Forest than United
You claim that Keane peaked as a player under Clough and point to his excellent performances the year they got relegated as proof of his heroism.
You have been praying that his new book will still feature anecdotes of Keane getting clocked by Brian Clough, rather than get bogged down in boring stories from his United days, such as the time he loafed Peter Schmeichel.
You've grown the full Keane beard to show your support
So what if you look bedraggled (Martin O'Neill's word), scruffy, homeless and ten years older, you are still going to support your man. And if it looks like you dipped your chin in a pint of Guinness, so be it.
The Keane Hipsters who can't grow such enormous facial hair merely stand in front of the bathroom mirror for hours on end, stroking their chin while suffering from a severe case of beard envy.
And you've started wearing spiffy tracksuits to match Keane's style
Roy Keane is wrestling tracksuits away from Nidge and Tony Soprano and giving them back to football fans, and you are only too happy to help the cause. Also, when you saw this image of Roy Keane as a football hipster, you silently mouthed 'Me too Roy, me too.'.
You don't call him 'Roy', 'Keane' or 'Keano'
You go with something more personal like 'Keaner' and when people question you about the origin of the nickname, you say it has been floating around for years amongst the midfielder's most hardcore fans.
You've heard every Roy Keane story that has ever been told
Most people enjoyed yesterday's extracts but some people (mostly sports journalists) just yawned, rolled their eyes and said they had heard every single thing before. You want stories of the man away from the pitch, not nuggets about getting fired by Alex Ferguson.
You know Keane's life better than Keane himself. You've learned his life story as if it was a Leaving Cert poetry essay and you were a little disappointed not to be considered for the position of ghost writer for Keane's latest book.
You don't think he should have returned to Ireland in 2004
Roy walked out the first time because the FAI were a bumbling disgrace to professional football and in your mind, nothing had changed to prompt Keane to return. You think he should have stuck to his principles and you were secretly delighted Ireland didn't qualify for the 2006 World Cup because you didn't want to compromise your view of the man.
In your mind, Keane never won the Champions League
You spat out your soup when you heard Keane acknowledge that perhaps, after all, he did deserve a Champions League medal. You disagree, and think the fact that his trojan semi-final effort against Juventus went unrewarded was what made him the player he was.
You also have multiple Wikipedia accounts so you can delete 'Champions League winner 1998/99′ from his page every week.
You think Keane playing for the 1994/95 Blackburn team would have been footballing Nirvana
You lament the fact that Keane turned down Kenny Daglish's opportunity to play for Blackburn in 1993 – he should never have played snooker with Alex Ferguson!!! – and you dream about a midfield containing Keane, Tim Sherwood and David Batty, with the original SAS up front.
You often wonder: 'Keane won seven Premier League titles at United but how many could he have won at Blackburn? Twice that? Three times that maybe?'
Are there any other signs that you are a hipster Roy Keane fan?