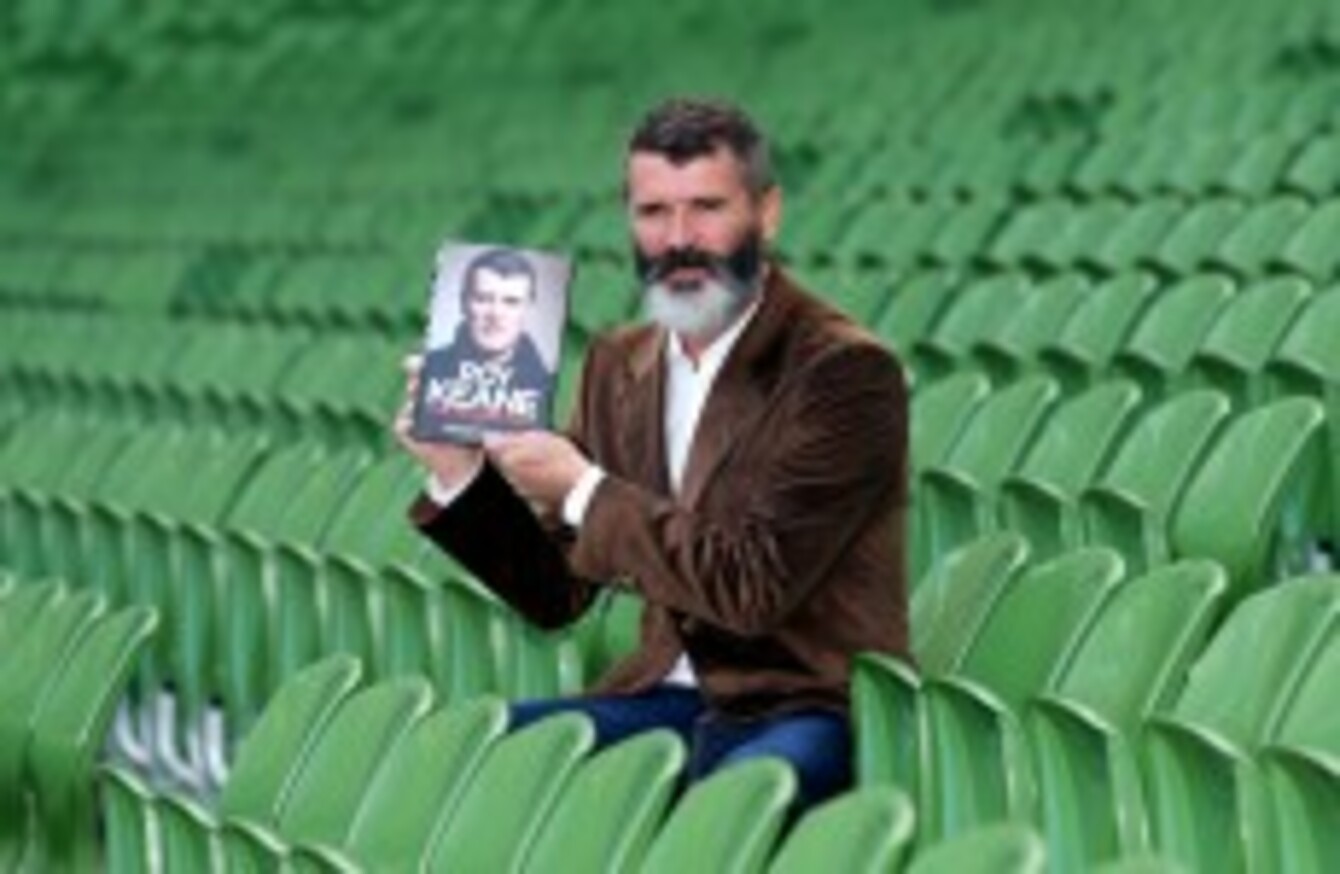 Keane pictured with his new book at Lansdowne Road earlier.
Image: PA Wire/Press Association Images
Keane pictured with his new book at Lansdowne Road earlier.
Image: PA Wire/Press Association Images
ROY KEANE SAYS he regrets not fighting his corner more with Alex Ferguson, who he says put pressure on him to miss Ireland games.
Keane, writing in The Second Half, which was released today, the former Ireland and Man Utd skipper says his pride in being Irish and coming from Cork has grown over the years.
Asked why, he answered: "At lot of things were written over the years, going back to one or two idiots really who had the power to write headlines in the Irish media about me not wanting to play for my country and all that carry-on.
"And obviously I had problems at United. Sometimes, I missed games and people tend to forget as well, I had plenty of injury problems going back to my 20s with the cruciate and then I had the hip problem and a few knee injuries. Maybe I got distracted by all of that as well and got sucked into, I suppose, the politics of the game.
"I probably was guilty of that and sometimes you're under pressure from your club and you're prioritising. I think I've had a chance certainly to reflect over the last few years, particularly getting back involved with Ireland… and yeah refocusing and looking at what's important and what's not important to you.
"Because the same people who put me under pressure at the time about international football are the same people who didn't care less about how Ireland done anyway.
"So I suppose there was plenty of distraction around that and there was a lot of pressure on me from different people including Ferguson and people like that. So that's the part of it I look back and think, yeah there's a few regrets on that side of it where I should probably have fought my corner a bit more.
"But it was the same at times at Forest, I had one or two incidents underage with Ireland. Like I said, it's not trying to be clever after the fact… you know hindsight's a wonderful thing in football but I wish I hadn't taken my eye off the ball with the Irish stuff, but I did and it happened and that's why the chance to get back involved in Ireland was fantastic for me from a selfish point of view."
Martin O'Neill offering Keane the role as his assistant in the national set-up has been a blessing he says.
"It just rekindled what I love about the game," Keane told the media at the Aviva Stadium press conference, "because whatever's gone on with the book, the fights the disagreements, I still love the game of football you know. But unfortunately now with the industry I'm in, you can get distracted.
"I see it with other players but hopefully my experience can help them. I can say just focus on the game, don't worry about all the other nonsense that's going on around them."