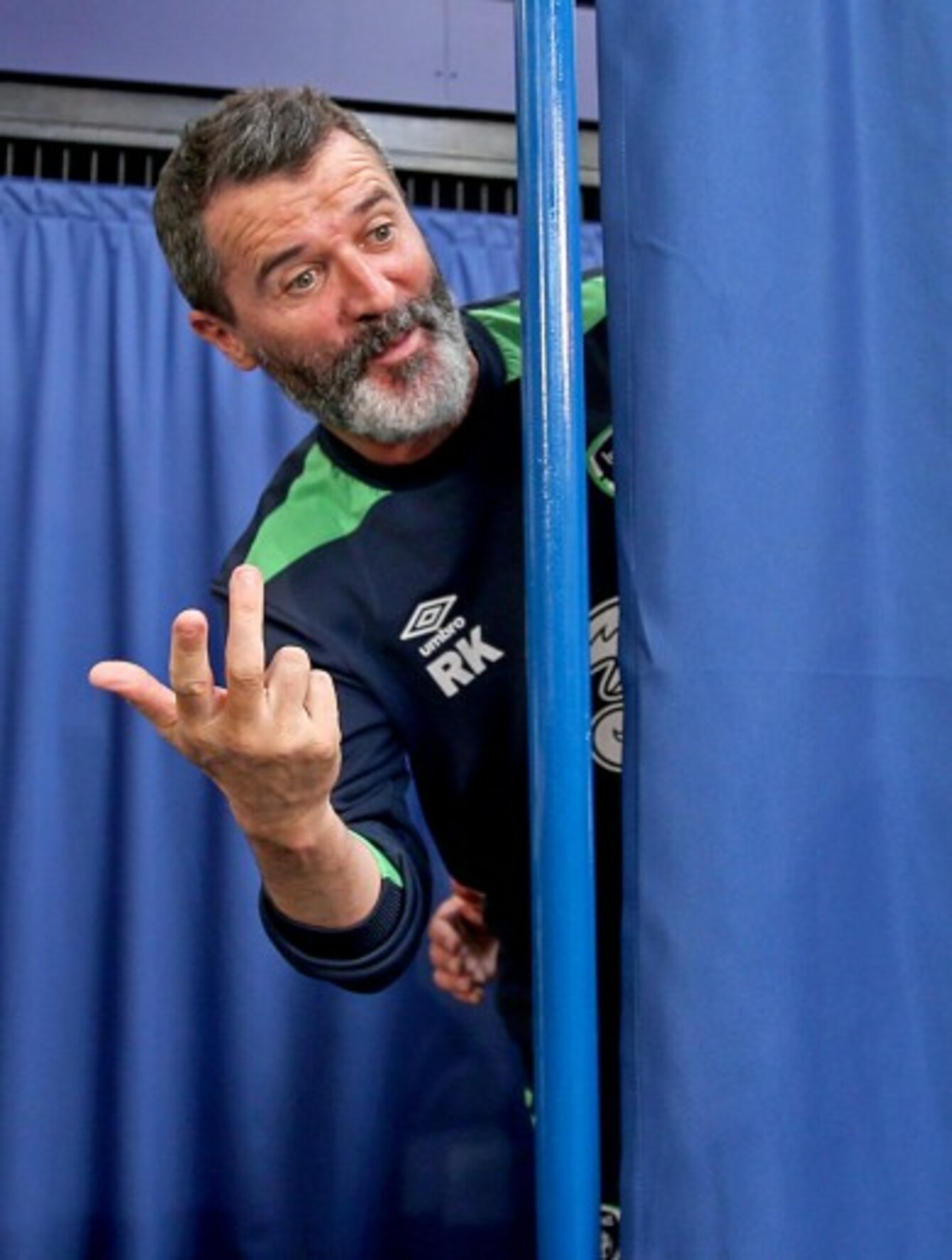 Keane at the end of today's press conference.
Image: Donall Farmer/INPHO
Keane at the end of today's press conference.
Image: Donall Farmer/INPHO
- Ben Blake reports from Versailles
ROY KEANE HAS lamented the fact that Ireland fans will be in the minority for this Sunday's Euro 2016 last-16 tie, but says the players are capable of dealing with the pressure.
The 59,000-seater Parc Olympique Lyonnais hosts a meeting with host nation France in two days' time, and the FAI has only been allocated 4,500 tickets by Uefa for the match — although a greater number of Irish supporters are expected to find a way to attend.
After watching Martin O'Neill's side get the job done in impressive fashion against Italy on Wednesday night, assistant boss Keane has suggested they will need to up their game even further for the tie.
Speaking at today's press conference in Versailles, he said: "The big question no doubt everyone will be asking is can we get back up for another game? Particularly our energy levels.
"If they perform like they did the other night then you give yourself a chance. There is no guarantee that you will win a game of football even when you play well but you've got to give yourself a chance. We didn't against Belgium as we had no foothold in the game.
"But we did the other night and we want to do that against the French — give ourselves a chance.
"That is by playing with whatever we have in our group. We do need energy and we need to close people down, get the ball back and then we need to look after it.
Our decision-making was very good — when to keep it and when to go long. I think we were a lot smarter the other night and we'll need an even better performance against the French, being the home team.
"When you think of the ground, I think it's 58,000 and we've got maybe 4,500 fans. That seems a little bit unfair but you just have to roll your sleeves up and get on with it. We'll be ready.
"We spoke about the fans being a really big help the other night, they kept the players going. I don't think we will have the benefit of that, so we will just have to trust the players to go out there and perform."
While Ireland will have played two games in four days, the French have been able to rest up for a week ahead of the knockout stages.
"There has been an issue made of the French having a few more days to recover and that's part of our job from the medical side of things to make sure we're ready to go," added Keane.
"I'm sure we will be, that won't be an issue. It's just dealing with the players and trusting them to get on with the job."
Ireland took the game to the Italians in Lille by closing down high up the pitch and getting players forward regularly.
That was in stark contrast to how they sat deep and invited pressure on in the first half of the 3-0 loss to Belgium before being caught on the break in the second.
Be part
of the team
Access exclusive podcasts, interviews and analysis with a monthly or annual membership.
Become a Member
Keane says they will take the next few days to analyse their opponents and decided on the best approach to tackle Les Bleus in their own back garden.
"There are different ways to win a game of football," he explained. "We talked about playing on the counter attack when we mentioned Belgium last week. We had a slightly different approach for the Italian match.
"It was a game we felt we had to win, or certainly stay in the game the first 15 or 20 minutes, and the players we had on the pitch suited the system and the mentality we had.
"That doesn't mean to say we will do that against France, not necessarily. We got results against Germany before by sitting back in, maybe that wasn't by choice. Sometimes it depends on how much possession you get if you have to sit in.
"It depends on the starting XI but it will be a dangerous to try and sit in and soak up pressure and try hit teams on the counter attack."
Source: The42 Football/SoundCloud
"Maybe the players we start with are more suited to get up and at them, without being silly.
"The French team might want that because they can pick us off really easily. That will be part of the team preparation in the next few days.
"A lot will reflect on the personalities we use out on the pitch. It maybe does suit us to be on the front foot and having a go and if people pick us off at the front end of the pitch, that's obviously not the end of the world — it is more so when we're 20 or 30 yards away from goal.
That will be interesting, but what we saw the other night, we won it high up the pitch or put them under pressure, it seemed to suit the players we had. I think it certainly helped the momentumand the flow of the game.
"It gave our supporters something to shout about, and the fact that we had them behind us kept us going until the end. It's going to be slightly different on Sunday, because we have a lot less fans. It's an intriguing part of the game — and we certainly want a foothold in the game.
"One of the big parts of our game (against Italy) when you analyse it back, when we lost it, we won it back pretty quickly. That's easier said than done.
"France may be a little sharper than the Italians, they've had a few more days to recover. They're obviously going with their strongest team.
"The Italians made a lot of changes. We have to forget about all that and go with what suits our players to give ourselves the best chance of getting a result."
Listen to The42′s Ben Blake on the 98FM Euro 2016 Daily podcast throughout the tournament