THE BBC BROADCAST their documentary on Sir Alex Ferguson last night and it featured some fascinating insights and great anecdotes.
There was an inevitable reference to the iconic manager's handling of Roy Keane's departure from the club in 2005.
Rio Ferdinand described his memories.
There was a video he'd (Keane) done with MUTV that the club didn't want to go out. The manager thought that it wasn't right, that it was disrespectful, etc to the team. The next day, he told the players that Roy Keane would never come back to Man United again. He's captain of Man United. The best player Man United had through a long period of time. And that (decision) was for the next generation – 'Don't think you're ever bigger than this club because you are not. You will go. I've just told the captain that he's never coming back again.'"
The hour-long programme complemented Ferguson's latest book 'Leading' and explored how he sustained success while in charge of a high-profile, massive brand.
It included contributions from his former players and fellow football managers, who all attempted to shine a light on what made Ferguson so special.
BBC Sport / YouTube
One aspect that was discussed at large was man-management. Ferdinand spoke of being on the end of Ferguson's famous hairdryer.
"We played Benfica away and got beat. We didn't play well. He was shouting at me. And I thought I was one of our best players on the day. I was thinking 'Well, why are you shouting at me?' So I started going back at him, shouting back. The problem is – which I failed to learn quickly – is that the more you shout at him, the louder he gets and the more aggressive he gets and the closer he gets to you."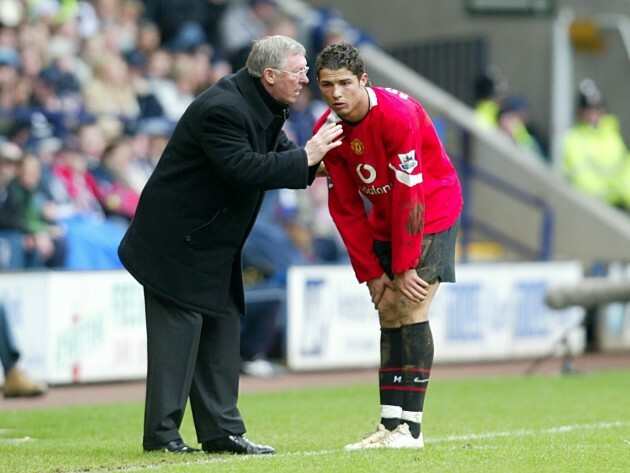 Martin Rickett / PA Archive/PA Images Martin Rickett / PA Archive/PA Images / PA Archive/PA Images
Cristiano Ronaldo also recounted Fergie's fury.
I remember sometimes, when we'd do something bad or we lost some games, he'd kick the chairs, he'd kick the boots, he'd kick everything – the waters, the drinks. And he's so red and it's 'Fucking shit! Pass the ball!' It's unbelievable but it was good because we learned."
Ferguson admitted that he felt like he had to stand by Eric Cantona after the Frenchman's long-term suspension in 1995. But according to Giggs, the special treatment handed out to the volatile attacker did get players talking.
"The thing that amazed me and used to frustrate me at times was his man-management", he said.
"I never saw him have a go at Eric Cantona for example. Some of the players would resent that – 'Why isn't he having a go at Cantona – he's missed a penalty?' Or 'Why isn't he having a go at Cantona – he's had an awful game'? The manager knew in the long run that he'd come good, that he'd produce the goods at the right time."
Exclusive Six
Nations Analysis
Get Murray Kinsella's exclusive analysis of Ireland's Six Nations campaign this spring
Become a Member
Phil Noble / PA Archive/PA Images Phil Noble / PA Archive/PA Images / PA Archive/PA Images
Ferdinand also provided a terrific story about Ferguson's ability to monitor every player's habits and how he was warned early on in his Manchester United career to nip the nightlife in the bud.
"When I first signed for United, I twisted my ankle in my first ever game so I was out for about six weeks. I got to know the city a little bit better than I probably should have. Just as I got back to fitness, I went out on the training pitch and I saw the manager waiting for the players to come out. He said 'Rio, let me talk to you, son'. How are you enjoying the city? Is it alright? Have you been out anywhere or anything?' I said 'Not been out, to be honest, boss. Just been to a couple of restaurants and just taken it easy, chilling out, really.
He said 'Oh, good. Just make sure we get off on the right foot. I know you've been over-indulging in nightclubs, going out here and there. People tell me these things. You can't hide none of this from me. Just make sure that now you know I know and it doesn't happen anymore if you want to stay at this club for a long time. Now, go and train.' And I was like, 'Oh my God!'"
Ferguson also talked about the FA Cup final in 1996 and how a quick glance at the Liverpool players pre-game convinced him United would win the game. He felt the infamous designer suits showed a lack of focus.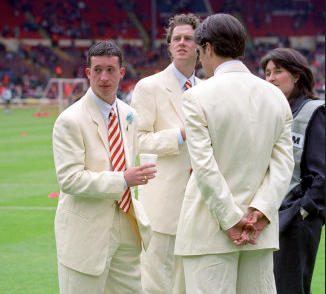 Neal Simpson / EMPICS Sport Ferguson thought Liverpool's cream Armani suits screamed 'arrogance or over-confidence' before the 1996 FA Cup final. Neal Simpson / EMPICS Sport / EMPICS Sport
"God almighty! Why did they do that? I said to Brian Kidd – '1-nil' – because of that. What would you call it? Arrogance or over-confidence, I don't know. It was ridiculous. It was absolutely ridiculous. Blue shirt, red and white tie and a white suit. And a blue flower. Who designed that? They say it was Armani? I bet his sales went down."
"The most telling part of it is that Roy Evans and Ron Moran had black suits on. I think they were embarrassed. Liverpool Football Club is a great club with history. They've won the European Cup more times than Manchester United. Between Manchester United and Liverpool, they've won more trophies than any club in Britain. That didn't represent Liverpool."