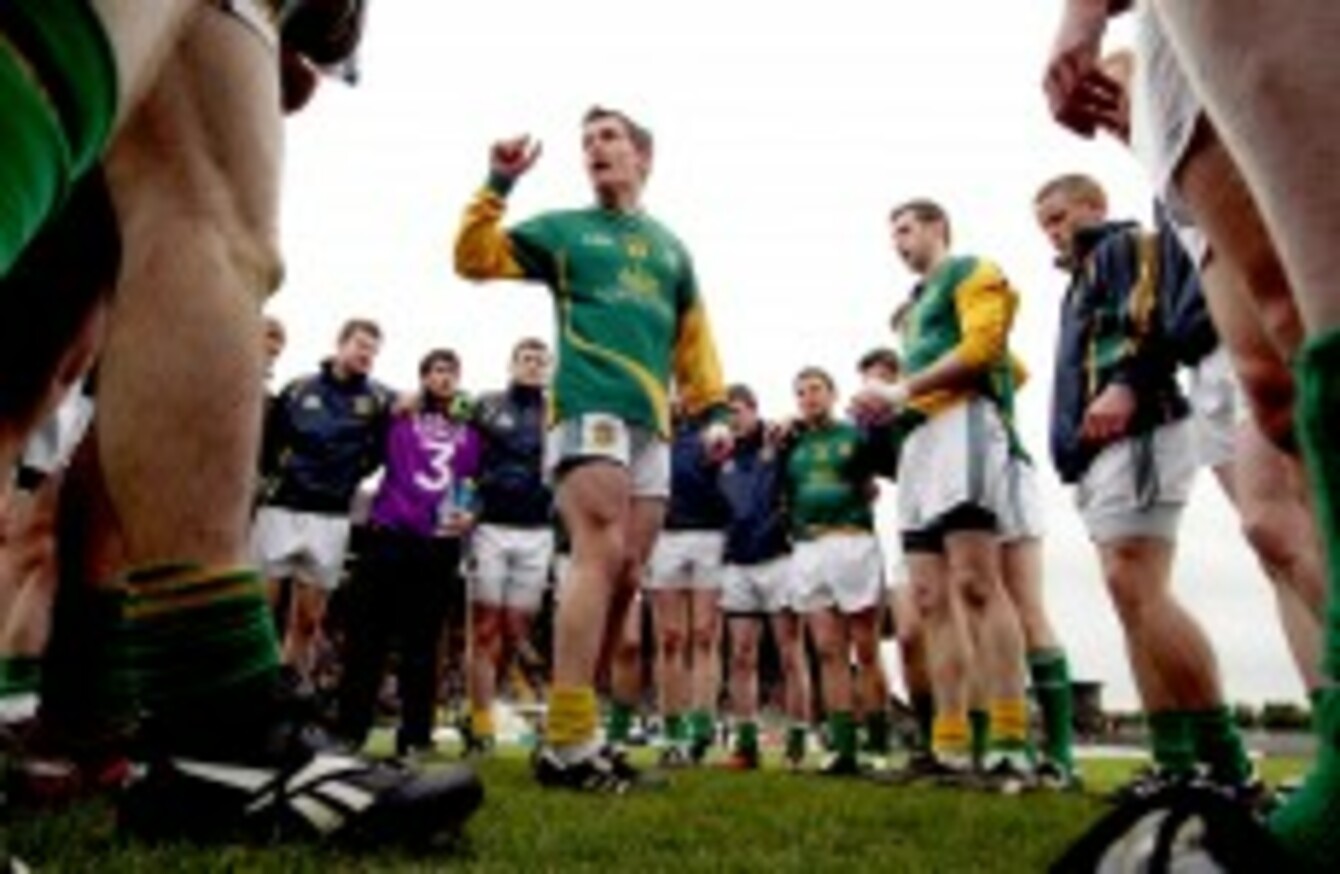 Meath's Seamus Kenny spreaks to his teammates before the game.
Image: INPHO/Ryan Byrne
Meath's Seamus Kenny spreaks to his teammates before the game.
Image: INPHO/Ryan Byrne
MEATH WERE RELEGATED to Division 3 of the National Football League in the most humbling of circumstances yesterday.
Reduced to 13 men they were beaten by nine points by neighbours Louth, heaping yet more pressure on manager Seamus McEnaney.
League Sunday analyst Martin McHugh, however, insists the Royals' problems start with themselves and the county's footballers 'need to talk a long look at themselves'.
"I don't think [McEnaney] was accepted there in the first place. When he looks backs himself, he'll think he shouldn't have put his name in for the job because Meath people don't seem to accept an outside manager.
"Meath need to take a long look at themselves. If you look in club football, they've been beaten by the weaker teams — the so-called weaker  teams —  in Leinster in the club championship. Their underage teams are not going well at all. I think they need to look at the bigger picture. Now that they are in the third division, the reality has set in.
"The Kildare game knocked the stuffing out of them. If they had won that match, you don't know where they would be. The defeat against Kildare definitely affected them and their confidence. It is understandable with the stick the players are taking in the county as well.
"I think Meath have to take a look at their coaching structures and everything else in the county. It was interesting that Sean Boylan, the most respected man in Meath, stepped down last week from director of football of Meath last week. They are not good enough and that is the bottom line.
"A lot of problems from even away from the senior team. It is up to the clubs and the people of Meath to start producing the players. There is one thing that I have never seen in a Meath team that is in this team –- they are soft.
"That's disappointing because Meath players are never known to be soft. It's a disappointing thing. When it got physical, they didn't count."
Not in the script
McEnaney meanwhile, says that while the relegation is a setback, the championship is all that matters.
"It's certainly hugely disappointing, it certainly wasn't in my script to come up to Meath and be relegated to Division 3," he said afterwards. "It's the manger's responsibility to get the best out of the players and unfortunately over the past two or three games we've struggled to do that.
"Things can always be turned around. It's a case that when the the championship starts off the National Football League will be forgotten and the championship is all that matter," he added.