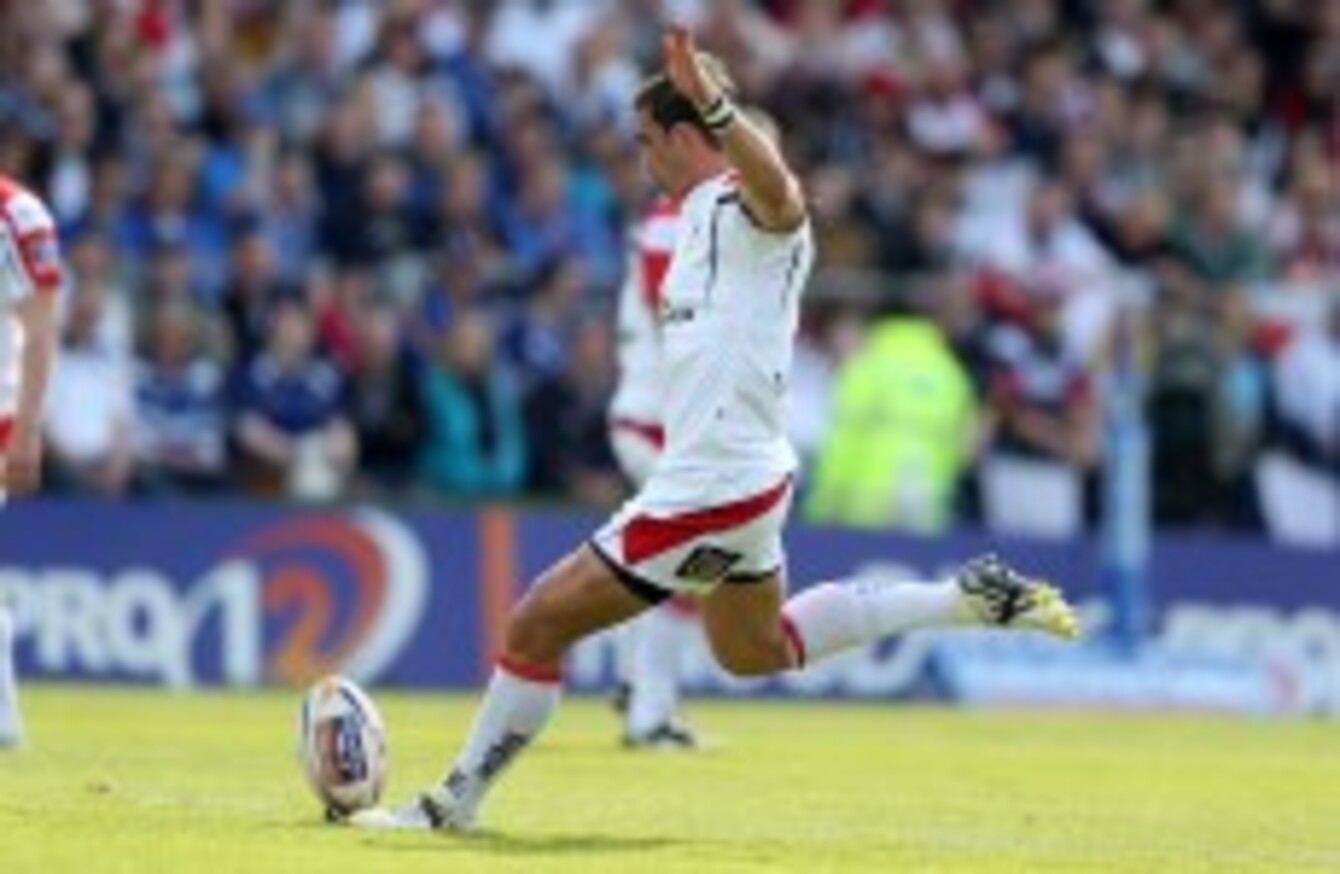 Pienaar slots another kick in Ulster colours.
Image: ©INPHO/Dan Sheridan
Pienaar slots another kick in Ulster colours.
Image: ©INPHO/Dan Sheridan
THE VERY BEST players in the world often appear to have more time on the ball than the mere mortals surrounding them.
Ruan Pienaar is no different; the Ulster scrum half rarely shows signs of stress during games. While the tempo of the game around him may be as helter skelter as the Beatles' song, the South African calmly works his way around the field, dictating play and making the right decision more often than not.
Tying the 29-year-old down with a three-year contract was a crucial move by Director of Rugby David Humphreys, and Pienaar's composure will be a key cog in any Ulster success in the coming seasons. Asked whether his mental strength is nature or nurture, The Springbok tells TheScore.ie appearances can be deceiving.
"Sometimes you probably look calm, but you're not really calm inside. I don't know if I can comment on that. You probably see something different to the way that I feel."
It's a self-depreciating answer, as well as an unsatisfying one. The ability to make good decisions under pressure is one of the reasons Pienaar is a world-class player. Ulster have benefited from his tactical understanding and implementation in their high-stakes games since the former Sharks halfback joined in 2010.
So does he work on his mental skills as part of his training regime?
When I train, I like to keep myself under pressure that's game-related. I think that's something I do quite regularly, kicking a goal or just general skills. So I think probably, yes from that point of view.
"It's a bit different during games; you've got less time to make decisions and hopefully most of the time you make the right decision. I think that probably comes with the territory playing nine or 10; you need to make decisions."
As a World Cup-winning Springbok with 74 international caps, it may be expected that Pienaar will mentor the young playmakers in Ulster's squad over the coming years. Having extended his contract until 2017, the Bloemfontein native will have plenty of time to work with the likes of Ian Porter and Michael Heaney, as well  as Paddy Jackson and James McKinney.
Pienaar rarely looks anything other than laid-back. ©INPHO/Presseye/Matt Mackey.
However, Pienaar is keen to point out that he too can learn from players who only have a fraction of his experience. The accumulation of games is one thing, but skill sets are an altogether different area.
"I like to watch any type of rugby and learn from youngsters as well. I think the thing is that you're never too old or too wise to learn. I think we all try to help each other out, whichever way we can. I think we've all got different strengths and weaknesses.
It's been good to work with Paul Marshall and now I can take a lot from his game and hopefully he can learn something from the way I play the game. There's a couple of exciting youngsters coming through, so it's good to share a bit of knowledge between all of us."
A South African in Ireland, playing under a Kiwi coach. The strands that make up the scrum-half's rugby existence are varied and contributory. At 29, the son of 13-times capped Springbok Gysie Pienaar feels he can learn from the different philosophies of rugby gathered at Ulster.
Aside from the coaching staff, his teammates – like Marshall – have skills and playing approaches that provoke thought in Pienaar's sharp rugby brain. He highlights the influence Jared Payne has had since recovering from the Achilles injury that ruined his first season with Ulster.
"I think it's nice to have Kiwis [here] as well. I think they've set the bar for world rugby over the last couple of seasons. You see the way Jared thinks about the game after his time in New Zealand. You can see that they know what they're talking about and I think that's why they're doing so well, in Super Rugby and with the All Blacks.
"I think that's what's nice coming over here; you play with different cultures and different personalities and you're always learning from everyone."
Ulster host Treviso at Ravenhill in Pool 5 of the Heineken Cup at 6pm this Saturday.
Like rugby? Follow TheScore.ie's dedicated Twitter account @rugby_ie >