VETERAN SCRUM-HALF Ruan Pienaar feels his stay at Ulster could have been extended had the IRFU's "succession policy" not blocked a possible deal, but he is determined to make the most of the time he has left with the province.
"Obviously, the first week when everything broke out was quite emotional, but the support from above has been fantastic.
"It is sad that this is my last season, but I'm going to enjoy the last couple of months I've got left here and just play as well as I possibly can. For me, that is what it is about now," Pienaar says.
"The emotions will probably come out closer to the end of the season and I know I only have a handful of games left, but for now it is all about trying to perform well and just enjoying it.
"After the semi-final loss against Leinster was the first time we really started negotiations, and I said I would like to stay, but the feedback from the IRFU was fairly negative from the beginning, so I knew from then on, it was going to be tough to stay.
"I guess in some ways because I have been here for so long it was bit of a disappointment that I couldn't stay. But you can understand their opinion.
"It's a tough one to speak about, you can't really speak your mind."
Craig Watson / INPHO Despite several impressive performances this season, Pienaar says his international career is over. Craig Watson / INPHO / INPHO
The decision from the IRFU to prevent a new contract however, still came as a shock to Pienaar, who has been with Ulster since 2010.
"I think other people out there thought this would never happen, and that was certainly the case for me," Pienaar continued.
"I thought it wouldn't be a problem to stay on because this has been home to me for the last six years.
"Hopefully it won't stop other people coming to Ulster. It's a great club with great traditions and it still will be a club that appeals to a lot of players and families to come here and enjoy not only the rugby, but Belfast and all that Ireland has got to give.
"It's a really special country with great people and hopefully a lot of international players will choose to come here in the future."
Fans of the northern province will get a glimpse into the future tonight with the 32-year-old being rested for the trip to Connacht ahead of an important period for Ulster, which includes the start of their European campaign against Ian Madigan's Bordeaux.
"I think I've played 80 minutes in every game up until last week. It's probably time to get a bit fresher and get some time away.
"I think also with Paul (Marshall) not playing the last month, it's an opportunity for him to get some game time heading into the European games. I'm enjoying the week off.
"It has been a fairly relaxed week, I haven't done too much, and hopefully I'll be ready to go next week.
"There's no easy groups (in Europe), no easy games. We've a really tough group, we've already played Exeter in a warm-up game and they played really well and it was only their second or third game in their pre-season.
"That's going to be a tough one, and obviously the two French teams (Bordeaux and Clermont), are a big challenge for us but I do think we have a good squad to do something special.
"That is the main focus for us as a squad – performing well, getting momentum and putting us in a position to win something, which would be great."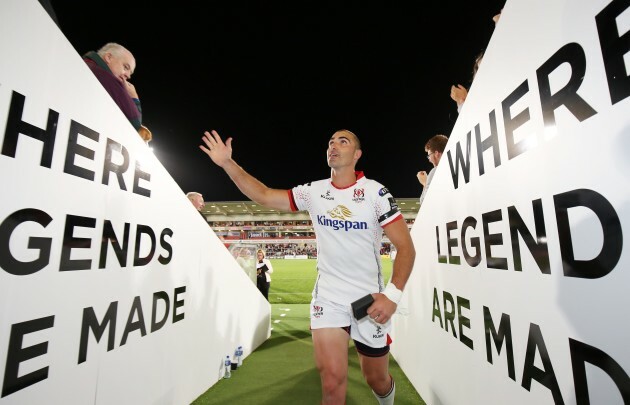 Presseye / Darren Kidd/INPHO The scrum-half will be rested for the derby against Connacht this evening. Presseye / Darren Kidd/INPHO / Darren Kidd/INPHO
The South African, who says his Test career is now over, believes a return to Ulster is on the cards when he finally hangs up his boots.
"I would love to come back in someway and get involved with the club. I don't think I'll be back here as a player, but hopefully in some other way."
Ruan Pienaar was speaking at the launch of the BT Speed Test.
The42 is on Snapchat! Tap the button below on your phone to add!