RUGBY IS AN increasingly analytical and mathematical sport, something that is not always apparent to those of us on the outside of the sanctum that is the professional game.
Teams across the world work with different analysis systems, metrics and criteria, but the uniform factor between them all is the desire to be as effective as possible on the pitch.
The layout of the Rugby Analyser 54 app.
The manner in which Joe Schmidt's Ireland kick the ball contestably through garryowens and box kicks, for example, is partly down to the study the Kiwi head coach and his team of analysts have undertaken to learn what can make them a more efficient force.
Leinster, Munster, Ulster and Connacht's game plans are all heavily influenced by the need to hit the markers they have identified as being conducive to success.
The provinces' coaches have access to immediate numerical analysis of where their teams' performances are and were; lose and they can point to being 5% or 6% short in terms of their effectiveness then remedy those faults in the next game plan.
Indeed, earlier this season Munster head coach Anthony Foley revealed that his side had been 5% off where they needed to be in the narrow win away to Sale, referring to the fact that "the way we analyse the game, that's the first time we've ever won at that percentage."
Like in so many other domains, rugby is ever more of a numbers game.
This is a rapidly changing sport and Andrew Quick of Q & A software, based out of the UK, has attempted to help those of us outside the circle of knowledge to keep up to speed through his Rugby Analyser 54 app, available on Apple devices and currently in development for Android.
Quick worked closely with a major national rugby union in building the app, which essentially allows its users to calculate a team's effectiveness by tapping on the screen of their tablet or smartphone to input relevant match events as they happen.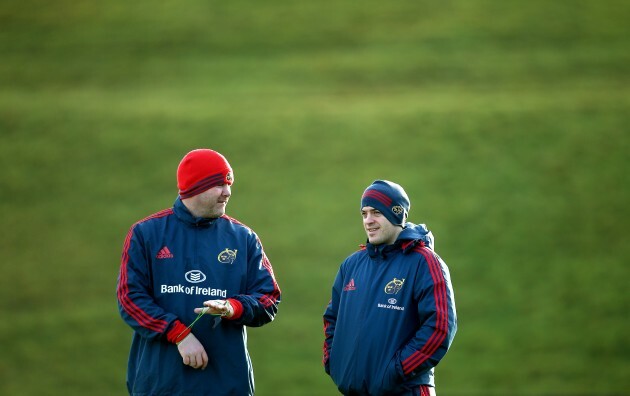 James Crombie / INPHO Foley with Munster's performance analyst George Murray. James Crombie / INPHO / INPHO
"[Professional] teams don't just look at team performance in terms of tackles made, yards run, that sort of thing," explains Quick. "They actually look at it more around patterns of play and effectiveness of team units.
"That's what started the idea, that maybe there was a different way of looking at team performance that was more meaningful to a person watching a game. I had a few discussions with guys at this union and that's basically the basis for the app."
Rather than focus on tackles made, metres run and those increasingly meaningless and overemphasised stats, Rugby Analyser 54 takes into account teams' movements between five distinct zones of the pitch and their success in making those transitions.
You take possession of the ball in a certain zone of the field and what do you do with it?" says Quick as a means of explaining the workings of the app. "Where do you end up?
"You might have 20 phases, but if you don't make gains up the field, is that really effective use of the ball?
"Or if you just pump the ball downfield but your follow-up chase is not very effective and either the return comes back to where you started from or just in front of where you started from, is that an effective use of the ball when it comes to kicking?"
The Rugby Analyser 54 app also takes into account teams' effectiveness in defence and is so named because hitting the 54% mark in the final analysis usually means a team will win the game in question.
Q&A Sports Software Ltd / YouTube
Quick spent extended time engaging with his contacts within professional rugby to produce the algorithims that power the app, meaning users get a version of what the pros are working with.
"They use similar kinds of analysis, but far more sophisticated, with far more detail," stresses Quick. "They do lots of comparisions and analysis on each game in terms of effectiveness and how effective the opposition were, where they need to improve.
"The algorithms behind it take quite a bit of refinement. We knew where we were aiming because of the conversations I'd had with the national rugby union.
If you get around 54% effectiveness, chances are you're going to win the game, but it took a while to refine the algorithms from a touching-on-a-phone point of view."
Quick says reaction to Rugby Analyser 54 has been "very, very positive" so far, with a range of professional, semi-professional and amateur coaches having shown interest and provided useful feedback.
Plans are already afoot to translate the app into Italian, French, Afrikaans, and possibly Spanish, while Quick says something similar could be developed for Gaelic football, hurling and even soccer in the future.
For now though, rugby is the focus and Quick is hopeful that the Android version of Rugby Analyser 54 might be ready in time for this year's Six Nations.
Rugby Analyser 54 Leinster hit 55.8% effectiveness to beat Connacht in the Pro12 back on 19 December. Rugby Analyser 54
Whatever about the professional coaches using the app, and the privileged knowledge that has gone into producing its algorithims, Quick is keen for rugby supporters to be the people who benefit from and enjoy the results.
"If you watch a match on TV, you can get bombarded with statistics, but it can be difficult to see how they actually relate to the game you've just watched and, potentially, the scoreline," says Quick.
"The app can help you see that, say, Bath are more effective in the middle of the field but ineffective in the attack zone of the field – that's why they're not scoring. It does add a bit of analysis to what you're seeing on the TV.
"It's just another bit of information that you and I can use if we were discussing, for example, the last Connacht match in the pub.
"It can be very subjective watching a game, maybe the atmosphere is behind one team, whatever, but you can see that maybe they're not using the ball as effectively as they could be. Having a factual analysis to back that up can be quite useful."
Rugby Analyser 54 is available on Apple devices through iTunes for €3.99.