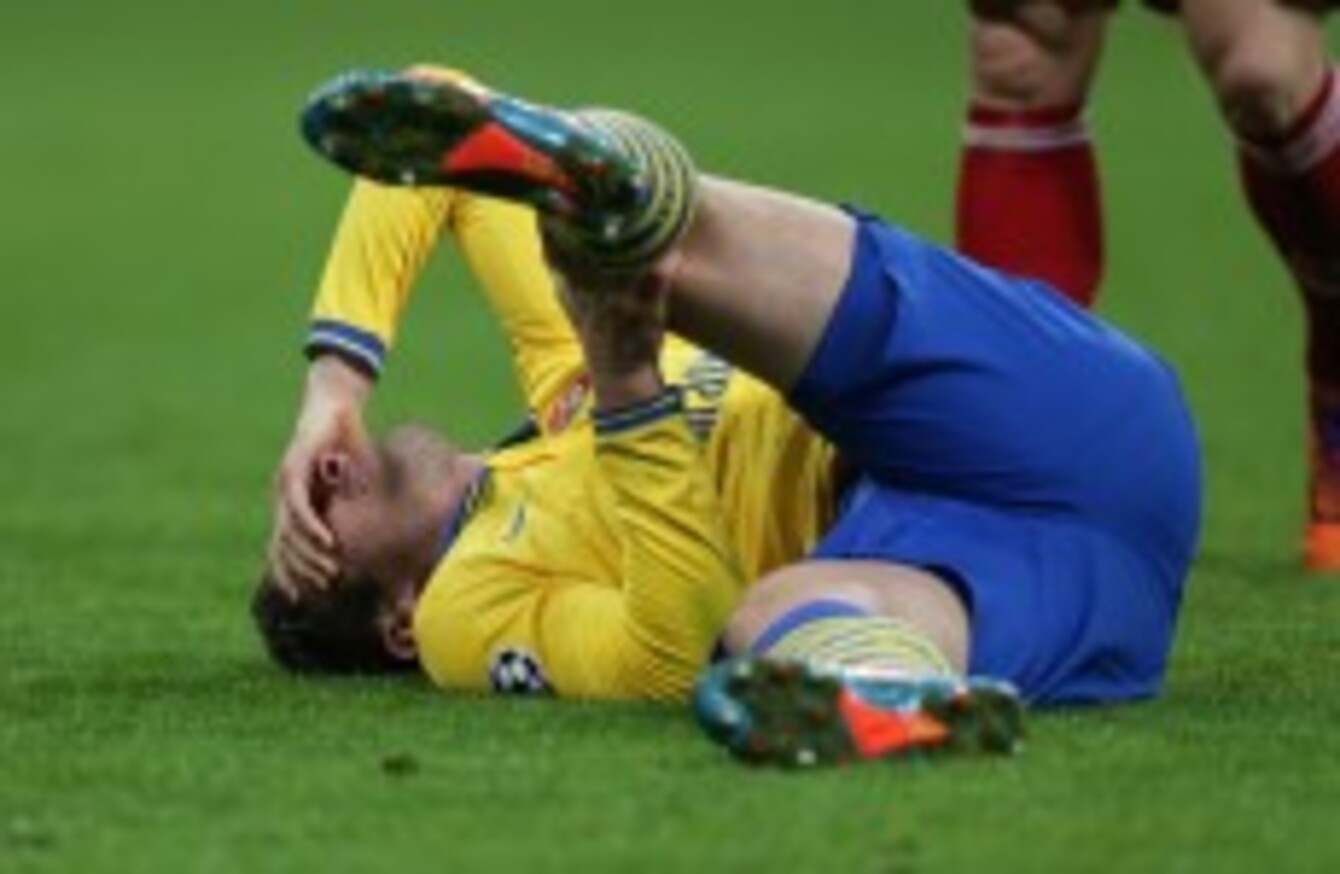 Image: EMPICS Sport
Image: EMPICS Sport
THIS WEEK'S CHAMPIONS League column has been rudely interrupted by something called the Rugby World Cup. You may have noticed it, lurking shyly around the edges of the national media in recent weeks.
Actually, pretty much everything has been rudely interrupted by the Rugby World Cup.
Many GAA county finals were, in the style of a tiny scrum half side-stepping a brutish lock forward, time-shifted out the RWC's shadow. Remember the build-up to Republic of Ireland v Germany? No, because there was none. It was only as Shane Long's shot passed a disbelieving Manuel Neuer that many people even noticed it was on.
So now that Ireland are out and your correspondent's attention returns to Champions League duties, wouldn't it be a fitting time to compare the two, to assess how one shows up the other and how one has a lot to learn when it comes to such-and-such a thing from how well the other one does it?
No it bloody well would not.
There can be no more tiresome phenomenon around big sporting events (other than political parties trying to nab some reflected glory – that's you, Fine Gael) than Spurious Comparison.
The hurling community, for example, are divils for the Spurious Comparison. Anything that occurs around the same time as a particularly brilliant game of hurling – Premier League soccer, royal wedding, moon landing – is doomed to be damned by comparison.
You'd wonder why Wayne Rooney and co. bother leaving the house of a Super Sunday afternoon when a clash with the hurling championship is on the cards.
Similarly when rugby men are being maimed and bludgeoned on the field of sporting battle; cue Spurious Comparisons with Cristiano Ronaldo having a bad hair day.
Then there is the "X has a lot to learn from Y" brigade. This lot had a field day during London Olympics. The British media elevated every noble, track-suited Team GB hero to the status of secular saint, with the sole purpose of giving Premier League footballers a kicking for their moral depravity (spotting a theme here?). Sadly, within weeks of the Olympic big top coming down, the same media were roundly ignoring the divers and rowers and cyclists so that, say, a soccer star's high jinks on nitrous oxide could receive blanket coverage.
It's not always footballers on the receiving end. A think-piece in the the Daily Telegraph last week harrumphed about how the English rugby team had a lot to learn from their Welsh counterparts in both rugby AND football: a complex, interdisciplinary Spurious Comparison that surely broke new ground for the genre.
Sadly, the Spurious Comparison is just a manifestation of human nature. It feels good to feel superior to someone else. It's why we watch news reports of natural disasters and why Jeremy Kyle has a career.
Why do it with sport, though? I've never understood why people want to miss out on enjoying the broadest range of sporting pleasures for the sake of petty point-scoring. I've always preferred the ecumenical approach.
Plus, that way it's easier to jump on the next bandwagon. Bosnia? No bother… Come on you boys in green!
If I had to indulge in a Spurious Comparison between Rugby World Cup and Champions League, I could focus on the pundits. The rugby guys tend to rise from middle class roots on a slightly upward gradient as their on-field career unfolds, before returning to bourgeois comfort and a steady job in sporting retirement. In general the life trajectory of the soccer guy is more dramatic: from humble beginnings to fame, wealth and status.
A pre-show chat with Harry Redknapp before our last Champions League program was a case in point. While on the subject of his well-known love of the nags and having a flutter thereon, Redknapp spoke wistfully about how "my Nan was a bookies' runner in the East End," and proceeded to paint a picture of an almost Dickensian childhood, a five-year-old Little Harry ducking and diving, always with an eye for the main chance, guvnor.
The wily charm that beguiled many a press conference and – ahem – other probing inquisitors has taken him a long way in life.
What are they
really like?
Rare insights on sport's biggest names from the writers who know them best. Listen to Behind the Lines podcast.
Become a Member
Shane Byrne has been one of my favourite Rugby World Cup pundits to work with. The former Ireland and Lions hooker's everyman style and frankly baffling hairdo mask a deep knowledge of the game, especially around the scrum.
One brilliant piece of analysis of Ireland's poor defensive shape in the Italy game which Shane did earlier in the tournament eerily previewed the weaknesses that Argentina so ruthlessly exploited at the weekend.
So his reply to my question about whether the proverbial spaceman visiting Earth would find all he needed to know about South African rugby in their victory over Wales left me wondering if he had overdosed on particularly cheesy slice of his well-known sponsor's product.
Then it dawned.
"We're on air Shane!" I mouthed. Fiona Steed jumped in to save the day and the rest is viral history.
"Juicy!" as he might say himself.