"FAILING TO PREPARE is preparing to fail." So said Benjamin Franklin, although it was American basketball coach John Wooden who made the quote famous in sport.
That mantra is not exclusive to the five-a-side game, as Munster Rugby's George Murray highlighted to TheScore.ie when he gave us a glimpse of the work he does as Performance Analyst for the two-time Heineken Cup champions.
The Bray native has been working in the role at the province since 2002 and says it has "evolved massively over time." Murray heads up a small team of analysts on Munster's book, with his main focus being on scouting of oppositions teams. However, he explains that the job of involves many other aspects.
"It's quite extensive at the moment. You've got training footage to work through, different angles of different things in training and matches. You could have scrums from the tight head, loose head, above the scrum. So there's a lot of coordination that needs to be done on a day-to-day basis.
Really the main focus is gearing the team towards their performance. The opposition prep is usually done the week before a game and sometimes even two weeks before. So as soon as the game is finished one week, the coached have got a mock-up of what they need going into the next game.
"It means we're not reacting early in the week, all the work is already done. Obviously, building databases on best practice is important, keeping tabs on our own players, how they're progressing performance-wise."
Munster's players are analysed through a combination of statistics and by visually reviewing their involvements in games. Intriguingly, Munster work on the basis that much of this review is an individual task. Murray explains that his duty is often simply to give the players the tools to self-analyse, with the aim being that the players learn from their own mistakes and good play.
"A lot of the stuff is provided for the players so they can access it and come back to the coaches for the specific feedback. We're really in the provision part of it, so we provide footage of the players so they can work through their performances.
"The players watch it back and report back to whichever coach they want to liaise with. From an analyst's point of view, we're always there offering a helping hand and providing advice. If they want to go into more specific stuff, they go to coaches."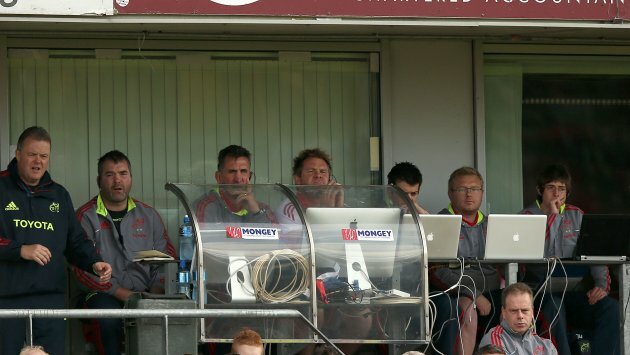 Murray and his assistants provide live stats and video feedback to the coaches during games. ©INPHO/Billy Stickland.
Statistics continue to grow in popularity both within professional rugby circles and for consumption by supporters and media. Numbers can often give us the impression that we genuinely understand what has happened in a game, but Murray stresses that they are often be meaningless.
There is one key numerical marker that Munster – and the majority of professional rugby teams the world over – place great importance on, and that is efficiency when they have possession.
"We've got to look at what our use of the ball is and how effectively we're using it in different types of positions. That's where the game is at. You can miss 25 tackles in a game and win it, then you could miss 10 tackles in the next game and lose it. That stuff just depends on what position the player is in, etc.
Our main thing is our use of the ball, how you use the ball when you get it and how you prevent the opposition form using it. You can statistically gauge that, without giving way too much away on how we do it. We've got good targets on what we want to achieve with our possession and we have a clear idea that when we don't hit those targets, it leads to a negative result."
The numerical data is clearly of huge importance and in other sports such as baseball, "big data" is becoming an increasingly powerful focus. Soccer too is currently undergoing something of an analytical awakening to numbers. Murray says rugby has also felt that influence, but he remains "old school" in his approach.
"I don't want it to go down the total route of data. Going into the recruitment market based on pure statistics, I don't think that in a sport like we have it's applicable. I think it's more important to be player-based, educating the player.
"There is obviously a certain amount of statistics in our KPIs (Key Performance Indicators), but I think going down the route of trying to win games by numbers isn't right. It has worked in other sports, but I don't think in a dynamic game like rugby it's applicable.
"Performance Analysis is about getting the best out of your team and your players. Everyone has their own way of doing that."
Video analysis remains the key aspect of Murray's job and he highlights that professional players have embraced it in a huge way. The better the player, the more video work they do, claims the Munster analyst. There is a clear correlation there in Murray's opinion.
Murray won AIL medals as a scrumhalf with Shannon. ©INPHO/James Crombie.
"The benefits of when you do good analysis work are obvious, what comes out of it. The top players are the biggest users. Paul O'Connell, Brian O'Driscoll, Donncha O'Callaghan; they're the guys that are stuck into it. The purpose of analysis is to aid decision-making.
"I think if you submerge yourself in the information, that decision-making becomes a little bit easier because you can picture it during a game. You can over analyse as well, that's valid. Sometimes you've just got to let things play out and run their course. It's about the right balance, but preparation is vital."
Another crucial part of Murray's role with Munster is in-game live analysis and feedback to the coaches. He observes the games closely and, along with his assistants, provides immediate footage and statistics to the coaches.
"We do lots of in-game coding, your statistics based on possession and that kind of stuff, lineout numbers. That's populated into the laptops the coaches and I are using. My role in-game is to pick out any kinds of trends that are happening in the opposition's defence; have they done something different to what we've seen before?
I'll populate the coaches laptops and say 'Look at this lineout, this little tactic they're using.' It might have changed from the previous week. It's a live happening game and it happens quickly. Games change on such small margins, so you're thinking 'How can we as a unit have an impact on the game live?'"
It's a full-on, all-in role for Murray, but something he "loves" doing. Does he have the ability to switch off from being an analyst and simply watch a game of rugby for the narrative, the battle, the sheer entertainment?
"I've never been to Thomond Park with a pint in my hand! It's 24/7 this job. If you're not watching Munster games or opposition games, you're watching Southern Hemisphere, Top 14 or anything else.
You're looking for trends in play, how referees are refereeing, how the breakdown is going in Super Rugby, whether there is anything different happening in the Top 14."
The job of a performance analyst is non-stop, but continues to become increasingly crucial to player development, tactical decisions and most importantly, results.
Like rugby? Follow TheScore.ie's dedicated Twitter account @rugby_ie >