THE RACE FOR the Webb Ellis trophy gets underway tonight, with 20 nations set to battle it out. We take a look at 7 unforgettable RWC moments since the inaugural tournament in 1987.
1. Mandela and Pienaar (1995)
The political connotations of South Africa's 15-12 victory over New Zealand in the 1995 Rugby World Cup final in Johannesburg were lost on no one at the time, and the iconic image of then-President of South Africa, Nelson Mandela, presenting the trophy to the Springboks captain François Pienaar will go down in history, and not just for sporting reasons.
Scott Duncan / YouTube
2. Lomu is too good 'four' England (1995)
Earlier in the same tournament, Jonah Lomu fired the All Blacks to a hugely impressive victory over England in the second semi-final in Cape Town in front of 51,000. Lomu made 63 caps for New Zealand between 1994 and 2002 and is widely considered to have been rugby union's first major superstar. Fun fact: Irish referee Stephen Hilditch was in charge the day Lomu scored four — he went on to be a physics teacher and headmaster in his home county of Antrim until his retirement in 2006.
INPHO Jonah Lomu goes over for one of his four tries against England in the Rugby World Cup semi-final in 1995. INPHO
3. Ireland beat the odds — and the Aussies (2011)
As the only home nation not to have reached the semi-final stage in any Rugby World Cup thus far, Ireland will have to deal with the pressure of expectation for the upcoming tournament in England. If they can claw out results like the 15-6 beating of the Wallabies four years ago, anything is possible.
EllliotJack1 / YouTube
4. The first champions of the world (1987)
Co-hosts New Zealand were victorious in the first-ever Rugby World Cup back in 1987, and with greats like Michael Jones, John Kirwan, Grant Fox and Sean Fitzpatrick in their side, it was no surprise. The All Blacks beat France 29-9 in the final but didn't win their second title until 24 years later, against the very same opposition. Did you know: NZ captain David Kirk, the first man to lift the Webb Ellis trophy for his country, abruptly retired after that World Cup to earn a degree in Philosophy, Politics and Economics from Worcester College, Oxford. Smarty pants.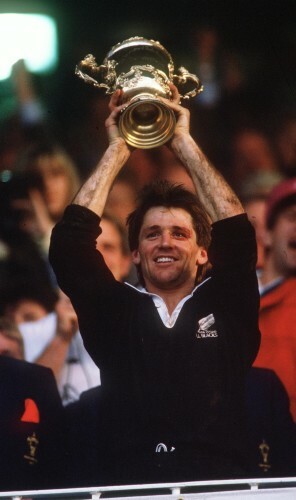 Billy Stickland / INPHO All Blacks captain David Kirk lifts the inaugural Rugby World Cup in 1987. Billy Stickland / INPHO / INPHO
5. Australia sneak past Namibia – by 142 points (2003)
The Wallabies registered a record-breaking 22 tries in their annihilation of southwest African nation Namibia in the 2003 tournament at the Adelaide Oval. Australia's Chris Latham, Lote Tuqiri and Matt Giteau all registered hat-tricks, with the former finishing with five tries in the game overall. Kicker Mat Rogers ended the game with an incredible 42 points, a national record.
crazyhippoman / YouTube
6. What might have been for Scotland (1991)
In the second-ever RWC, the Scots were given a fantastic opportunity to make the final — but a relatively simple penalty kick from the usually reliable Gavin Hastings in the final quarter went wide. The English struck a drop-goal late on to snatch a 9-6 victory and break Tartan hearts.  To make matters even worse — Murrayfield was the venue.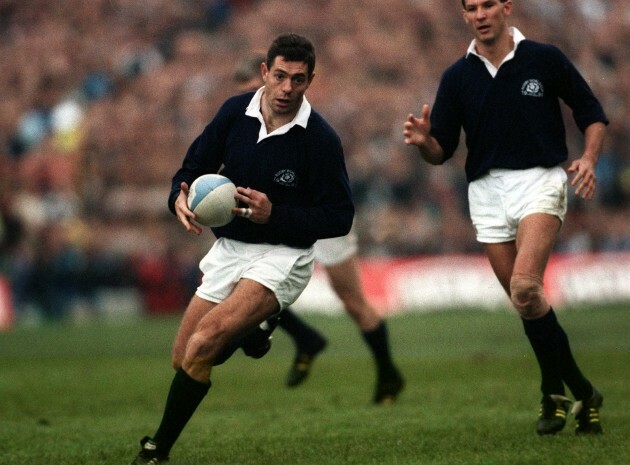 Billy Stickland / INPHO Scotland legend Gavin Hastings in action during the 1991 Rugby World Cup. Billy Stickland / INPHO / INPHO
7. Swing low, sweet Jonny (2003)
Fancied as tournament favourites heading in, Clive Woodward's England were under pressure to perform after winning the Six Nations Grand Slam and defeating all the major southern hemisphere opposition in the months preceding the 2003 finals. Images of Jonny Wilkinson's extra-time winning drop-goal (with his weaker foot) will live long in the memory of England fans in particular, and rugby union fans in general. Will we see our own Johnny Sexton do something similar in Twickenham on 31 October? Who knows?
JKAA / YouTube