Image: ©INPHO/Getty Images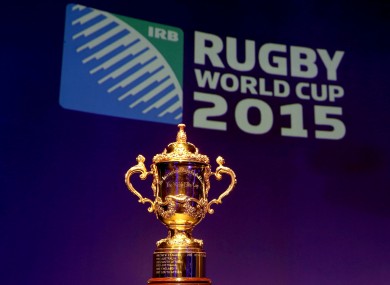 Image: ©INPHO/Getty Images
TICKET PRICES FOR the 2015 Rugby World Cup final in England will range from £150 (€180) to £715 (€854), organisers announced this afternoon.
The match at Twickenham on October the 31st will kick-off at 8pm local time, with group games ranging from 12pm to 8pm, quarter-finals taking place at 2pm or 5pm, and semi-finals kicking off at 5pm.
The organisers England 2015 have announced that over one million of the total 2.3 million tickets will go on sale at £100 (€120) or less, with 500,000 retailing for £50 (€60) or less.
Ticket prices for adults will begin at £15 (€18), with £7 (€8.30) tickets available for children at 41 of the 48 matches.
For the Ireland fixtures, tickets range from £15 up to £175 (€209) for the Canada, 'Europe 2′ and Italy matches while a chance to catch the final Pool D game against France will cost from £15 to £250 (€299).
"We want the tournament to be a celebration of Rugby, encouraging more people to support and enjoy the Game," said England 2015 chief executive Debbie Jevans.
"We have a range of ticket prices for every budget – for fans and families who want to come to one of the world's greatest sports events. Our ticketing programme is built for fans who support the Game week in week out, whilst encouraging a new generation of Rugby fans through Rugby World Cup 2015."
IRB Chief Executive Brett Gosper added: "This announcement represents a fantastic opportunity for fans around the world to experience what promises to be a very special Rugby World Cup. It is the day that they can start to plan. There are affordable and accessible options to suit every need."
The first batch of these so-called "affordable and accessible" tickets will start to be distributed via clubs in May, with tickets going on general sale the following September. Here's the run-down of the distribution schedule:
January 1, 2014 – Travelling fan packages go on sale
February 2, 2014 – Hospitality packages go on sale
May/June  2014 – Tickets on sale to Rugby fans through Rugby clubs
September 2014 – General sale application process begins
November/December 2014 – Real time sale of remaining tickets
Get more ticket pricing information here.
Additional reporting by AFP.