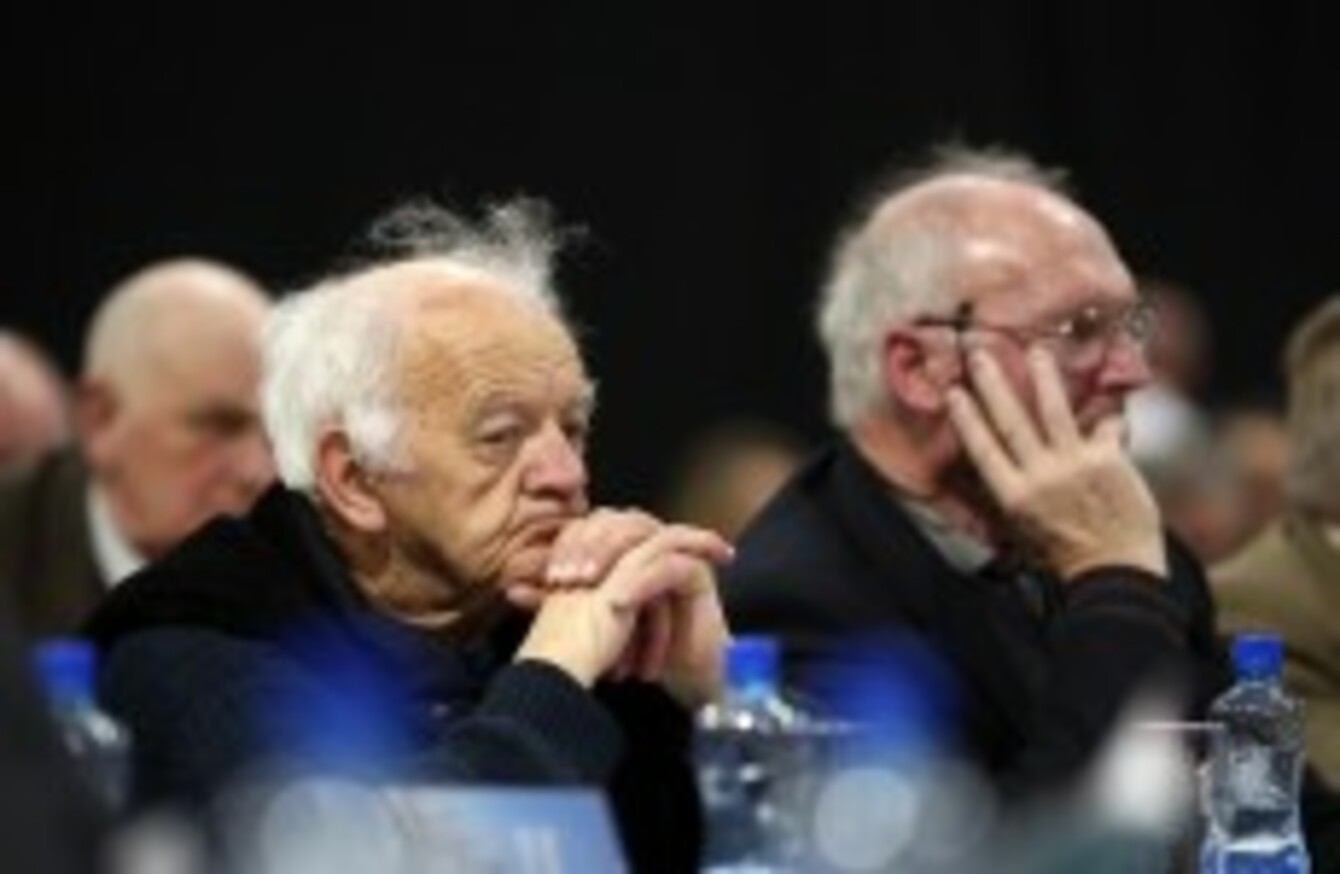 Delegates at Congress yesterday.
Image: ©INPHO/Presseye/Lorcan Doherty
Delegates at Congress yesterday.
Image: ©INPHO/Presseye/Lorcan Doherty
Updated 16.20
AFTER PASSING A motion to open GAA venues to a potential Rugby World Cup bid, GAA Congress has continued in Derry today.
Some major rule-changes put to a vote by the gathering of delegates in the walled city.
Here are some of the highlights from the decisions taken before lunch.
Passed
Motion 4: The Black Card.
The introduction of a new black card to deal with five specific cynical fouls required a two-thirds majority and was passed with 71% of the vote.
A player shown the black card will be sent from the field of play, to be replaced by a substitute. The rule will come into force on January 1 2014. The five player actions covered by the black card are:
Aggressively remonstrating with an official.
Pulling down an opponent.
Deliberately tripping an opponent.
Body-checking after the ball is played.
Using threatening, abusive or provocative language to an opponent.
Motion 19: Advantage.
This motion was passed and allows a referee wait five seconds after an offence to see whether a team can obtain an advantage by playing on.
Motion 22: Open-handed point.
A large majority of delegates passed the motion which now allows a point to be scored with an open-palm as opposed to the fist.
Motion 24: Public clock.
For the second time, congress has vowed to implement a public clock at senior championship fixtures to allow the attending crowd clearly see how much time has been played.
Motion 27: Jersey branding.
90% of delegates approved the motion to allow more than one sponsor appear on jerseys.
Motion 52: Hawk-Eye.
Technology will be used on a trial basis in Croke Park after congress voted overwhelmingly in favour of it.
The trial will take place over a period yet to be confirmed by central council. In that period Hawk-Eye will be available to a referee or umpire to help clarify whether a point has been scored, or if the result should be a wide or 45/65.
SEE SPORT
DIFFERENTLY
Get closer to the stories that matter with exclusive analysis, insight and debate in The42 Membership.
Become a Member
Motion 54: 'Enshrining' Anti-Sectarian / Anti-Racist stance into official guide.
90% of delegates voted in favour of the motion which provides for a 96-week suspension for:
"Any conduct by deed, word or gesture of sectarian or racist nature or which is contrary to the principles of inclusion and diversity against a player, official, spectator or anyone else, in the course of activities organised by the Association, shall be deemed to have discredited the Association."
©INPHO/Presseye/Lorcan Doherty
Rejected
Motion 16: 30-metre advantage.
The proposed change allowed for the ball to be moved forward 30 metres if a player delayed a quick free being taken. The motion was the first to be defeated on day two of congress.
Motion 20: The Mark.
The motion to allow a player who has cleanly caught a kick-out past the 45 metre line take an unchallenged kick or play on with the ball in hand needed a two-thirds majority. The motion narrowly failed.
Motion 21: The Clean Pick-up.
A rule which would have allowed players (under certain conditions) to use their hands to pick the ball off the ground received only 46% of support.
Motion 25: 70 minute duration for all adult games.
A massive 83% of delegates voted against the motion. Adult games at club level will remain at 60 minutes.
Motion 49: Release of teams to the media.
The motion proposed demanded that senior championship teams would be announced four days before a game. The motion failed to reach a two-thirds majority.
Motion 71: To play All-Ireland finals one week earlier.
Cork clubs Nemo Rangers and St Nicholas' proposal to play the All-Ireland senior finals one week earlier to give club games more space in the calendar was opposed by 74% of delegates.