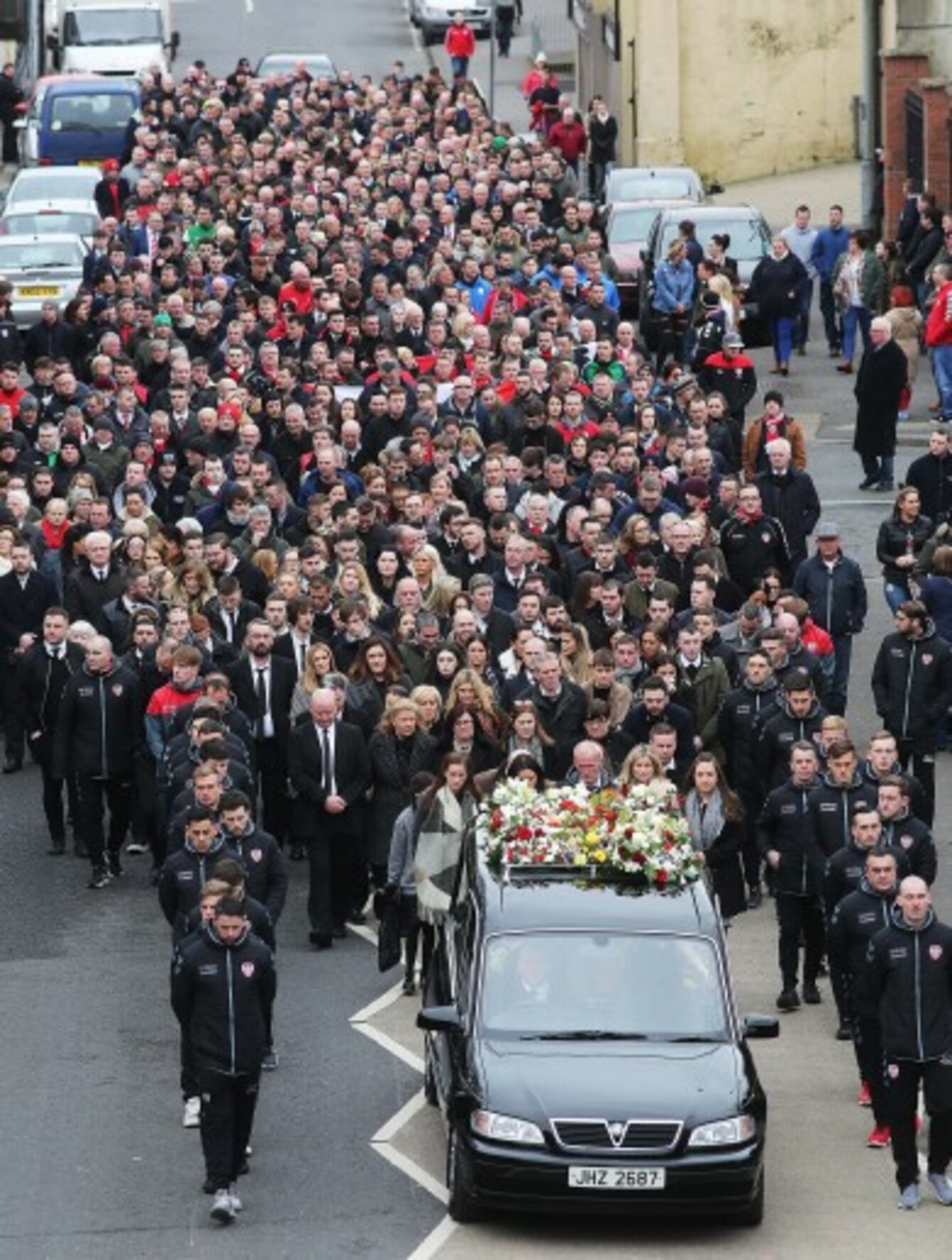 Image: Presseye/Lorcan Doherty/INPHO
Image: Presseye/Lorcan Doherty/INPHO
HUNDREDS OF MOURNERS lined the streets of Derry today to pay their final respects to Derry City FC captain Ryan McBride, who died suddenly on Sunday just hours after leading his team to a 4-0 victory over Drogheda United.
The 27-year-old's funeral took place at St Columba's Church, with team-mates and coaches flanking the hearse on its way. President Michael D Higgins and FAI chief executive John Delaney were among those in attendance.
Ryan McBride, who grew up just a stone's throw from the club's Brandywell stadium, is being laid to rest in Derry's city cemetery. Since making his debut in 2011, the defender played over 170 games for the club, more than 50 of them as captain.
"We think of him as an athlete on his prime, who achieved much and still had great potential, a versatile and accomplished footballer, of the thrilling moments he brought to so many supporters of Derry City, and across Ireland, over the past seven years," said Father Aidan Mullan.
"The club management, the team, the supporters, all have been caught up in his natural footballing ability; in his courageous play. As has been said many times, Ryan would put his head where other players would not put their boot. He was brave and knew no fear.
"As captain he was an inspirational leader in the dressing room and on the field of play. In the last several weeks Ryan was pivotal in great performances and contributed greatly to Derry's perfect start to the season; quick reflexes, heady play and competitive spirit made him a great role model for many young boys and girls as well as City supporters and fans throughout the area."
At the church service, an emotional Derry City manager Kenny Shiels read a poem in tribute to his inspirational captain:
In your absence
Our trojan warrior
You've ran your last race
Your passion and energy, you just loved the place
In your absence
With love and respect
In your absence
We will never forget
You were our captain
Without all the hype
The one and the only
Our top Candystripe
In your absence
We will endeavour to fight
In your absence
With all of our might
Our Brandywell boy
You wore stripes with great pride
It made you so happy
To play in the side
In your absence
We still feel you here
The big number five
So vivid, so clear
Ryan, we love you
With all of our heart
A giant so gentle
And now we're apart
In your absence
We will still play the game
But in your absence
It won't be the same