DONEGAL FOOTBALLER RYAN McHugh has revealed he suffered 'a slight bleed' in his brain earlier this year in the first of two concussions that the All-Star winner picked up during the 2018 season.
The 24-year-old is currently sidelined after receiving medical advice to sit out the rest of the year after he was concussed for the second time.
McHugh recovered from the first one that he sustained in the spring in action for Donegal, to line out in their summer championship campaign but then missed out for Kilcar, the 2017 county senior kingpins, as they made their club exit at the quarter-final stage.
"I had two concussions," outlined McHugh, speaking in Philadelphia at the 2018 PWC All-Stars tour.
"I had one at the start of the league this year and I took about eight weeks off, I had a slight bleed in my brain. So I was advised medically to take time off. Take a rest.
"It was a mixture. Three knocks in games. Dublin, Kildare and Tyrone were the three games. Our Doctor, Kevin Moran is one of the top doctors in Ireland and he was looking after me. So I took about six to eight weeks off and I was grand then. 100% after that.
"Unfortunately I went back to the club and we had a challenge match against St Vincent's of Dublin. I picked up another knock and I don't really remember a lot about that. I got the CT scan and was advised again by the doctor to take a longer rest.
"Thankfully again I am grand. Back in the gym and I am looking forward to getting out running when I get back from holidays and will be ready to rock for the McKenna Cup."
Ray McManus / SPORTSFILE Ryan McHugh at the Philadelphia Museum of Art on the PWC All-Stars tour. Ray McManus / SPORTSFILE / SPORTSFILE
McHugh praised the Donegal team medics for their advice in helping him to recover and believes it was a more difficult situation for his parents to deal with.
"I didn't really think about that. Now it was a slight bleed, they weren't 100% sure. Maybe Mum and Dad might have thought more about it but I was that engrossed in trying just to get back and get myself ready for the next Donegal match.
"Kevin Moran, I put my full hands in him and we've a great relationship so we do. He does what he does best. He was advising me and I think to be fair to Kevin, he wasn't looking at it from a Donegal or Kilcar point of view, he was looking at it to make sure that Ryan McHugh was going to be okay and going to be back, when he is fit to come back a better player.
"I know the first time I had it, I actually didn't get the symptoms and stuff until about two weeks later, so I didn't. So it was strange, it actually happened at training one night, I just felt ill and dizzy and stuff.
"I went to Kevin and Kevin pulled me out straight away. If Kevin wasn't there, I could have trained on. You just have to get on with it. It's not like when you break a leg, you come back and try to build it up in the gym. It's just rest really all you can do, stay away from computers and that sort of stuff. It is worrying but I didn't really think about it."
Being absent as Kilcar attempted to defend their Donegal senior title was frustrating for McHugh.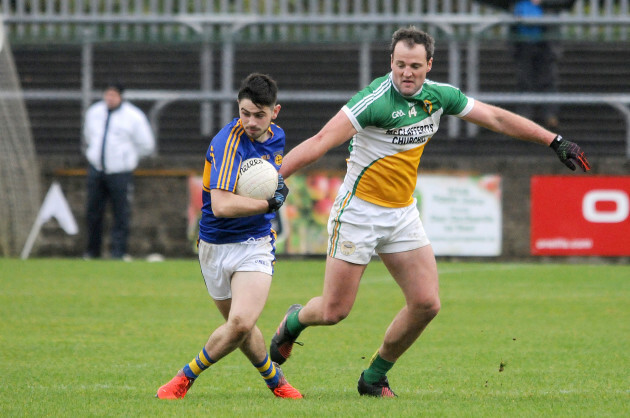 Kieran Murray / INPHO Ryan McHugh (Kilcar) in action against Michael Murphy (Glenswilly) during the 2016 Donegal county senior football final. Kieran Murray / INPHO / INPHO
"It was a rest you didn't want to take. When you had a chance to play for your club and we were actually county champions last year and we had a chance to defend our title. So it was a break you didn't want to take but you have to think of later on in  life.
"It's not easy but if you are told by a doctor to rest, there is nothing really you can do. Barry (Doherty, Kilcar manager) accepted it and to be fair it was a tough year for the Kilcar boys, with myself and Paddy missing from the club.
"It's a strange injury because looking at somebody you don't think there is anything wrong with them. It was tough. After the time you have slight headaches and you know there is something wrong with yourself.
Exclusive Six
Nations Analysis
Get Murray Kinsella's exclusive analysis of Ireland's Six Nations campaign this spring
Become a Member
"After a week and a half you start to come round to yourself but the fear is if you pick up another one you can pick up serious injuries. I don't know a lot about it, I was taking the advice of Dr Kevin Moran and that's it."
McHugh's dynamic, all-action style has helped him to become established as a standout Gaelic footballers, garnering two All-Stars in the last three seasons. Altering that approach to playing is something he may consider in light of these concussion incidents. 
"Myself and Dad were actually on about that. I was reading up on Johnny Sexton and there was a lot written about him and head injuries and concussions.
"He had to change the style of the way he tackles. I don't know the basics of rugby but he said he changed the style of his tackle, the way he went in. He must have been going in with his head or something.
"So it is something I can look at in the future. It is easy to say it sitting around the table but when you are in the heat of a Championship battle and the ball is there to be won, it's another story. I think it is something to look at along with different aspects of my game." 
Subscribe to our new podcast, Heineken Rugby Weekly on The42, here: