RYAN O'DONOGHUE SPEAKS like a Mayo footballer unburdened by the county's failure to deliver the Sam Maguire since 1951.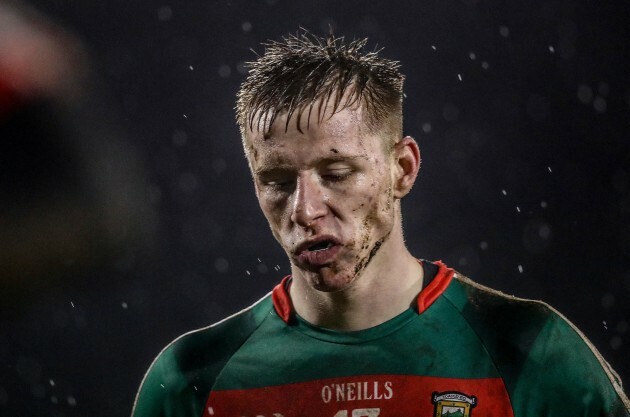 Tommy Dickson / INPHO Tommy Dickson / INPHO / INPHO
"Someday, we will lift it," he says. "We've just been unlucky. It is what it is. Whatever about winning and losing. Someday, we will pick up that holy grail and lift that Sam.
"The likes of us at U20s just have to keep coming through. Andy (Moran) is 34 now and boys like us have to keep pushing on and working hard and trying to get where Andy is."
Still a teenager, O'Donoghue looks as calm and confident speaking at the EirGrid U20 launch as he does on the pitch, where he will be the key forward for Mayo in the Connacht U20 football semi-final against Leitrim tomorrow afternoon.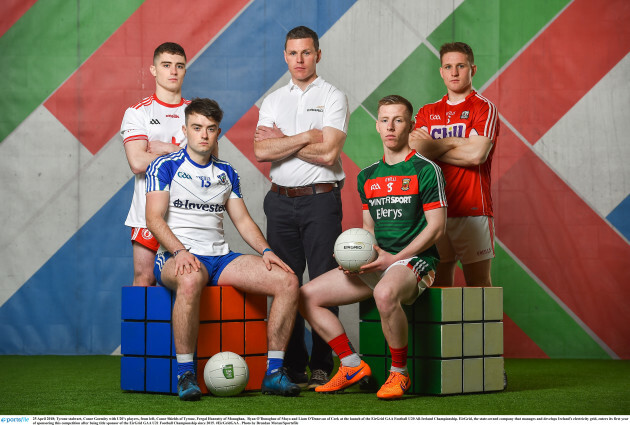 Brendan Moran / SPORTSFILE O'Donoghue was at the launch of the EirGrid GAA Football U20 All-Ireland Championship. #EirGridGAA Brendan Moran / SPORTSFILE / SPORTSFILE
A veteran of last year's U21 campaign where the Westerners fell to a talented Galway outfit that went on to reach the All-Ireland final, O'Donoghue also enjoyed a stellar campaign at centre-forward as an unfancied UL side made it to the All-Ireland Freshers A football final last March.
"We just lost out by two points to DCU but we had a good run at it," he says. "I don't think they've ever been in a Freshers A final before. We were so close, which was the worst thing. Hopefully, we'll build and make the Sigerson in a few years."
O'Donoghue has big ambitions for his football career and it's no surprise given the sacrifices he's made to get here. The Belmullet native is a talented all-round sportsman, initially showing promise as a young fighter at Golden Gloves Boxing Club in Belmullet.
He won a National Boys 1 U12 title at the start of the decade before he drifted towards soccer.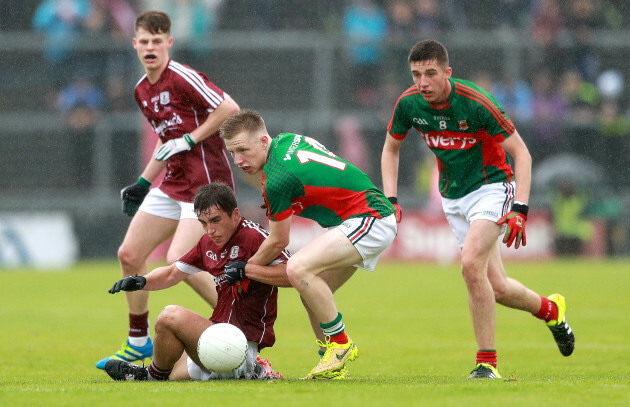 James Crombie / INPHO O'Donoghue in action with Mayo minors in 2016 James Crombie / INPHO / INPHO
He was a star player with local club Erris United FC when Sligo Rovers came calling during his mid-teens. "I got spotted by Sligo Rovers," O'Donoghue explains. "I went up for trials and got picked for them. I was playing there for three seasons on the U19 team."
His rise continued with a trial for the Irish schoolboys team. Once again, O'Donoghue impressed and went on to win three international caps for Ireland during a four-team tournament containing England, Scotland and Northern Ireland in 2016.
Despite lining out at right-back, O'Donoghue managed to get himself on the scoresheet during the clash against Scotland in Killarney and it was one of his proudest moment in the Ireland shirt.
Next came a trip across the water to face England, where a victory would have secured the title for Ireland.
"That was over in England," he recalls. "All we needed was the three points, we were 3-2 up and they got a last-minute equaliser. They won it out. We still had a game to play and they won it out so it was sickening. But the pride to put on that jersey against them was very good."
During those heady days, O'Donoghue's dream was to follow in the footsteps of former Rovers defender Seamus Coleman and pursue a career in England.
"That was the ambition at the start, but then reality hits of going across that water. Even the League of Ireland, you have to be very good to get a contract with a League of Ireland club.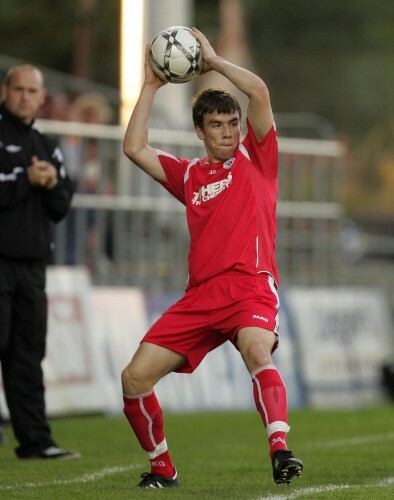 James Crombie / INPHO Current Irish captain Seamus Coleman during his Sligo Rovers days in 2007 James Crombie / INPHO / INPHO
"I wasn't quite that good, so I said I'd leave it. But that was the ambition, yeah. Sure Seamus Coleman was 20 or 21 when he went across, and now look at him. One of the best right-backs in the Premier League. It was the ambition at the time."
When the Mayo minors came calling later that year, O'Donoghue didn't need a second invitation. Gaelic football has been his primary focus ever since.
"My heart was with the Gaelic and I wanted to go to university as well. I couldn't balance the soccer and the college so I went with the Gaelic.
"It was a tough decision. I went with my heart. My head was telling me to wait with soccer but it's a tough game to progress in. You see boys like Gary Boyle, he's still at Sligo Rovers, and it's a tough industry. In Belmullet your heart is with Gaelic, there's no soccer so that's what I went with. My dream is to play senior with Mayo and that's the way it is.
"I had a Sligo crest on my heart and that's not what I wanted. I wanted a Mayo crest on my heart and to be going out playing for Mayo. At the end of the day, that was the reason.
"It's Gaelic through and through in Belmullet. You wouldn't see many boys talking about soccer. That would have been a big difference.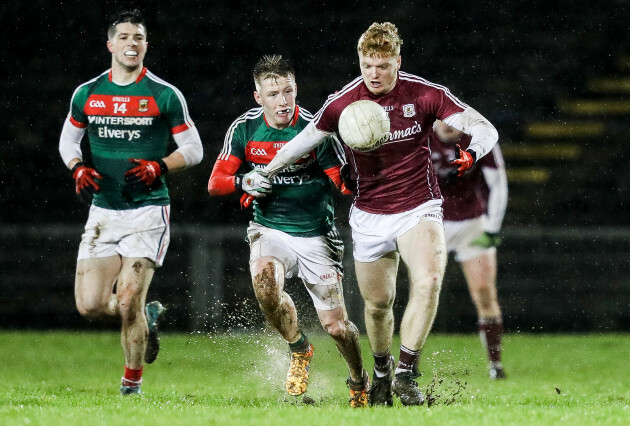 Tommy Dickson / INPHO O''Donoghue in action for the Mayo seniors in January Tommy Dickson / INPHO / INPHO
"My parents didn't put any pressure on me. It was my decision, my life. My head was telling me to wait, but my heart was telling me to go with Mayo.
"You're never going to be satisfied because you're always going to want to make it across to England and play for a Championship club or a Premier League club and that step-up was just way, way too high. I knew myself I wasn't that good, so it wasn't that hard a decision to make."
While one of his former Ireland team-mates, Aaron Drinan, is currently on the books of English Championship side Ipswich Town, two members of that Irish schoolboys side are gearing up for the All-Ireland U20 championship.
"There's a few lads I played with like Evan Murphy, he's playing for the Galway U20s, Jason McGee he's playing with the Donegal U20s, there's a few boys that left the soccer and went with the Gaelic."
O'Donoghue's club-mate Chris Barrett won an All-Star in 2017 and made his International Rules debut last N0vember after a fine campaign, while Eoin O'Donoghue (no relation) has established himself as a tight-marking corner-back in Stephen Rochford's starting 15 this season.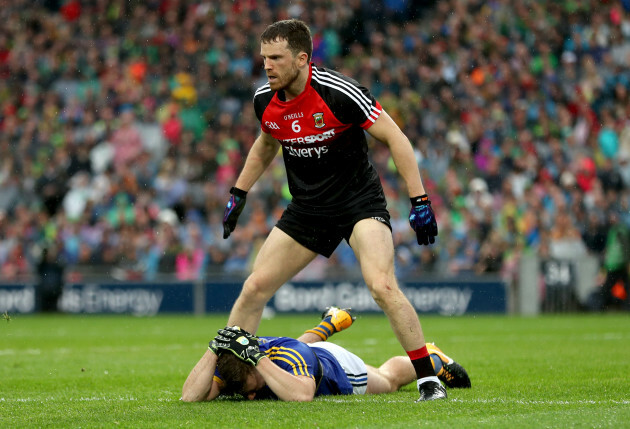 James Crombie / INPHO James Crombie / INPHO / INPHO
"Everyone has seen what Eoin has done this year. He's been in that senior set-up for the past three years and he's just been working hard in the gym, training hard.
"I just look up to him now and see that once he got this opportunity, he took it. It's good to be looking up to boys like that. Especially (to see) Chris getting an All-Star."
O'Donoghue appeared for the seniors during the Connacht FBD League in January and over the next season or two will likely join his fellow Belmullet men as a regular under Rochford. But first things first, he's determined to round-off his underage career with some silverware.
"This is my last chance at underage level to win a medal. We'll be giving this a right go."