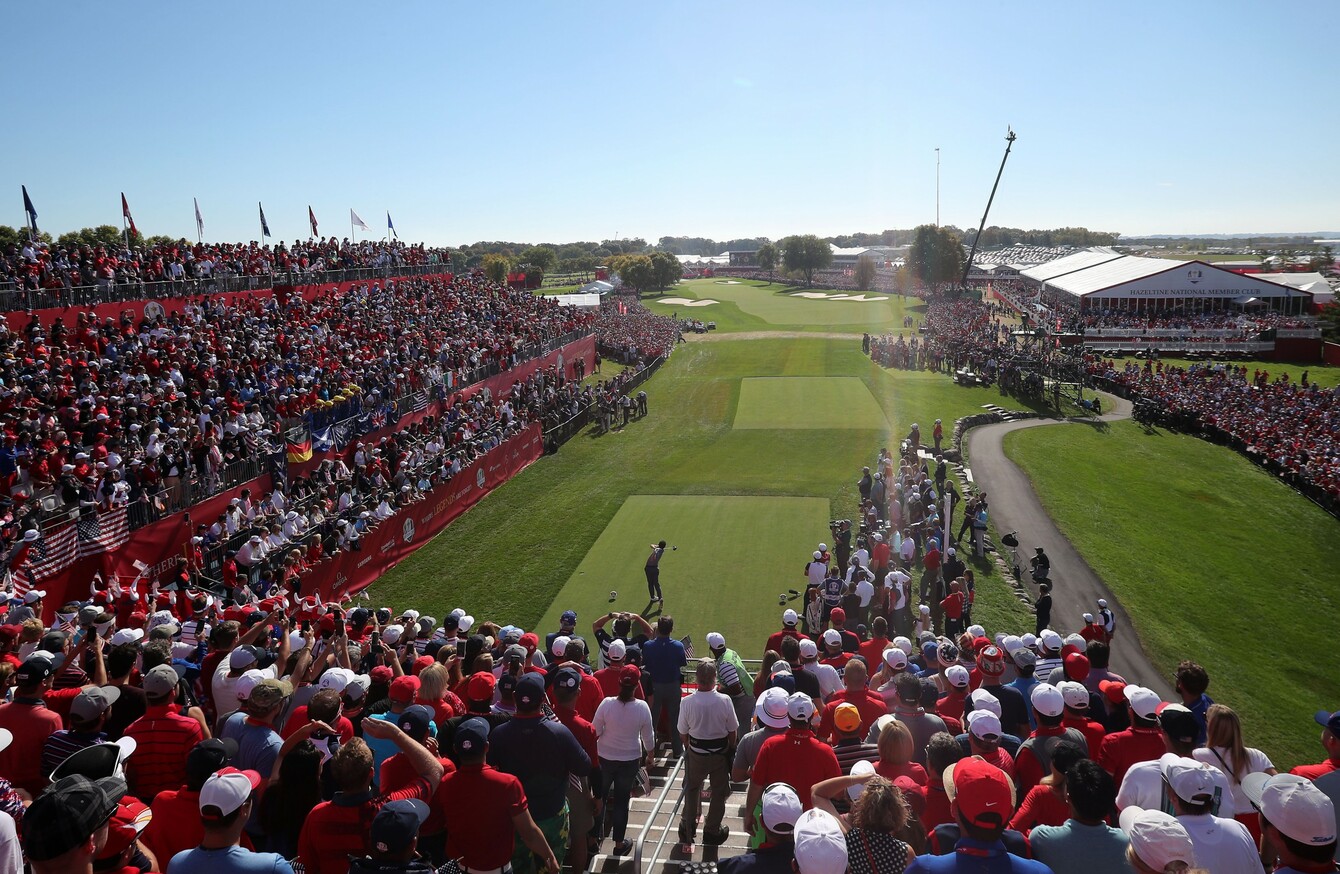 The first tee was jam packed at Hazeltine.
Image: PA Wire/Press Association Images
The first tee was jam packed at Hazeltine.
Image: PA Wire/Press Association Images
PATRICK REED AND Rory McIlroy have teed off in the opening singles match at the Ryder Cup with the United States needing only five wins to take the trophy as organisers pleaded for calm amongst fans.
The US team took a 9.5 to 6.5 lead by winning Saturday's last three four-ball matches, setting up a tension-packed finish at Hazeltine for 12 concluding singles matches in the biennial team golf showdown.
With emotions running high, the PGA of America warned fans that they face being kicked out of the grounds if there is a repeat of some of the abuse aimed at European players over the first two days.
"There are still 12 points to be played and you just can't get off the game plan, just keep grinding it out for one more day," US captain Davis Love said.
Europe seeks an unprecedented fourth win in a row over the Americans, who have dropped six of the past seven and eight of the past 10 in the rivalry.
"I've got a very good feeling," Europe captain Darren Clarke said. "If our guys play their best we've got a shot."
Most notably for Love was the Miracle at Medinah, when his 2012 team blew a 10-6 lead after singles, the worst US collapse in Cup history.
"Our plan is a little more comprehensive than in years past," Love said. "We learn from mistakes we made."
Third-ranked McIlroy, emotional all week, found the fairway off the tee while Reed went left into the rough.
McIlroy, who won the season-ending US PGA Tour Championship last Sunday, and Reed have both fed off the crowd, the American for its support and McIlroy from insults.
"That's going to be a fun match to watch, two of the best players in the game going at it," said Love.
Treatment to McIlroy and Sergio Garcia among others became so vile the PGA of America felt the need for a statement Sunday stressing "respectful" behavior by spectators and warning of ejections.
"We're after it today," Love said. "Even my son was after it, getting people thrown out. He's a Rory fan."
Clarke was excited about Europe's comeback chances based on his and other early matchups, including British Open champion Henrik Stenson of Sweden against Jordan Spieth, five-time rookie starter Thomas Pieters of Belgium against J.B. Holmes, Olympic champion Justin Rose of England against Rickie Fowler and Spain's Sergio Garcia against five-time major winner Phil Mickelson.
"They are proud. It's obviously a very important start for us," he said. "We want some blue up there. If we do that everything could turn."
Knowing that, McIlroy asked to start first.
"It's what I wanted. I want to lead this team. I want to set the example and put a point on the board and carry that responsibility," McIlroy said. "We looked at the first five or six matchups and we liked what we saw. We have a chance."
If Europe can push the outcome to the final matches, they have Germany's Martin Kaymer against Matt Kuchar in the penultimate pairing. Kaymer was in the same spot when he hit the Cup-clinching putt in the Medinah comeback.
"It wasn't random," Clarke said. "Martin is down there for that reason. Not just because of Medinah. He has been a very important part of the team this week."
English Ryder Cup newcomer Matthew Fitzpatrick, at 22 the youngest on either team, goes out last for Europe against two-time major winner Zach Johnson.
England's Lee Westwood, whose two-foot putt miss cost Europe half a point in Saturday four-balls, tees off seventh against US rookie Ryan Moore.
"He's disappointed but he's ready to get out there," said Clarke, who made his friend a captain's pick. "He's now back focused on what he needs to do."
The42 is on Snapchat! Tap the button below on your phone to add!