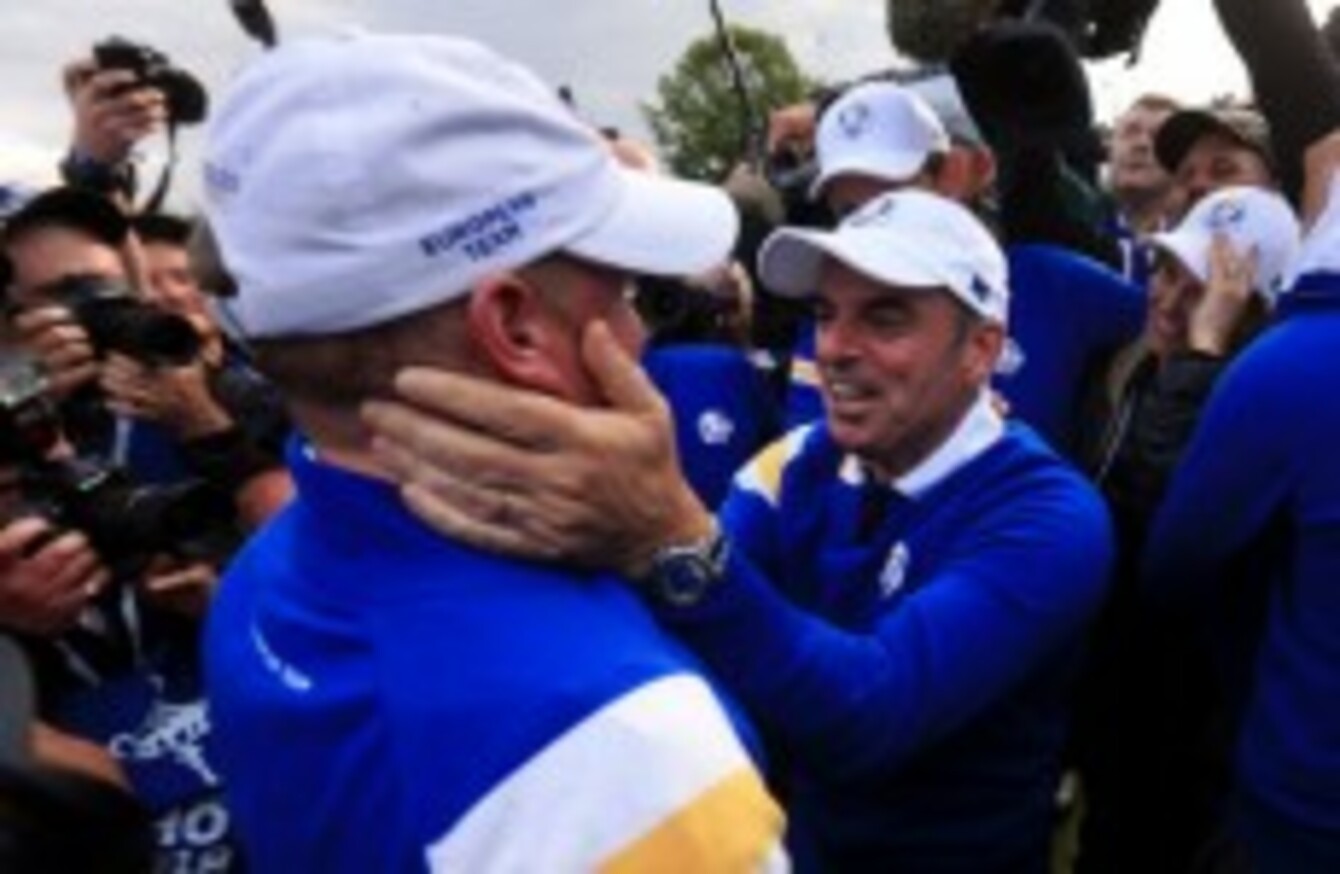 Donaldson's majestic approach shot won Europe the Ryder Cup.
Image: Mike Egerton
Donaldson's majestic approach shot won Europe the Ryder Cup.
Image: Mike Egerton
EUROPE'S FINEST GOLFERS captured the Ryder Cup for the sixth time in seven tries on Sunday at Gleneagles, delivering a resounding defeat to an American squad that once dominated the rivalry.
Welshman Jamie Donaldson, a 38-year-old Ryder Cup rookie, dropped his approach at the 15th hole just inches from the hole to clinch a 4 and 3 victory over Keegan Bradley that gave Europe an unbeatable total of 14 1/2 points.
"Hit a really good tee shot down 15 and hit the wedge of my life to close the game out," Donaldson said. "You can't really put words to it. It's unbelievable. It's just an incredible week."
Europeans matched their longest win streak in the series with a third consecutive triumph while Tom Watson's US squad failed in its bid for their first victory in Europe since Watson captained a 1993 triumph at The Belfry.
"Proud is the first word," European captain Paul McGinley said. "It has been a huge team effort."
Trailing 10-6 when Sunday's 12 final singles matches began, the Americans needed the greatest rally ever on European soil to pull off a stunner in Scotland.
Instead, Europe emerged with the trophy for the eighth time in 10 starts.
Early triumphs Sunday by European talisman Rory McIlroy and 2010 Cup-clincher Graeme McDowell, both of Northern Ireland, plus reigning US Open champion Martin Kaymer of Germany lifted the hosts closer to their goal.
A halved match by England's unbeaten Justin Rose, who won three and halved two this week to lead all point producers, put Europe a half-point from keeping the trophy.
Attention then turned to Donaldson, who had birdied to win the ninth, 11th and 12th holes for a 4-up lead over Bradley, who sank a short putt to halve 13 and extend the suspense before Donaldson halved 14 and 15 to seal America's fate.
"Really happy for JD to get the job done," McIlroy said. "He has been fantastic all week."
Americans lead the overall series 25-13 with two halved, but Europeans have a 10-7 with one halved edge since the team was expanded beyond British-Irish talent in 1979.
Europe built a four-point lead entering singles thanks to a 7-1 edge in foursomes matches, equalling the 1975 US squad for the format's most lopsided domination.
"You killed us in the foursomes, man," Watson told McGinley.
McIlroy wins big early 
World number one McIlroy, coming off major wins at the British Open and PGA Championship, produced Europe's first singles point by routing Rickie Fowler 5 and 4, a top-fiver in every major this year but winless in eight Cup matches.
"It would be nice to get a win one day soon," Fowler said.
McIlroy opened birdie-eagle-birdie for a 3-up lead, birdied the fifth and sixth to go 5-up, lost the seventh with a bogey but won 13 with a birdie and halved 14 to win.
"Very satisfying. I knew what was expected of me and what I expect of myself," McIlroy said. "I was probably more up for this day than I was the last day of the majors I won. There for no option other than to win."
McDowell followed by rallying from 3-down at the turn to beat US rookie Jordan Spieth 2 and 1 and finish 3-0 in the event, his first perfect Cup run.
Masters runner-up Spieth won three of the first five holes but McDowell began the back nine by winning four in a row, three on Spieth bogeys, to move 1-up. McDowell birdied to win 15 and closed out with an eight-foot par putt at the par-3 17th.
"I just got off to such a slow start," McDowell said. "I dug in. We halved eight and nine on birdies and I felt something turn inside me. I was happy to come out and get that big point."
Rookie Patrick Reed edged fifth-ranked Henrik Stenson 1-up for the day's first US point, the Swede missing a short birdie putt at 18 to hand the American the victory. His 3 1/2 points are the most by a US rookie since 1979.
"It was a battle," Reed said. "We were making a lot of birdies."
Rose goes unbeaten 
But Kaymer answered for Germany by chipping in for eagle to win the par-5 16th and complete a 4 and 2 victory over reigning Masters champion Bubba Watson.
"I played very well," Kaymer said. "To chip it in like this is amazing. It's a big rush. You get the emotions you don't usually get from players."
The Americans would not go quietly, Matt Kuchar beating Dane Thomas Bjorn 4 and 3 and five-time major winner Phil Mickelson beating Scotsman Stephen Gallacher 3 and 1.
But Hunter Mahan, 4-up after six holes, took bogey at the last to halve with Rose, who won four holes in a row starting at eight to battle back.
"He threw it all at me and I was able to respond," Rose said. "An honourable half."