EX-ENGLAND BOSS Sam Allardyce has revealed that he would be willing to discuss managerial posts with Everton and the United States.
The experienced coach has been out of work since leaving Crystal Palace at the end of the 2016-17 campaign.
He helped to rebuild his reputation at Selhurst Park, as he helped the Eagles to cement their Premier League standing on the back of a forgettable 67-day stint at the Three Lions helm which ended in controversy.
Allardyce is now open to getting back into the dugout and is prepared to hold talks with Everton if they consider him to be a suitable successor to the ousted Ronald Koeman.
"I'd have to consider that if that phone call happens," he told BeIN Sports.
"There's no point speculating at the moment. David Unsworth is in the chair, Joe [Royle] sat upstairs will have an opinion today [after the Leicester defeat] and from the Chelsea game.
"It's really going to be tough for Everton to get out of that position. Not because the lads are not trying, but as a team collectively they can't keep a clean sheet and can't score a goal.
"Those are the two problems, if you resolve one, you'll end up resolving the other and that will start with the clean sheet."
Allardyce would also welcome the opportunity to step back into the international arena if an opportunity presents itself.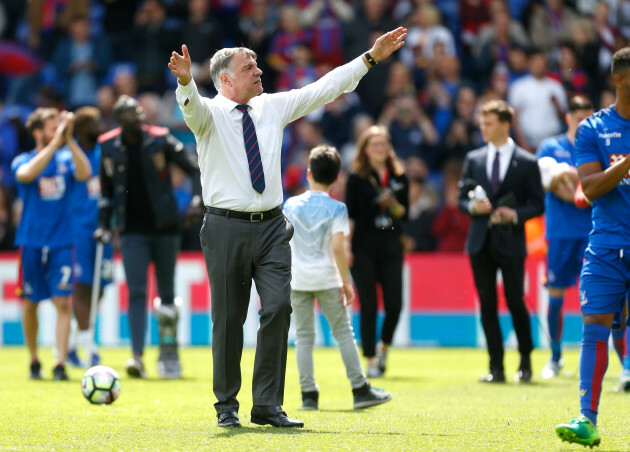 Paul Harding Allardyce led Palace to 14th place in the Premier League last season. Paul Harding
The United States are in the market for a new boss after parting with Bruce Arena on the back of their failed 2018 World Cup qualification campaign, with various candidates mooted for that post.
"At an international level, I think I would be interested in talking to them if I had the opportunity," Allardyce said.
"It's a fantastic country and it's been trying to make football more and more successful every year and obviously the big teams have been going there for a long time now on pre-season friendlies and big tournaments so the fan base is getting bigger and the interest is getting greater. So it would interest me, yes."
Allardyce also believes that it would not take him long to help turn the tide for the U.S, despite conceding that he knows little about the makeup of their squad at present.
"Not an awful lot, but it wouldn't take me long to find out and see if I can make them better than what they are at the moment, because they obviously haven't qualified for next year's World Cup," he said.
Subscribe to The42 podcasts here: