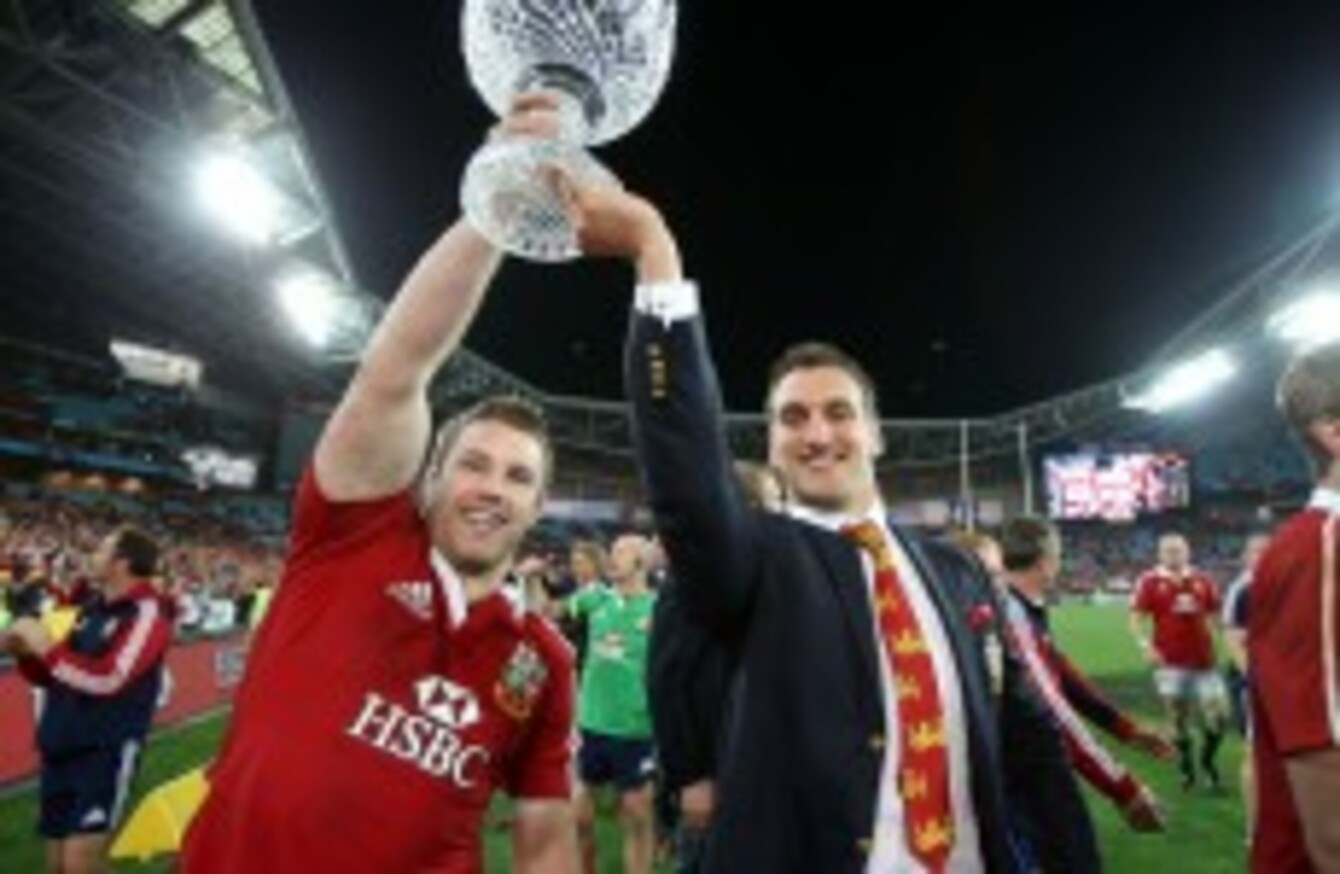 Sean O'Brien filled in at openside for the injured Sam Warburton during the final Lions Test.
Image: INPHO/Dan Sheridan
Sean O'Brien filled in at openside for the injured Sam Warburton during the final Lions Test.
Image: INPHO/Dan Sheridan
SAM WARBURTON'S AGENT has revealed his client was offered €850,000 a year by Toulon and Stade Francais before he eventually decided to remain in Wales.
The Wales and Lions captain signed a central contract — the first of its kind — with the Welsh Rugby Union yesterday and is set to be released, free of charge, to his Cardiff Blues club next season. The flanker's agent, Derwyn Jones, today spoke about the ground-breaking deal.
Jones told Wales Online that his client was subjected to 'uninformed vitriol' on social media sites but his intention was always to remain in Wales. While not releasing an official annual salary figure for Warburton's services, Jones said his new deal is a lot less than the money that was on offer from Top 14 clubs.
Jones said Warburton had turned down €850k to sign for Stade, who are currently leading the Top 14. Toulon then approached the Welshman with a similar offer after openside Sean O'Brien decided to sign on with Leinster and Ireland until 2016. O'Brien started the Lions' third Test against Australia after Warburton was ruled out with injury.
Jones commented, "Sam was faced with the following two options regarding his playing future. Pursue interest from two teams in the Top 14 at twice his [UK] market value or sign a three-year employment contract with the WRU to stay in Wales at his market value."
Due to the ongoing state of flux in Welsh rugby, Jones added, "At this time however, due to the current fallout between the regions and the WRU, there are no cast iron guarantees that Sam will be able play for Cardiff next season."
Cardiff are frontrunners to get Warburton back in blue next season but their case to retain his playing services may not have been helped by comments made by their chairman, Peter Thomas, in The Rugby Paper. Thomas said, "The product we have in the Pro12 is not selling. To be blunt, we don't have a product. We are in the wrong competition.
The WRU are not making any decisions. With them it's all about control. They don't look at the bigger picture. They couldn't run a corner shop."
Toulon were successful in signing up Warburton's club and international teammate Leigh Halfpenny for €600k a year. The reigning Heineken Cup champions have also signed up Wallaby captain Ben Mowen for next season.