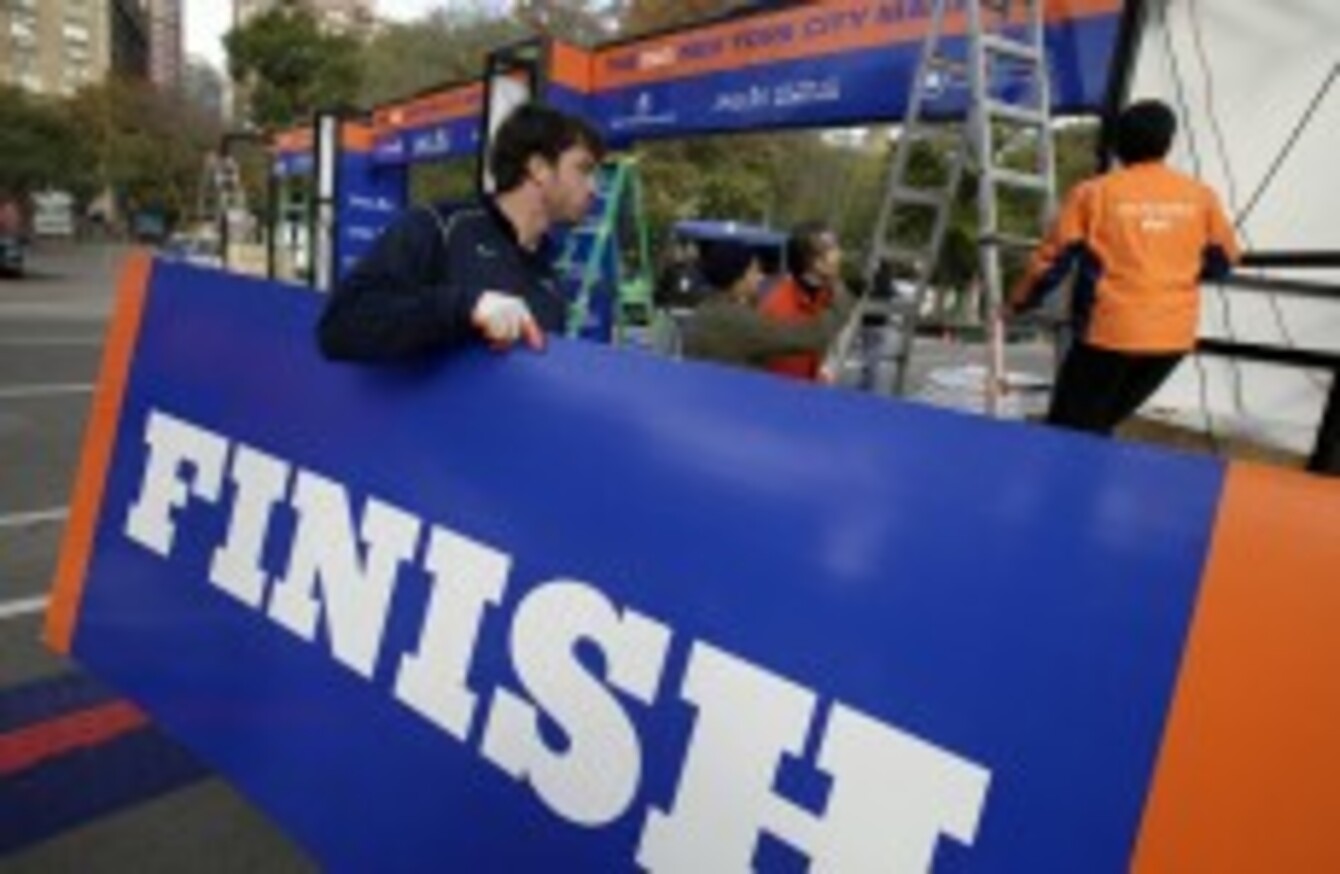 Workers assemble the finish line for the New York City Marathon at Central Park.
Image: AP/Press Association Images
Workers assemble the finish line for the New York City Marathon at Central Park.
Image: AP/Press Association Images
NEW YORK'S DECISION to go ahead with its annual marathon even as many residents struggle in the aftermath of Hurricane Sandy is stirring controversy among officials and even runners themselves.
Shortly after the storm, New York's Mayor Michael Bloomberg announced that the marathon would go ahead on Sunday despite the devastating storm, quickly raising hackles among some New Yorkers and their representatives.
"Every runner who wanted to run, we're asking you to come to Coney Island and run up and down the apartment buildings, delivering water and food," councilman Domenic Recchia told local news.
"Lives are lost, families are homeless, and homes are destroyed, and the city is worried about the marathon. Where are our priorities?" New York congressman Michael Grimm added on his Twitter feed.
James Oddo, a New York City councilman representing Staten Island, one of the city's boroughs worst affected by the storm, was even blunter.
"If they take one first responder from Staten Island to cover this marathon I will scream. We have people with no homes and no hope right now," he wrote on his Twitter feed.
But Scott Stringer, president of New York's Manhattan borough, home to 1.6 million residents, called for the race to be rescheduled.
"I believe we should postpone and reschedule the New York City marathon in order to focus all of the city's resources on the crucial task of helping our neighbours recover from this disaster," he said in a statement.
The New York Post dedicated its front page to the story, saying several generators that could be used to power homes without electricity were being used for a marathon media centre.
Be part
of the team
Access exclusive podcasts, interviews and analysis with a monthly or annual membership.
Become a Member
"The notion that so much as a flashlight battery would be devoted to a sporting event is outrageous," the paper wrote in an editorial said.
Bloomberg responded to the criticism yesterday, promising that resources would not be diverted from those in need.
"The marathon's not going to redirect any focus," he pledged. "By Sunday we'll have electricity back downtown, that will free up an enormous amount of police. Also a lot of the transportation needs that we have during the week aren't there on the weekend."
"This city is a city where we have to go on," he added.