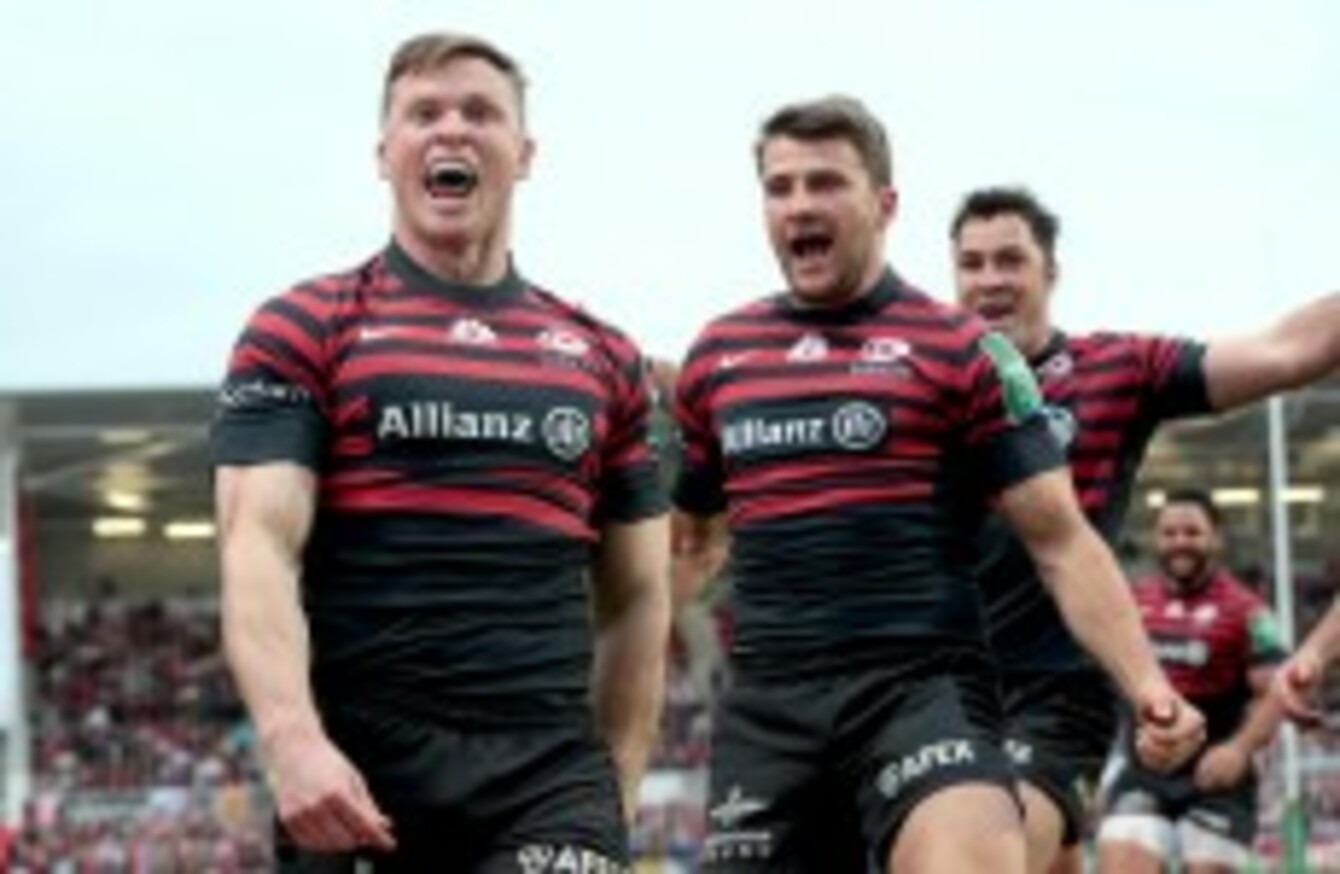 Chris Ashton celebrates with Richard Wigglesworth and Brad Barritt.
Image: Morgan Treacy/INPHO
Chris Ashton celebrates with Richard Wigglesworth and Brad Barritt.
Image: Morgan Treacy/INPHO
SARACENS ARE CALLING for the Premiership to abolish its salary cap, which is set to rise to £5.5million next season.
The club has released a statement on their official website claiming that it is leading a "consensus" among English clubs, who are said to be keen to release the "handbrake" of the salary cap.
This statement comes hot on the heels of the announcement of Dan Carter's agreement to join Racing Métro on a three-year contract worth around €1.5million per season.
Saracens say that seven of the 12 Premiership clubs have indicated that they would be in favour of scrapping the salary cap, although there is no mention of which clubs those are.
France's Top 14 currently has a salary cap of €10.5million, but there are doubts as to whether certain clubs actually remain within that threshold.
"The salary cap has served its purpose," says Saracens chief executive Edward Griffiths in his club's statement.
It's time to seize a golden opportunity to grow the game, to ensure a level playing field in Europe, to build the strongest league in world rugby and to let players earn market-related salaries."
"The clubs need to encourage investment, to provide the spectacle and quality deserved by our broadcast partner, BT Sport, and title sponsor, Aviva.
"It would be a pity if the world's top players light up the World Cup on English soil, and then leave to play club rugby in France. If the salary cap is left to forbid the required investment, it will kill any hope of growth."
"English clubs must compete in the European Champions Cup against Irish and French clubs spending two or three times as much on players.
Imagine the likes of Arsenal and Manchester City being asked to compete with Barcelona, FC Bayern and Real Madrid under those circumstances. It would never happen, but it happens in rugby.
"Strong legal opinion suggests the salary cap, as applied, breaches European competition laws.
"We understand some clubs fear the removal of the salary cap will cause wage inflation yet, in reality, salaries are already being driven by the French clubs. We can either sit back and become a second rate 'lowest common denominator' league, or we can leap forward.
Lastly, we must be fair to England international players, who are encouraged to play club rugby in England to be eligible for the national team.
"Their salaries should be determined by the free market, nothing less. It is simply unfair, inequitable and possibly illegal for their pay to be restrained by the artificial mechanism of an outdated salary cap.
"Time moves on. Situations change. The game needs to evolve. In the interests of English rugby, in the interests of building the best league in the world, in the interests of the sponsors and broadcasters, in the interests of the players… it is time to #scrapthecap."
It remains to be seen whether other English clubs release similar statements in support of Saracens' motion.