GALWAY'S TEENAGE GOALKEEPER Sarah Healy won't forget 2019 anytime soon.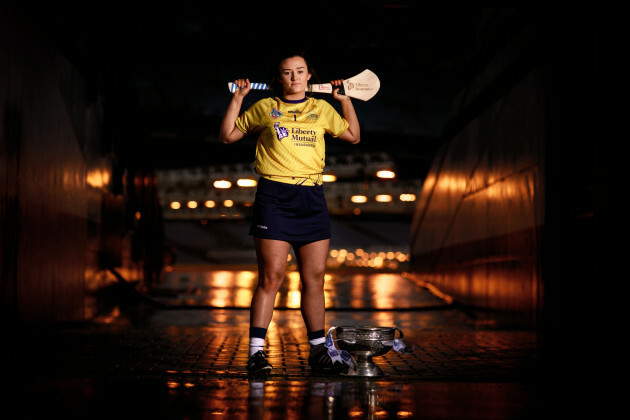 Bryan Keane / INPHO Galway goalkeeper Sarah Healy at last week's camogie All-Stars Tour launch. Bryan Keane / INPHO / INPHO
She may have only started out between the posts at the age of 14, and still plays forward for her club, but Healy was influential in the number one jersey as the Tribeswomen were crowned All-Ireland senior camogie champions for the first time since 2013.
Now a proud owner of a first Celtic Cross and a first All-Star, it hasn't been the worst of years. Throw in the completion of the Leaving Cert, the commencement of a college degree, and a trip of a lifetime to New York on the All-Stars Tour to round it all off; it really has been a surreal few months for the St Thomas' star.
"Great," 19-year-old Healy smiles when she's asked how it feels to be an All-Star for the first time at the launch of said Tour to the Big Apple last week.
"It's really topped off the successful year that Galway had. To have seven of us getting an All-Star, it's something special. And then going to New York with seven of your teammates makes it an even more exciting trip."
She's been to the City that never Sleeps a handful of times before to visit family and what not, but this will be in a completely different capacity. It's a fitting way to cap a huge year.
Evidently still on a high from that incredible O'Duffy Cup victory in September, it's crazy to think that goalkeeping is a pretty recent venture for the 2019 All-Star net-minder.
In fact, she still hits the frees from corner forward for the club. But five years ago, an underage county manager had different plans for Healy.
"I've always played in the forwards for as long as I can remember," she begins. "My first year U16, Lorraine Larkin, our manager at the time put me in goals and I was like, 'Okay, I'll stand in.'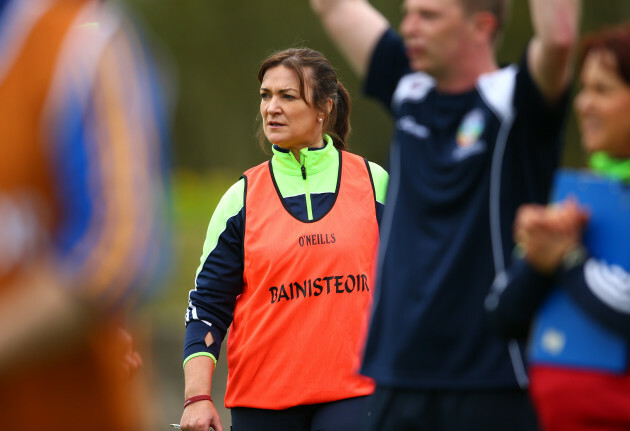 Cathal Noonan / INPHO Lorraine Larkin saw goalkeeping potential in Healy. Cathal Noonan / INPHO / INPHO
"She came down and asked, 'How do you feel about playing in goals?' I haven't come out since. I'd be the type of person who, if you told me to do this, I'd do it. If that's what the management want and that's what will help us win, I'll do it.
"She said that they'd put me in for one year – I was 14 at the time. I was like, 'Okay, I'll go in for one year,' but it continued on."
Healy recalls some uncertainty that initial day as an U16, but she hasn't looked back since.
"I remember I went home and told Dad that she wanted me to play in goals, and he was like, 'No. No. You're not going in goals,'" she laughs. "He couldn't see me in goals and I couldn't either.
But Larkin saw something. And thankfully so.
"Maybe my reflexes," Healy ponders. "She was saying to me that when the ball bounced, I'd automatically go with the hand and get there before the ball. I'd catch it.
"When she put me in goals, I remember the ball bounced and I caught it. I always think, 'What if I let the ball in? Where would I be today?'
"I don't know what she saw in me. She had an instinct and went for it. It turned out well, so I won't complain. This year was my fifth year just being a goalie. I'd never played in goals before that.
"I like the balance of being in goal for the county and then being outfield for the club."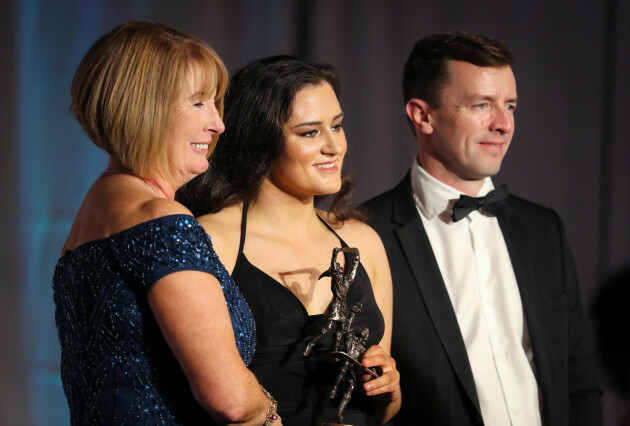 Oisin Keniry / INPHO Healy receiving her first All-Star award last month. Oisin Keniry / INPHO / INPHO
The first few weeks and months were "weird," she says. Understandably, so. But her approach brought advantages as she settled into her new home on the pitch.
"I was so used to playing outfield that I played like an outfielder in goal. I had no fear. It wasn't in my head that if the ball went in behind me that I might let in a goal. That was a positive in a way. I had no fear and I went out and attacked it.
"It was strange but I learned quickly."
Evidently so, with her stunning saves and monstrous puck-outs instrumental in Galway's success this year — Healy even stepped up to split the posts with a massive long-range free in the 61st minute of this year's All-Ireland decider.
A winner of underage Poc Fadas, the sheer length of her strike is put to Healy. It's not something she put a huge amount of work into through the years, but she has memories of hitting the sliotar into play from the end line while her Dad trained the St Thomas' senior camogie team many moons ago. 
"I've always been able to hit it that distance, even from U14," she adds, noting that the work on her technique now is about just trying to get her puck-out more accurate and to players' hands.
"I don't know where it came from, maybe the dinners at home! Maybe it's the potatoes and the meat!"
Maybe, indeed.
Studying sports science in GMIT at the minute and enjoying it with "no thoughts of dropping out," she jokes, Healy is pleased to have the Leaving Cert in her rear-view mirror after a hectic few months through the league and the start of championship.
Laszlo Geczo / INPHO Celebrating in the final. Laszlo Geczo / INPHO / INPHO
All went to plan, though, she assures, with Galway manager Cathal Murray and her team-mates' understanding key throughout. 
"I think I balanced it well," she explains."Cathal was very good. If I wanted to take a training session off, I just had to text him and he'd text back, 'That's no bother. Do what you need to do.'
"He said that from the very start. There was no pressure, 'Whatever you want to do, if you want to come training, if you need a day off, work away, do what you need to do…'
"You need a break from study too. An hour or two training would refresh the mind, get the head out of the books.
"[The team's understanding] took a lot of the pressure off. I wouldn't be the type to feel a lot of pressure. It really helped. My parents were good, too. I probably get how relaxed I am from my parents. They weren't nervous, didn't put any pressure on me. It was up to me to go out and study.
"There was no pressure on me to get 600 points."
That trust from Murray and his management team in someone so young epitomised everything good they brought to the set-up, Healy nods.
She's forever thankful to them for that.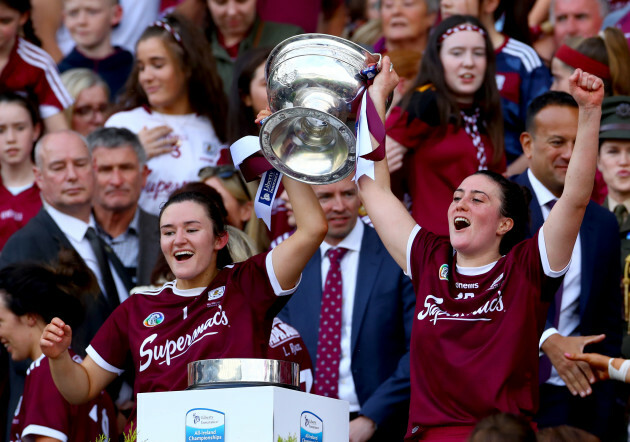 James Crombie / INPHO Lifting the cup with Ailish O'Reilly. James Crombie / INPHO / INPHO
"All the backroom team, what they have done for Galway camogie, they have changed us. I don't know how to describe it but they have changed us, they have changed the way we think, the mental capacity that we have — they have changed us for the better."
With her focus back on club at the time of our conversation — St Thomas' were beaten in the county final by Sarsfields on Saturday, though — the chat allows Healy to reflect on an incredible double-winning 2019.
The All-Ireland final win over Kilkenny was, of course, the big one, but they also enjoyed Division 1 league success over the Cats in March.
"It was great for Galway to get over that line and get out of the semi-final stages and show what we can do," Healy beams, remembering that September victory in Croke Park, where her side were like women possessed from start to finish.
"We said that ourselves in the dressing room afterwards, 'I wouldn't want to come near us!' With the intermediates losing the first match, we said in the dressing room that, 'This is for them and us.' We had to do it for all 52 girls who have been training throughout the year.
"We learnt from them. They had a lead and so did we. We said we couldn't get complacent, we had to push on. That made us more possessed. We were very focused."
She pinpoints a comeback win over Waterfors in the quarter-final as a key springboard, where they showed real mental strength and a change in Galway camogie. 
They did likewise when they beat reigning champions Cork in the semi-final, and ended their three-in-a-row bid. "I'd say we were possessed in that one too," she giggles. "We just weren't losing."
Bryan Keane / INPHO At the launch of the All-Stars Tour to New York. Bryan Keane / INPHO / INPHO
Like many of her team-mates, Healy can't identify what exactly was different about Galway this year. But whatever it was, it worked a treat.
"I don't know what Cathal did, I can't put my finger on it," she concludes. "Just from the start of the year, we said that we can't let another year go by without progressing and showing the potential we knew we had in us.
"We said from the start that we were going to attack the league and treat like it is — a national competition. Winning that gave us even more belief then."
Just like winning the All-Ireland will do going into 2020.
Another potentially huge year for Galway camogie, and for Sarah Healy.
The42 is on Instagram! Tap the button below on your phone to follow us!