WHAT FIRST STRIKES you about Sarah Keane, the newly-elected Olympic Council of Ireland (OCI) president, is her enthusiasm for sport and, more specifically, Irish sport; it appears she genuinely cares.
It's a good start.
"I am genuinely very privileged and humbled to be given this opportunity," she says. "I relish a challenge and I just believe strongly in Irish sport."
Two Thursdays ago at the OCI's Emergency General Meeting at Dublin's Conrad Hotel, Keane won a three-way vote to succeed Pat Hickey. She was voted into the position by a large majority — receiving 29 of the 43 votes — ahead of fellow candidates Willie O'Brien, the acting OCI president, and Basketball Ireland chief executive Bernard O'Byrne.
A new era, a fresh start and, at last, change.
Hickey had held the position largely unchallenged since 1989 and although he had signalled his intent to stand down at the end of the Rio Olympics, the end of his 28-year reign was sealed following the ticket-touting scandal which has plunged the organisation into crisis.
With the OCI's reputation and credibility at an all-time low as the fallout from Rio continues, Keane has been tasked with picking up the pieces but she was, in so many ways, the obvious candidate for the 'change' ticket as the old guard was swept aside.
The 42-year-old may not see it as a personal victory but, even at this early stage, her installation as president along with a largely new board can be viewed as a victory for Irish sport. The first steps have been taken.
"Yes, I do feel a pressure to deliver, but I welcome that pressure actually," she told The42. "I feel there is a lot of us on this journey because a lot of us want to play our part and I don't feel like I'm alone which is important.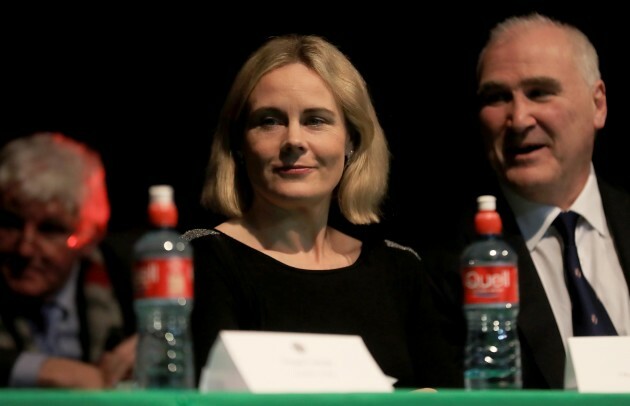 Donall Farmer / INPHO Keane at the National Boxing Championships on Friday night. Donall Farmer / INPHO / INPHO
"This isn't going to be about me as president, I am the face of it at the moment but it's about Irish sport and us collectively working together to get full value from it.
"A lot of people were in place for a long time and there was definitely changes made and there was good stuff that was done however some of the practices were probably practices that were acceptable ten years ago and wouldn't necessarily be acceptable now.
"That's why you often need new blood, for people to look at the way things are done differently, it's not always a criticism of what's gone before but more about what needs to happen to improve things in the future."
While Keane — the CEO of Swim Ireland — continually refers to the future, there are still issues from the past that need to be addressed. She has tried to do so in an honest and open manner, even if that has made her first week in the position a little uncomfortable.
The full extent of the financial damage from the ticket-touting scandal was revealed at the EGM with Hickey's arrest costing the OCI in excess of €800,000.
In her first interview since assuming the position, Keane told Sean O'Rourke on RTE that she hoped the huge sum of money — which included €394,000 to law firm Arthur Cox, €214,900 to Grant Thornton and a staggering €69,500 on Public Relation costs — would be viewed as an investment in the future.
"People are almost apologising before they interview me because I'm going to be grilled," she continues. "And yes it is difficult because I don't have all the answers and I'm hoping when I'm doing these things I'm not going to make a big mistake and will make things difficult for us as an organisation to move forward but at the same time that brings accountability; actually having people asking questions and someone else answering them.
"I hope we look back and say 'look at where the Olympic movement in Ireland is now and yes there was a whole lot of money spent and nobody really wanted to spend that money on what it was spent on but now the organisation is in a much better place'.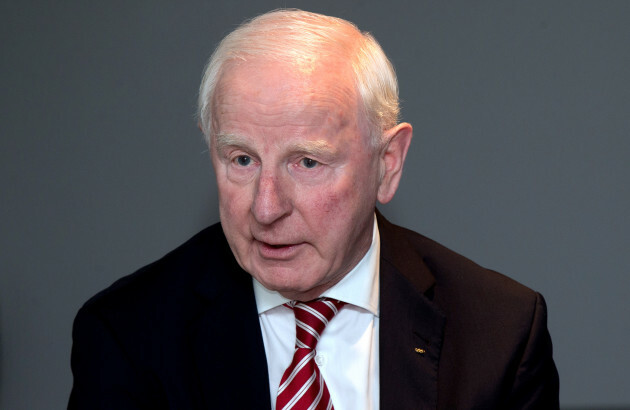 James Crombie / INPHO Keane succeeds Pat Hickey. James Crombie / INPHO / INPHO
"The money spent on this crisis is not pleasant but at least we're talking about it and trying to be transparent around it so it's a start. We've been privileged to be elected but that's all that has happened. We won't earn trust or credibility unless we start demonstrating that we can do the job. It's going to take time but talking about these things is a start."
Financially crippled by the ignominious end to Hickey's tenure, Keane also faces the challenge of rebuilding the OCI's reputation and convincing pretty much everyone that it is still relevant.
But it's not the first time the solicitor has taken over an organisation in the midst of a full-blown crisis having assumed the reins of Swim Ireland during a child abuse scandal in 2004.
On paper, Keane has the credentials to lead the OCI out the other side; her qualifications include an honours degree in Law, a masters in Commercial Law and diplomas in Corporate Management and Financial Management.
"I've been in Irish sport for quite some time and I'd like to be known as a collaborator," she said.
"I care about Irish sport and I think that's important for people to know. I've spoken to people about their sports and I'd like to feel people know I care and I'm taking this opportunity very seriously. I have a work ethic and I am going to get down and give this a real go.
"The other thing is I've been with an organisation through a time of change and there's always been good people in it. I can recognise that there has never been everything bad about something, there's always good stuff and it's the same with the OCI.
Exclusive Six
Nations Analysis
Get Murray Kinsella's exclusive analysis of Ireland's Six Nations campaign this spring
Become a Member
"In order to make this work we're going to have to look hard at ourselves as an organisation and see what the athletes view the Olympic Council as. We've had a good bit of indication that athletes don't know much about what the OCI does.
"First of all we need to address the governance issues. We need to make sure the board is functioning properly and the whole board is working together. What do the president and the officers do versus the CEO and the staff? We've got to get that very clear so that we're all working together for the value of Irish sport, not working against each other."
When asked how she plans on doing that, Keane added: "I'd like to think we can show that the OCI is relevant and I would like to see us raise more funding which can go into athletes and High Performance as sport in general is not adequately funded in Ireland.
Morgan Treacy / INPHO Keane will continue in her full-time role as Swim Ireland CEO. Morgan Treacy / INPHO / INPHO
"I know we have a lot of challenges as a nation but I feel if we can deliver more backing of sport we will be doing a better job. We've a big job to restore credibility and to get people to invest in the organisation but I do think the OCI and Olympic Council is very relevant.
"I think people have become very cynical about Olympic sport and that we're on the political pages and speaking to political journalists is a sign of what's happened. We need to start talking about the right things and that's the athletes and their achievements."
A new era for Irish Olympic sport or a false dawn? Only time will tell, and Keane at least deserves that.
"I think at least now the election has passed it feels like something has happened and we know where we are. We know who we're working with and we can just get on with it as best we can.
"Crisis does bring opportunities as well and while it's not a very pleasant experience to be involved in, at the same time we have to try and take the positives out of it and the learnings from it and move the organisation forward.
"Where are we now? Well hopefully we'll end up in a better place and that's all you can hope for as a result of what's gone on because we are where we are now.
"We're committed to giving it a good go and I'm sure we're going to trip ourselves along the way but we want to leave the organisation in a better place than when we moved in. That's the objective. I belief strongly in Irish athletes, Irish coaches and Ireland as a nation and that's why I'm here."
The42 is on Instagram! Tap the button below on your phone to follow us!