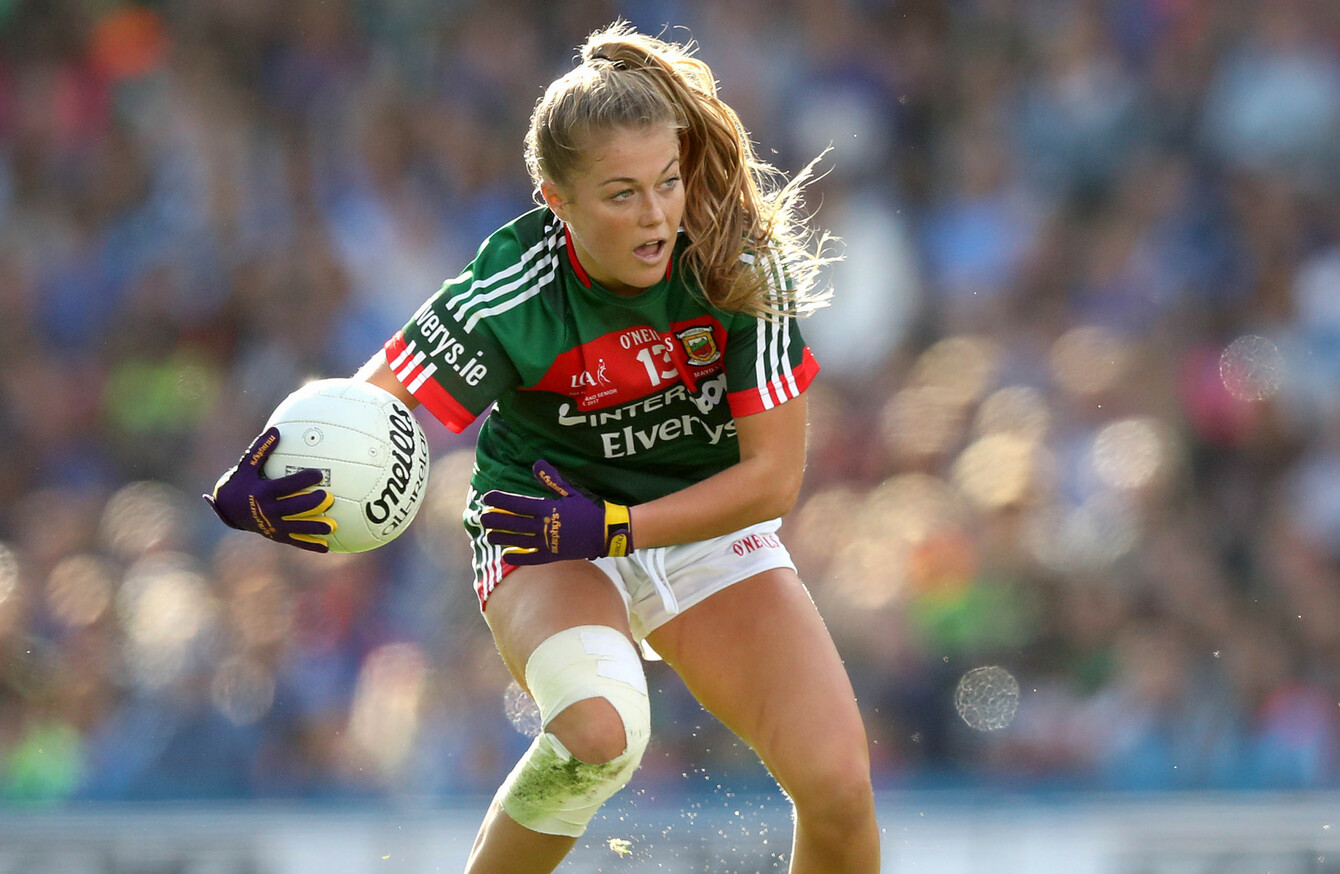 Sarah Rowe.
Image: Ryan Byrne/INPHO
Sarah Rowe.
Image: Ryan Byrne/INPHO
MAYO STAR SARAH Rowe says that her team-mates are willing to put everything behind them after the mass walkout this summer, and that they would welcome the 12 departed players back in 2019.
The row rumbled on through the summer after 14 members of the panel left the set-up, initially citing "player welfare issues" as the reason for their departure.
Captain Sarah Tierney, vice-captain Fiona McHale and 11-time All-Star Cora Staunton were among those to leave, along with two members of the management team, while Rowe remained part of the squad which finished the championship under Peter manager Peter Leahy, losing in the All-Ireland quarter-final.
Westmeath native Leahy is set to stay at the helm in 2019 and, in comments to The42, stressed that the door is not closed on those who have left the panel to return in the future.
"We want to do what's best for Mayo and whatever's best for Mayo, we'll go with," Rowe, said on Monday. "Whatever Peter wants as manager, we'll do as well.
"You have to let him make the calls on all this. As players, we want the best for Mayo."
The 23-year-old forward added: "The season is over now and it's one of those things you want to put to the back of your head, close it off; I think everyone is sick of hearing about it at this stage.
"We just want to finish it and move on. We're talking about things for next season. We're looking forward to the season ahead. There's loads of new players, younger players who are coming in. It's about getting them ingrained into the system over the next couple of weeks.
"We're just talking about going forward and not reflecting on last year as such, just putting it behind us. There's a lot of talk about next season and we're really looking forward to it."
That said, Rowe won't be around for much longer as she packs her bags and heads for a new challenge Down Under. She's signed a one-season contract with AFLW side Collingwood and is all set to make the move.
"Two and a half weeks away and counting!" she grins. "Lots to prepare for.
"I've been given a programme to prepare from Collingwood. I'm training six days a week and sometimes twice a day. It's very busy for me. I feel like I'm trying to prepare to be a professional athlete in a different world in Ireland at the moment.
"My body is so tired because I'm doing so much training. It's a great challenge for me and I'll hopefully relish it when I get over there."
She's getting to grips with the oval ball and hoping to perfect her technique sooner rather than later. It's challenging, but she's getting there.
"It is a very transferable game. The physicality will be different, something that I'm not used to. That side of the game and the game understanding will be the two biggest challenges.
"The physicality is definitely going to be a big challenge for me. But when I was over there I met a lot of the girls from the Collingwood team and a few of them were actually really small and petite. I was kind of like, 'Well if they can do it, I can do it.'
"But like, it's really unknown for me at the minute and I do have an awful lot of learning to do."
And just like she said when the news was announced, the Kilmoremoy sharpshooter reaffirmed her commitment to playing ladies football with Mayo upon her return. 
Getting back in the green and red jersey when she returns to home soil for the business end of the Lidl Ladies National Footall League; that's the priority.
"At the minute, you can play both with Mayo and with Collingwood – it works out great. If that wasn't the case, I think my decision might be different," she continues.
"I can't wait for the (2019 ladies football) season. Listening to Peter, management and the players, we're are all really eager to get back and get training; put the head down, focus on training and focus on ourselves.
"I'm really looking forward to it and it definitely is my priority. The girls you grew up playing with, it's about the pride for your county, the pride of place – all those things you do for your family. It's a special feeling in your heart whereas Collingwood is going to be my new family but it's not going to be what I grew up doing and it's not going to be my first love. That's why the GAA is so important."
Rowe, also a talented soccer player and former underage international, concluded of her venture in Oz: "The whole being professional and learning about me [is massive].
"I'm going to come across numerous challenges along the way: psychological challenges, my body is going to be put through challenges. It's about learning about myself along the way and being the best version of me and having the structures in place for me to do that is going to be brilliant.
"I can learn a lot that I can hopefully bring forward into my GAA career – that would be my main aim."
20×20 is a new campaign is calling on the people of Ireland and all those involved in Irish sport and physical activity to get behind female sport in a concerted effort to increase media coverage, boost attendances and ultimately, grow involvement in female sport and physical activity by 20% by the end of 2020. 
Subscribe to our new podcast, Heineken Rugby Weekly on The42, here: