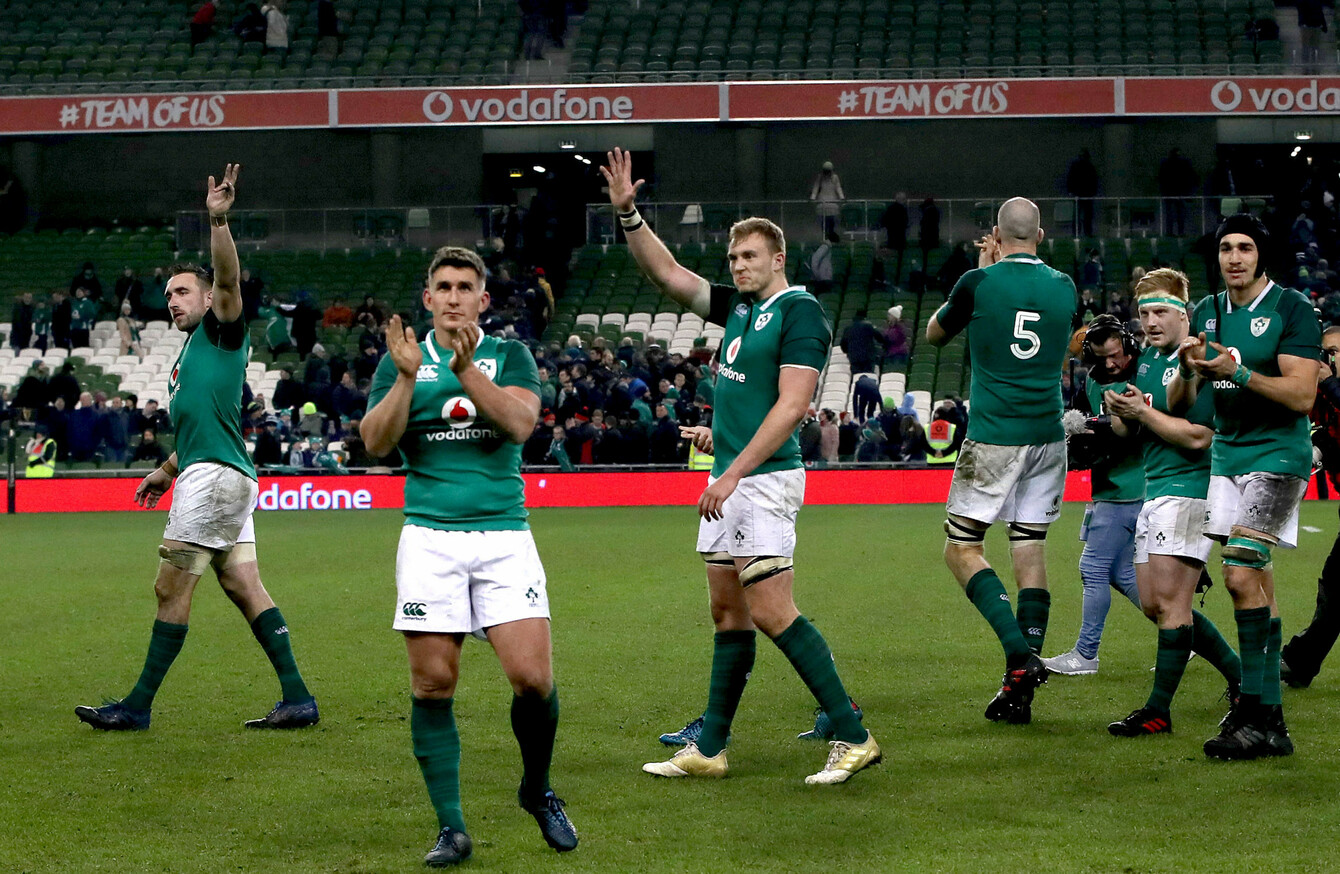 Image: Bryan Keane/INPHO
Image: Bryan Keane/INPHO
THERE WILL BE no shortage of errors to pick through when Joe Schmidt and his squad sit down to analyse the narrow win over Fiji, but ultimately the head coach got what he wanted from the mid-series Test.
During the week, the Kiwi spoke about how he was counting down the Tests before the 2019 World Cup (now 17) and the efforts to build experience and in his squad for that showcase tournament.
That was the thinking behind 13 changes, new combinations and first starts even with some formidable talent bearing down on the Aviva in brilliant white Fiji jerseys. Schmidt's mindset was the same when the game was in the balance with 15 minutes remaining. Then, rather than play it safe and leave the totemic Devin Toner on the field to close out the game, 22-year-old Kieran Treadwell was sent in to pick up a little more experience and to call the line-out.
"It's part of what we talked about during the week with the coaches,"  Schmidt said after the 23 – 20 win, "we wanted to put (Treadwell) into a pressure situation to see how he coped.
We're just not going to get any other windows really to do it.
"We took some chances tonight and we knew that before we kicked off.
"It wasn't just that (inexperience). It was that amount of changes in the space of a week, that does make it really difficult, but you breathe a sigh of relief at the end of it and you move on to next week.
"You pick through the game and try to best analyse how and why players made the decisions or completed the actions they did and see if we can fine-tune them as best we can."
In the end, a tight contest that required cool heads to see out will likely prove a more valuable experience in the long-term than the comfortable win that looked likely as Ireland ran in three tries in the opening 35 minutes.
"Sometimes it's just about finding a way, we looked like we lacked a bit of cohesion, but the players were working hard.
"The first quarter, we did really well - Joey (Carbery) was a bit special the way he cut the line and got that pass into the hands of Darren Sweetnam who finished comfortably.
"At 17 -3 before half-time, I was really happy we had worked our way to that. Then the line-out on their 22 got turned over and they got away down that touchline.
"Suddenly it's 17 – 10 and you feel a bit of that pressure, especially when it's a young side.
"That was great for us. It's exactly what we wanted, but we didn't want it in a lot of ways.
"We wanted to see the players react under pressure and when it went to 17-all and 20-all, again they really had to find a way."