AS ANYONE WHO has ever played in one will tell you, schools GAA finals are a serious business.
But winning isn't everything.
Photographer Pairic English caught this brilliant moment shared by two young opponents at the Allianz Sciath na Scol Finals in Cork.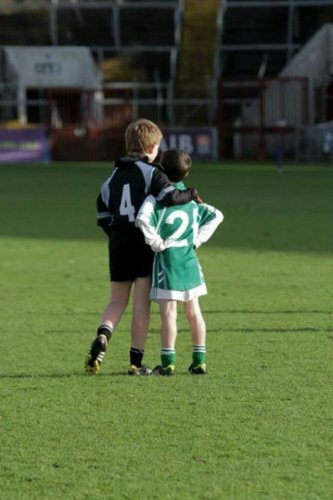 Image: Paraic English
In the heat of their final, played in Páirc Uí Chaoimh on Tuesday, Riain Ó Cathail (black jersey) was quick to console Ciarán O'Connell.
The photo was taken just after Ó Cathail's school, Gaelscol Mhainistir Na Corann in Midleton, scored a goal against Coachford NS.
O'Connell had plenty to smile about by the final whistle though as Coachford went on to win in extra-time.
Thanks to Allianz Sciath na Scol PRO Seamus O'Connor for the info.