Scott Evans is angry
IT'S ALMOST EXACTLY a year since Scott Evans bowed out of Rio 2016 after creating history by becoming the first Irishman to win a badminton match at an Olympic Games.
During that momentous week, he beat Germany's Marc Zwiebler and home-town boy Ygor Coelho de Oliveira to reach the last-16.
The 29-year old would eventually lose to Denmark's Viktor Axelsen who went on to win the bronze medal
But Evans isn't thinking about Rio.
Instead his focus is on the World Championships which are set to take place just across the Irish Sea in Glasgow later this month and Evans can't understand the lack of coverage afforded to what some believe to be the most popular indoor sport in the world.
So it was with a little anger, and a little tongue-in-cheek, that Evans tweeted the following during the week:
"It does bother me a little bit but I'm also making a little bit of fun of it too," Evans told The42 on Thursday.
There are people in Ireland who want to watch badminton, they might not want to watch me, but they want to watch the sport, and all I want to do is get badminton promoted a bit more in Irish media and on TV.
"I'm quite sure the badminton ratings were quite good at Rio so I'm not sure why they don't want to show it. Maybe they don't know about it; that's a possibility, they've no idea it's going on?
"It's just a little bit frustrating but I find it difficult to know what else I can do to try keep promoting the game as much as possible.
"I really thought things had improved after Rio but, a few months later, you're back to square one again.
"Now there's another chance to show the sport close to home, I don't think it would cost much to throw a couple of matches on TV and I'm sure they could change a few re-runs of something and show the badminton, it can't be that difficult.
"Obviously, I don't know too much about it but I still imagine it can't be too difficult."
Scott Evans is frustrated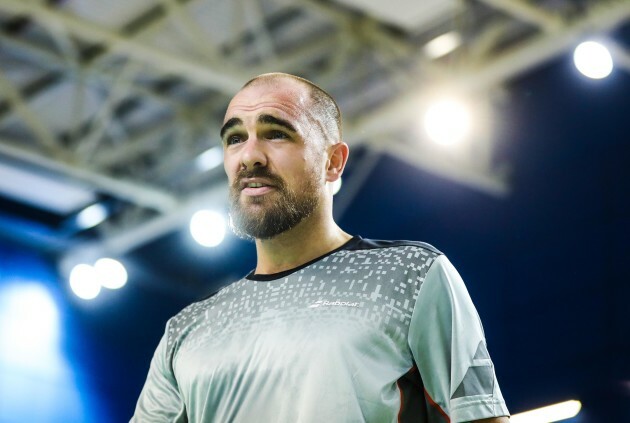 Tommy Dickson / INPHO Evans is frustrated that badminton does not have a higher profile in Ireland. Tommy Dickson / INPHO / INPHO
Evans, alongside Chloe and Sam Magee, is one of the faces of badminton in Ireland.
Though he plans to play on until Tokyo 2020, the Dubliner is 29 and admits that he has started thinking about what happens once he hangs up his racket.
"I think about that all the time. And that's what went into that tweet," he says.
"It's not that someone gave me that responsibility but I've taken that responsibility on. Badminton has given me a lot. The Irish Sports Council and Badminton Ireland have given me a lot. The Olympic Council and the badminton community too.
So, if there's some way, like this, that I can give back again, then I'm going to try and do that as best as I can.
"The amount of people, not even involved in the sport, who came up to me to talk about badminton after Rio was phenomenal. It is a great feeling that you're playing a role in building a sport that's not popular in Ireland.
"There will come a time when I won't be playing any more and then what? Do we go right back to the beginning?"
Scott Evans is pragmatic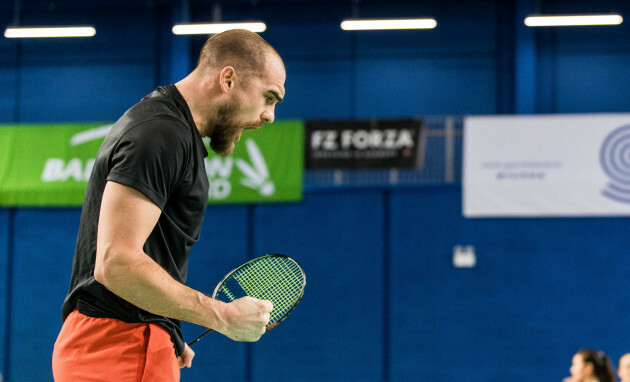 Ryan Byrne / INPHO Scott Evans during the Irish Open in 2016. Ryan Byrne / INPHO / INPHO
For Evans, it's not all about finding fault with the media, he has solutions for them too.
Indeed, he points to the current Women's Rugby World Cup and how women's rugby in general has been covered as an example of how the media can help smaller sports grow.
That said, Evans knows that performances on the court matter too and he has to keep playing at a high level, like at this month's World Championships, for people to care.
"Badminton is a very good sport," he says.
"It's exciting to watch and we do have a lot of talented players in Ireland but they need to be recognised and the media play a role in that, to promote it, to talk about it and encourage people to get involved.
"All of these things go together to build a sport and I've put it on my shoulders to help with the promotion side of things.
"It really is simple. It's up to the media to make sure sport is covered, to make sure sport is talked about and promoted.
"Of course it's down to the people playing the sports too, federations and all those kind of people but they can't do it without media support. If the media isn't covering a sport, or showing a sport on TV, then that sport has no chance in that country.
"The more the media has covered women's rugby in Ireland, look at how much more popular women's rugby is now. And that's great, you want these sports to be promoted.
I've heard so many things about badminton since Rio, huge numbers playing in Ireland, beginner courses getting sold out, clubs having to turn down members and they've never had to do things like that before.
All of these things started to happen after badminton was in the news at Rio but, exactly one year later, the World Championships is a 45 minute flight away and nothing, they'd rather talk about Kim Kardashian picking her nose or something.
"I get a little bit frustrated, but I also understand that I can't do everything and I need to focus on my own game.
"The media doesn't want to report on people losing all the time, so that is something we can control, that is down to us.
"Who the fuck wants to report on 'oh, Scott lost again' or 'Scott went out in the first round again?'
"I know that's not interesting."
Scott Evans is prepared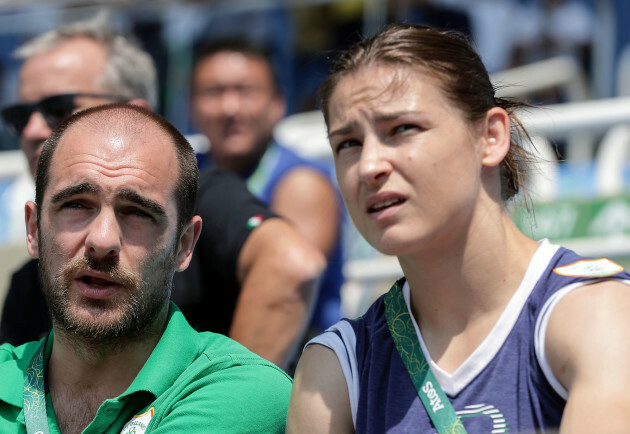 Morgan Treacy / INPHO Evans wants people, including the media, to think of badminton as more than just an Olympic sport. Morgan Treacy / INPHO / INPHO
Evans is speaking to The42 not long after coming off the court in Brondby where he has just played Denmark's Emil Holst over two sets (the result was 1-1).
Not bad considering the Irishman is coming off a six-week injury lay off.
He has called Copenhagen, the Danish capital, home for some time now; so long he struggles to remember the English world for 'groin' when discussing his injury.
Evans realises how lucky he is to train with the Danish — who have three men in the world's top-20 — but accepts it might be part of the reason he, as an ambassador for his sport, doesn't have as much of a media presence in Ireland as he should.
"I think that plays a big part, definitely. But I have to do what's right for my own career and being here is best for my badminton.
I'm certainly not going to pick doing media over my career, it would be unprofessional of me to do that and would be unfair to all the people who've supported me in my career."
And it's clear the compromise is worth it.
"All the Danish guys that are going to Worlds are here. Viktor Axelsen and their next two guys are top twenty in the world and their fourth guy is top 30.
"The English guy –Rajiv Ouseph — who won the Europeans back in April is here too, so it's a great level.
"Over the last number of years, I trained with the Danish coach at the end of his playing career, and he brings me in for these training blocks to train with the guys so it's always great to be in here.
"They've everything set up really well, it's a really excellent couple of days." 
Scott Evans is changed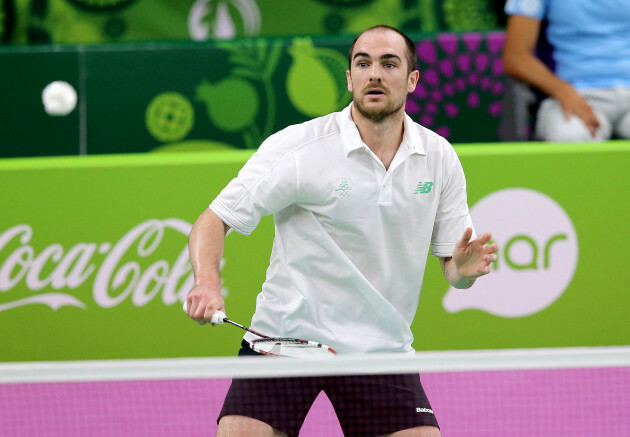 Ryan Byrne / INPHO Evans has focused on the mental side of his game in recent months. Ryan Byrne / INPHO / INPHO
The last time Evans talked to The42, just after the Olympics, he spoke about implementing a new strategy, both physically and mentally, to ensure he'd make Tokyo 2020.
Speaking to him this week, it appears to be paying dividends, even if injury has curtailed some of his plans in 2017.
"My decision after Rio was that I wanted to do something a little bit different from what I'd done after Beijing and London.
"An Olympic cycle is obviously a four-year period, it's not just a one year thing. After Beijing, I lost in the first match and came back to Copenhagen three days later. I landed on Thursday morning and started practising for London that Thursday night.
"I was automatically into a four-year cycle.
"Then I get to London and I play against Lin Dan in the first match and he goes on to win the tournament. I have a couple of nights out but, two days later I'm in the gym in the Olympic village doing a biking session.
"So then it was another four years, straight into Rio.
After 2016, I said to myself 'I have to do something different, I have to change my approach if I want to make it to Tokyo [for 2020].'
"I'm still practising once or twice a day, but I'm more selective about the tournaments I go to because I want to look forward to playing tournaments again and I think the way to do that is to step away a little bit more.
"I've been unlucky with injuries since Rio, so it's actually worked out quite well because I've missed some tournaments I was supposed to play in. And mentally, I'm better for it if that opportunity is there for me to play in Tokyo.
"So I'm not really worried about not playing too many tournaments because I really am at that stage where I'm in a better place mentally.
"I'm not done with it, of course, I've still plenty to learn but I'm exactly where I want to be.
"You never stop learning about yourself, who you are, why you do what you do and I've never really thought about that before or gotten so deep into it.
I don't think you can have a proper understanding of yourself until you put yourself through a period of self-reflection.
"Obviously, with injury, my body has been a little bit up and down but it's not really a worry for me, I know that will improve so I'll just take it as it comes.
"Going in to playing today, when I haven't played in six weeks and I can play at a high level against a player in the top-30 in the world, a game I could have won both sets, that gives me great confidence I'm on the right track."
Scott Evans is excited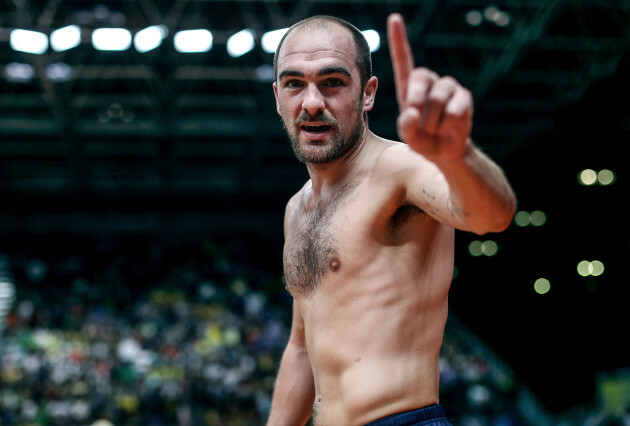 Dan Sheridan / INPHO Evans' celebration after beating De Oliveira was one of the defining moments of Rio 2016. Dan Sheridan / INPHO / INPHO
Of course, the reason we're talking to Evans is because he's about to represent Ireland at the World Championships and, as ever, he seems to face an uphill battle, drawing Shi Yuki in the first round.
Yuki is the top-ranked Chinese player and the world number four.
That doesn't faze Evans, however. Indeed, he's looking forward to the challenge.
"I'm dying to play him," he says.
"I played him back in March at the Swiss Open and I wasn't fully fit — I was only just back from an injury then too — and I should have won the first set.
For me, this is the perfect game to go into. I'm probably not expected to win, so I'm just going to go with the attitude that there's nothing for me to lose.
"I've a better understanding of where I am now and that'll benefit me in that game.
"I'm just dying to get out there.
"There's no easy road to a medal at all. You could say that it might be better to have an easier game in the first round but there's no better way, I think, than having a brilliant result in the first round."
The 2017 BWF Badminton World Championships get under way on Monday, 21 August in Glasgow.
Subscribe to The42 podcasts here: