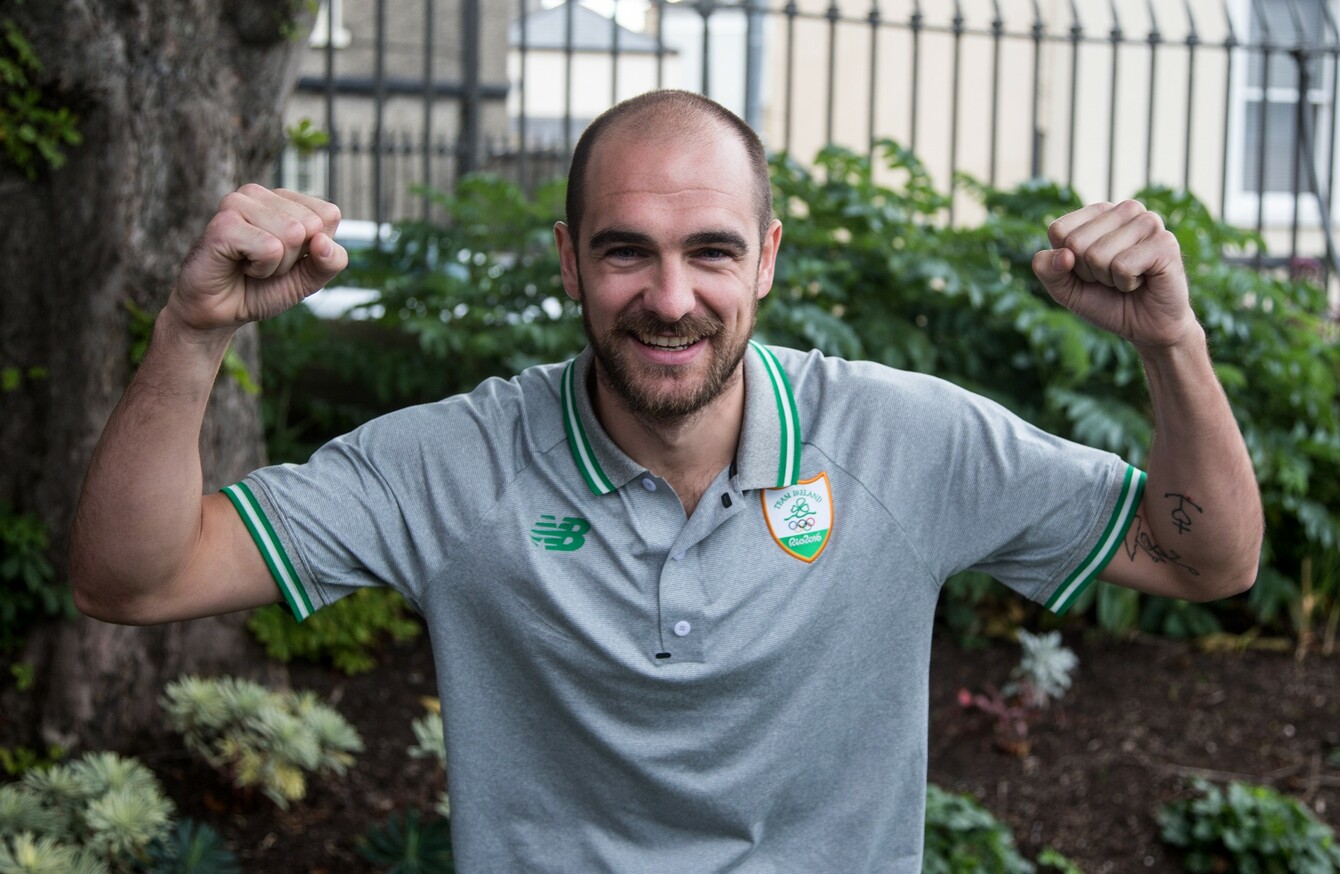 Image: Tommy Dickson/INPHO
Image: Tommy Dickson/INPHO
IF YOU ASKED Scott Evans before the Rio Olympics whether Tokyo 2020 was on his radar you would have got a resounding 'no'. But now he's having second thoughts.
Ireland's greatest badminton player caught the nation's imagination with his passionate approach, honest interviews and topless celebrations in Brazil earlier this month.
It's easy to forget that the three-time Olympian is still just 28 years old, such is his longevity at the top of the game in this country.
Coming off the high of winning two matches in Rio, including a victory against the world number 14, before a last-16 defeat to the eventual bronze medallist, Viktor Axelsen of Denmark, seems to have re-energised Evans. The fire is lit, he's just not sure how much flickering is left in the flames.
It's all a bit of a comedown on the back of his bare-chested bravado in Brazil and a mature Evans wants to make sure he is in the right frame of mind before he decides on his future.
There are so many variables to consider before he puts himself through the rigours of another Olympic cycle.
"Before Rio, Tokyo was a definite no," Evans, the world number 61, told The42.
"I love the game and to have the moments that I had in Rio is something I'll never forget and of course that makes me want to go on for as long as possible."
After failing to win a match in 2008 or 2012, Rio offered some overdue respite for Evans on the back of so many years of slogging out of the spotlight. A couple of golden moments put him in the public eye and made the graft a little less unappealing. It's been a long road.
"I took a chance leaving school to go and do something I love and I've put every ounce of effort and energy and work into my badminton.
"So to have that moment of my first win was very special. Two of my best friends texted me after the game, one of them was there actually, and they both said they cried when I won that first game.
"They know what I've gone through since I was 15 years of age. I think that says a lot about me as a person and what I'm trying to do with my career.
"I'm an honest guy and I like to show my emotions and my passion for what I do. You know, nothing was planned, that just happened. I've celebrated quite crazily in some ways before so I think all of the badminton world knew that I had it in me to celebrate like that."
Evans is used to going it alone and taking responsibility for his destiny. And that has taken its toll.
Independence, initiative and foresight clearly come naturally to the Dubliner, highlighted by his decision as a 16-year-old to leave school and move to Denmark to pursue a professional career in badminton. That way, he believed he'd have the best chance of playing the game he so dearly loves, and do so for a living.
"But unfortunately in my circumstances, because I train in Denmark, there are a couple of issues that make things very difficult for me; like getting training partners.
"I can't just train with the Danish system all the time, though I've been very lucky to have been able to go in and train with them up to Rio."
The circumstances add to Evans' workload, which is far from ideal for a professional athlete who needs to focus on the finer details of the game. He spends valuable time sorting administrative, financial and equipment issues, the kind of things usually looked after by national governing bodies.
"I have to sort training partners on my own all the time and of course the other issue is funding. Funding is always going to be a bit of an issue.
"It's a difficult situation, so for me to continue to Tokyo now there'd definitely have to be a couple of things that would have to change."
Evans isn't ruling out a return to Ireland, especially now that the sport has a high performance setup at the Marino Institute of Education. But all the ducks would have to be in a row. He refuses to leave anything to chance.
"I could see myself doing it [moving home] but it depends on a lot of things.
"It's not going to just be a case of will you do it or not.
"I would have to feel like I could really improve and go to the next level. Otherwise I don't see the point in doing it. I'm not just going to come back because it's easier and cheaper."
For now though, he is planning some important reflection time and some desperately needed R&R for body and mind. He didn't rest his weary legs after Beijing and London, and the injuries soon followed.
"It's a bit of a comedown after Rio but then again it's kind of nice too," Evans explained.
"I've been working extremely hard for the last 12 weeks so to have a bit of a break from it is healthy.
"This time it's nice to have a break and let the body recover a little bit and also the mind so that I'm ready for the next challenges, whatever they may be.
"If I was to go into it 100% right now I know that I'd mentally break down."
One of the highlights from Rio, from an Irish perspective, was seeing the Irish hockey team's 'Full Evans' after his last-16 defeat to Axelsen.
Knowing a number of the hockey players since his school days, they had a deep sense of camaraderie. And that was something that stretched throughout the Irish squad in Rio, to a level Evans hadn't seen before.
Evans, rowing silver medallist Gary O'Donovan and 400m hurdles finalist Thomas Barr connected particularly well, while Evans also considers cyclists Dan Martin and Nicolas Roche to be good friends.
Be part
of the team
Access exclusive podcasts, interviews and analysis with a monthly or annual membership.
Become a Member
Going to an Olympics doesn't just give athletes the chance to compete on the biggest stage in sport but also to see so many others, who share a similar disposition, do the same. And for a huge sports fan like Evans, that was a real treat.
"I went to see Michael Conlan fight, the controversial fight, and that was interesting because I'd never been to boxing before. I wouldn't say it was fun to be there but obviously I witnessed something that was a little bit crazy.
"It's just great to be there for the other athletes. I was there for Thomas Barr's final. Me, him and Gary had quite a close bond together, the three of us got on very well.
"It was great to be able to go along and see the other sports and support the Irish guys and girls competing and I think that's one thing that was different this time around about the Irish team.
"The team really stuck together, helped each other out and really supported each other. It made for a really amazing atmosphere in the Irish camp while we were away.
"In London every apartment had three bedrooms and one living room and in London we all had TVs in our living room.
"This time around there was only one living room for all of us. And people just wanted to go watch sport or get out of their room and sit down in the living room. It was good for meeting other people, chatting away and having a bit of fun. And I think that created a great atmosphere.
"I think also because there was a little bit of negative stuff going on in the media and around our team it meant that we just tried to stay positive and help each other out a little bit more."
Evans' relationship with badminton is a complex one, but it's been that way for as long as he can remember.
"When I started playing badminton I would drive from Dundrum over to the north side, pick a guy up who didn't have a driving licence. Drive back to Whitehall Road [in Terenure], practise with him from 6am to 8am, drive him back to the north side and drive back to the south side and go to school.
"I had to do everything on my own; get the shuttles, organise the court, try and get a key for the hall so that I could get in early.
Now the training is organised, there is a coach there, they don't have to get shuttles for their own practice. Everything is there and they just need to come down, do the training and work on what they need to improve.
"So I think there's a great opportunity now for kids to come through. That's something I've talked about since I moved away.
"If badminton wants to be up there with the other countries then we needed a national training centre and we got that a couple of years ago."
As Evans weighs up his career options — to continue pursuing professional badminton or instead focus his attention on the clothing company that he set up with his girlfriend in Denmark, or chase his interests in the media and in stock markets — he knows it's not a decision worth rushing.
Besides, that's not in his nature. He's an all-in kind of guy. And he won't commit to playing for another four years until he's sure he's got a winning hand.
The42 is on Snapchat! Tap the button below on your phone to add!