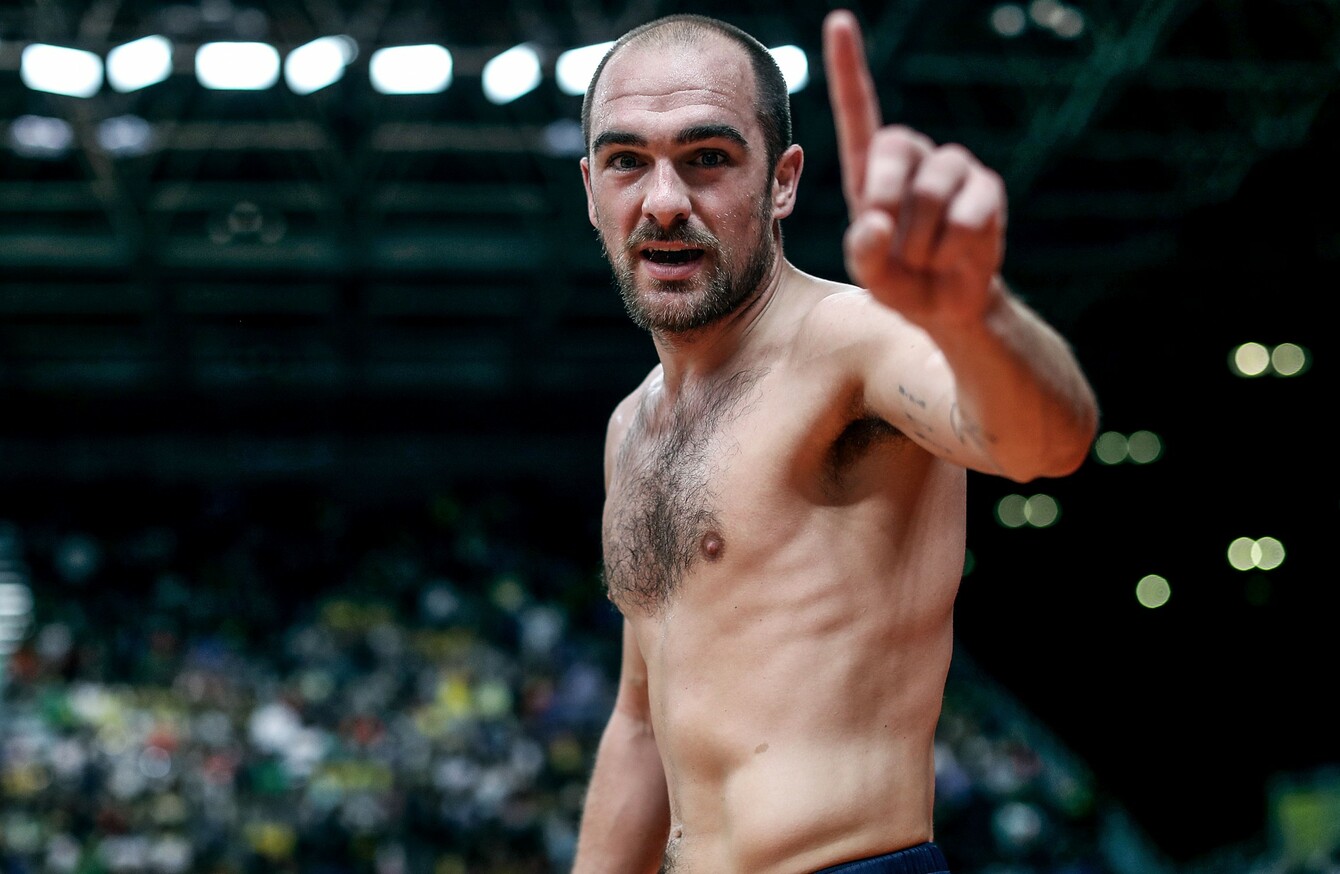 Evans: due back out in the round of 16 on Monday.
Image: Dan Sheridan/INPHO
Evans: due back out in the round of 16 on Monday.
Image: Dan Sheridan/INPHO
– Niall Kelly reports from Riocentro, Rio de Janeiro
SCOTT EVANS HAS been around the block for long enough to know that sport isn't always a fairytale. If it was, Ireland's top badminton player surely wouldn't have been made to wait so long for his first win at the Olympic Games.
Still, even he must have appreciated how the stars were aligning for Ygor Coelho de Oliveira, his young opponent in Saturday evening's pool match.
Brazilian badminton's teen sensation grew up in Morro da Chacrinha, a favela just a couple of miles down the road from Rio's Olympic Park. Merely being at the Olympics was a massive achievement for him, but the thousands of fans inside the Riocentro Pavilion willed him on towards something even more special.
An Oliveira win would have set him up for a win-or-bust pool decider against German seed Marc Zwiebler on Sunday. Evans, still riding high after his own historic win over Zwiebler on Friday, had other ideas.
The Dubliner won in three games — 21-8, 19-21, 21-8 — to win the pool and take his place in the round of 16 where he is likely to meet good friend and world number four Viktor Akselsen of Denmark.
And his celebration was a picture of pure emotion. As on Friday, he whipped his shirt off over his head and let out the kind of roar that must have been bottled up inside since Olympic debut in Beijing eight years.
"It's hard for me to describe," the Dubliner said afterwards "I've been dreaming of that my whole life, just to play in an atmosphere like this, and to win games like last night.
"(Oliveira) obviously isn't as highly ranked (as Zwiebler) but still, to come out in this atmosphere against a Brazilian player and against a Brazilian crowd, I knew it would be difficult, and it was difficult for me many times during that game.
I'm just very, very proud of myself that I was able to come out on top.
The usual niceties and rules of engagement were abandoned. This was war, Evans was behind enemy lines, and the sizeable crowd felt it was their duty to remind him of his predicament at every opportunity.
Each point won by Oliveira, ranked 64th in the world to Evans' 72nd, was greeted by roars. They intensified in that part of the second game when he opened up a nine-point lead on his way to levelling the match; when Evans responded there was virtual silence or, just as often, boos.
He freely admits that a few years ago this kind of hostile environment was exactly the kind of thing that would have dragged him out of his rhythm.
Be part
of the team
Access exclusive podcasts, interviews and analysis with a monthly or annual membership.
Become a Member
It didn't bother him here; if anything, it strengthened his focus and resolve.
And when the final point of the match fell dead and he burst into celebration, the jeers and catcalls raining down around him must have sounded like the most begrudging praise for a job well done.
"I don't know how to describe it because I've never experienced it before," he admitted afterwards .
I saw Bolt run the 100m and the 200m final in London and the atmosphere wasn't as good as it was tonight. I've never experienced anything like that. I was under a lot of pressure, especially with the booing. Crazy.
"I've never seen anything like that or heard that before, especially in badminton. I'm continually challenging myself in my mind, how am I going to deal with these circumstances. In the past, stuff like that would have got to me and I would have folded easily but after so many years of experience, that really helped me.
"What an honour to play in front of a crowd like that tonight. That's something I'll never ever forget."
With his upset over Zweibler on Friday, Evans became the first Irish man to win a badminton match at the Olympics. Having come away from both Beijing and London with little to smile about, the last 30 hours were a vindication of the long and often difficult path his career has taken.
"I definitely think I deserve it," he said.
"I have over 200 emails. When I got back yesterday I turned my social media off, cut everything off, because I've made that mistake before in other tournaments where I've had good results and just sat on my phone for three hours trying to thank everyone.
I just wanted to stay focused and get the job done tonight. I've a feeling I might have another 200 or 300 emails.
"It's great for the sport in Ireland. Me and Chloe (Magee, herself a three-time Olympian) are always trying to do our best to promote our sport in Ireland. Being a part of Team Ireland again this time around, it's a huge honour and I'm really proud."
And rightly so after two wins in two days to secure a place in the knockout rounds. The greatest night in Irish badminton history?
"People might say that there were some titles back in 1925 that were bigger but this is by far the biggest thing that's ever happened for badminton.
"I hope that this is the first of many because badminton's a great sport. It's an incredible sport to be a part of."