Updated at 0800
ON TUESDAY MORNING, Scott Evans was doing something he's done nearly every day since he was a young child. He was playing badminton. In between practice sessions, Evans walked over to his phone and spotted there were dozens upon dozens of notifications. 'They know now,' he thought to himself as he put the phone back down.
But as he wiped his brow and walked over to the same court he has played on thousands of times before, something felt different. He had a spring in his step he hadn't felt for some time. Almost as if an enormous weight had been lifted off his shoulders.
Atlas shrugged indeed.
"Do you know when you take a big deep breath and it releases all the tension from your body?" Evans asked The42 yesterday.
"I'm not joking, when I went back out onto that court I felt about 10kg lighter than I've done in months. I just feel like it will be healthy for me to step away from the pressure of the last 14 years, the pressure I put myself under more than most."
Since the age of 16, probably even before, badminton has been Evans's life. He gave up school in Dublin for the sport he loves, moving to Denmark when he was still a child to train full-time. He has sacrificed time with friends for hours getting fitter and stronger in the gym. He has celebrated family birthdays over Skype because he was off playing tournaments in Lithuania or Brazil.
But more than that, Evans has taken it on himself to play the role of badminton evangelist, trying to convince fans, the media and even some governing bodies that the sport he has played since the age of five was worth attending, worth covering, worth funding.
Dan Sheridan / INPHO Perhaps the defining image of the Dubliner's career. Dan Sheridan / INPHO / INPHO
Even now, just a day or so removed from officially announcing his retirement, he remains unequivocal about his love of badminton and what he can to promote it. However, he's also realistic that the sport, and those taking part in it, can always do more to make it mainstream.
"If badminton wasn't a sport where the Olympics were most people's frame of reference, then I think it would feature more prominently in the media," he says.
"I've thought a lot about it, about how to make badminton a sport people talk about more, that people write about more and wondered if there's something I could do differently. But, at the end of the day, it comes down to having success. If Irish players were achieving success on a weekly or monthly basis, for a small sport that's the only way to get more coverage.
There hasn't been that success though. We haven't been achieving those results on a consistent basis. Sure, we've had results here and there and you guys report on it. But it could be six months before there's another one and that's just not enough to build a profile for the sport and, to be honest, that's what it comes down to.
"I think there has to be a relationship between the media and the personalities involved too. Badminton probably hasn't had that. I suppose my personality is a little bit different from the other guys. I'll use Sam Magee as an example. He's a quality player but he's a quiet kind of guy. He works hard, gets results, but keeps to himself. From a media point of view, I can see how that doesn't really benefit badminton. But there's nothing wrong with that, there's nothing negative about that, it's just his way of doing things and Sam finds that works for him.
"But, and I don't need to tell you this, the media loves something a little bit different, someone who has a bit of different attitude with a lot of personality and I think, in smaller sports, someone like that will help put the sport in the minds of journalists.
"Something I've also noticed with some other players is that they only talk about themselves. You and I have spent hours talking to each other over the years but this is one of the first times I've spoken mostly about myself. Most of the time I'm talking about the sport and ways to help it grow in Ireland because, in my mind, that's more important than me talking about myself. And there's space for doing both.
"One thing I do wonder about is, if I'd been based in Dublin when I was going to three Olympics and on the verge of the world's top-20, would there have been more media coverage of badminton outside of the Olympic cycle? But, then I tell myself that, if I was based in Dublin, I'd never have reached the level I reached because I wouldn't be training with some of the best players in the world on a daily basis.
"I chose to put my career first, to get as much out of that as I could over building the profile of badminton in Ireland. A lot of people I've talked to in the media, they all understand why I've done that, but they also all say they'd have been able to do so much more around the sport if I was back in Dublin.
Even from a practical point for view, for the first seven years I was playing full-time, there was no national coach back in Dublin, there was no national centre. I'd never have gotten close to the level I got to if I'd stayed in Ireland so people wouldn't have been writing about me or about badminton anyway. I've always tried to do my best for the sport. I do feel an obligation to promote it and to help it grow and I hope I have achieved that over the years."
But in 2011, it all became too much and Evans found himself in trouble both on and off the court. At the Norwegian International he was serving to stay in his quarter-final against Yuhan Tan of Belgium and felt that an umpire had incorrectly called his serve on match point out, giving Tan the game.
It was far from the first questionable decision that went against Evans that afternoon and, combined with the fact it was not the first time he had come up against the official in question, he lashed out, shouting expletives before walking off the court without shaking hands with the umpire.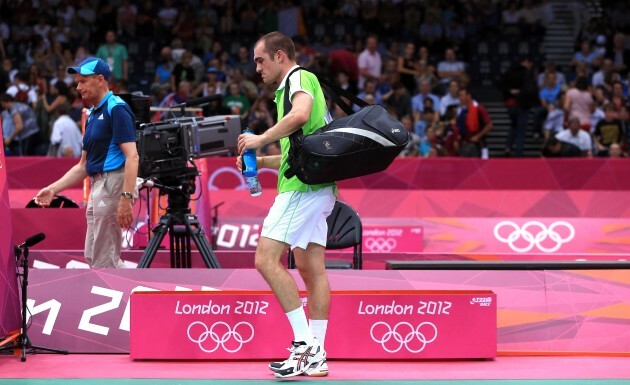 Dan Sheridan / INPHO 2011 and early 2012 were some of the toughest times of Evans's career. Dan Sheridan / INPHO / INPHO
"It's been quite hard for me at times, I've really struggled," he says.
"Back in 2011, when I got that black card for misbehaving on court, I knew there was something really wrong.
"To put it in perspective, there have only ever been four black cards issued in the history of badminton and, at the very least, a black card means you get disqualified from the tournament straight away. Depending on the circumstances of the card, you can be banned for six months or even banned for life. My situation wasn't really as bad as the others, so I just took a heavy fine and I could play again the following week.
But at that time, I was in the worst place I've ever been. I was only sleeping an hour a night, I couldn't eat. I was just in a terrible place. A couple of times throughout my career — sometimes down to injury, sometimes down to bad results — I've really, really struggled.
"When the news of my retirement came out yesterday, it just felt like the pressure I've been carrying around with me for so many years, it's now off my shoulders. Jesus, I'm just so glad it's over because I don't need to worry about it anymore, I don't need to put myself under all that pressure.
"Thinking back on what life was like following the black card though. I mean, fuck, I was in a dark place. I don't know if it was depression, but I know it was a really difficult time for me and I know how much I struggled. From reading other stories from other people who've struggled with depression, I don't doubt now that it was. But I think the period after has defined the person I am now. I went through the first couple of months literally on my own on a daily basis and I knew that something had to happen for my attitude and my life to change and I thought that I was the only person who could change it," he says.
2011 wasn't the first time Evans had doubts about his place in the world though. When he first moved to Denmark he could so easily have jumped on an aeroplane and returned to the safety of home. It was all a long way from the joy he felt when he first picked up a racket.
"I think the actual reason I first had a badminton racket in my hand was more to use as a weapon than anything else," he jokes. "I remember just going around and smashing the shit out of things in my house, chasing my brother — Lee — with it trying smash to him.
"But seriously, my mum and dad have obviously been involved in the game for ages. My dad has two sport shops which are racket based — tennis, squash, badminton — so there's always been a connection to badminton in my family.
"Lee, he's two years older than me and he'd already started playing badminton at that stage, so I'd be down in the hall when he was going down to play or I'd be in my dad's shop and we'd always take rackets and play on a makeshift court. There's always been that connection and, I guess, it always seems to work out that way with kids; they always get into whatever their parents are involved in and that's the same thing that happened for me."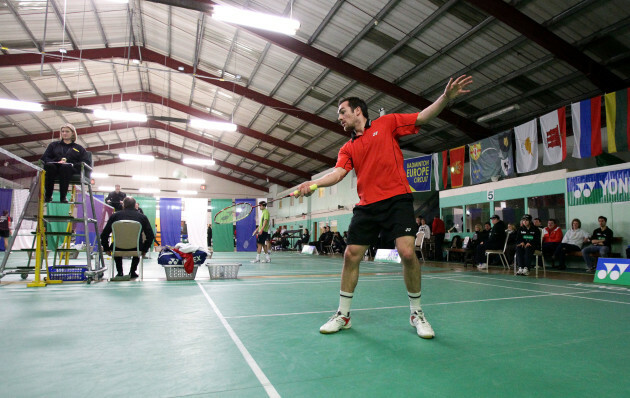 Cathal Noonan / Inpho Evans based himself in Copenhagen 14 years ago. Cathal Noonan / Inpho / Inpho
A prodigious talent, Evans often beat boys much older than him in the underage ranks. But while his ability and love of the sport grew, so too did his frustrations with its set up in Ireland. That didn't stop him training twice a day most days, mind.
"I remember playing in the odd tournament and loving going out and playing with my brother. My dad's best friend coached me at the time and I really had a good time with it.
"I think the thing with kids, the most important thing about getting into a sport is that you enjoy it more than anything else. If you love a certain sport more than others, of course you're going to spend more time doing it. I played a lot of football, other sports, but I always had a special connection with badminton from an early age and that comes from my brother, my mum and my dad.
"Just before I moved to Copenhagen, I'd achieved some good results that put me in a category that not too many other Irish players had been in before, but my brother was in that category. There is a junior tournament at underage level — U13, U15 — and it's between Ireland, England, Scotland and Wales. My brother won it and then I was the next boy to do it. It's a small tournament, but if you did well at it, people started to talk about you as being a little bit special. Then I won an U19 tournament when I was just 15, that was a huge result, nobody had achieved that before.
It was then that I started to practice twice a day. I used to drive over at 5.30am to the north side, I'd pick up a guy who was in his 30s who I practiced with a lot at the time. We'd drive back to Terenure and we'd practice together from 6.15am to 8am when he'd take the bus back to work and I'd drive back to school.
"The funny thing is, there was nothing in badminton in Ireland for up-and-coming players. There was no full-time coach, there were no-full time players, I was just lucky to get a key to the badminton hall to be able to go in and get a few hours of practice in so early in the morning.
"Now, if you look at the stage where Badminton Ireland is at now, it has a full-time coach, a national centre where there's practice every day and we have a couple of places at the Institute of Sport so some of the athletes are getting looked after with everything from a physio to nutrition and weights programmes. It's such a difference from when I started."
The absence of any sort of path to becoming a professional would prove too much. Bored in school, bored with the lack of real competition, Copenhagen came calling. Looking back with adult eyes, it feels like an incredibly ballsy move. But Evans was still a child. In his own mind he was invincible, he was infallible, it was absolutely the right thing to do.
Until he got there.
"I knew I could get better if I had better coaching and played against better players, but I had no opportunities in Dublin. So, for me, the only thing I could do was go to Denmark where badminton is huge. I knew school wasn't for me, I didn't enjoy going and sitting in class doing maths and geography, I just had no interest in it. Instead, I wanted to do something that I loved on a daily basis and that made it very easy for me to say to my mum and dad that sitting in a classroom just wasn't for me and that I needed to give badminton a proper go.
"At that stage, you've no clue what's going to happen, no clue if it's going to work out or be a disaster. But you have that stubbornness of a teenager who just wants to do what you want to do, so you just go for it. It was sad for my mum and dad, of course it was much tougher for them but, for me, I just wanted to play the sport I loved so it seemed easy at the time.
"But I remember the first week I moved to Denmark. It was January and it was fucking freezing. There was just snow everywhere and it was pitch black in the morning, only getting bright at 10am and it was dark again at 4pm
"I was in a house with four other players, going to practice twice a day and, because I was practising full-time, I'd no energy to do anything else. My first eight months over there was basically get up, eat breakfast, go to training, come back, eat lunch, sleep a bit, wake up, eat, go back to practice, come home, have dinner and go back to bed again. That was it, every day for eight months.
And it didn't start off great for me either. Literally the first week I moved there, I got a huge shock with the weather but I'd also eaten something bad so I had food poisoning for the first four days. I was incredibly ill with that and, to top it all off, I was missing my dad's 50th birthday party. As I was lying in bed in an absolute heap, he rang me when my family were all together for his birthday and he put the phone on loudspeaker and I remember chatting to everyone back home thinking 'What have I gotten myself into?' I was stuck in a bed, in a foreign country, I don't know the language, I'm in a heap puking, just wondering what the hell was going on?
"It was a shock, but I wanted to play full-time so much, I stuck at it. Now I'll never, ever tell anyone it was easy, because it was tough for me. There were plenty of times during the first eight months that I had doubts that it really was for me. A couple of the Irish players have tried to do this and they've realised it isn't for them and they've moved home again. So it's certainly not for everyone but I just kept at it, kept digging away."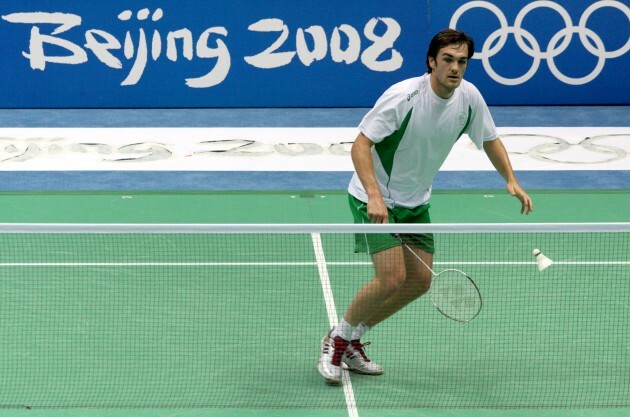 Lorraine O'Sullivan / INPHO Evans making history at Beijing in 2008. Lorraine O'Sullivan / INPHO / INPHO
The effort would eventually pay off.
In 2008 Evans qualified for the Beijing Olympic Games, becoming the first Irish man to represent his country in the sport of badminton. For a man so proud of his nation, who loves few things more than pulling on an Irish shirt to play as the tricolour waves courtside, it was a moment that you would think would mean a lot personally.
But, once more, it was the sport of badminton that was front and centre for Evans.
"To be honest, I've never once thought that, because I was the first male to play badminton for Ireland at an Olympic Games, that it was — in and of itself — an achievement. I don't know, for me, for my career, it was just part of the overall journey. But I never thought of it as making history or anything like that, I only thought of it as something that would help the sport of badminton in Ireland by giving it some more publicity.
But it's funny how these things turn out. I got to the Olympics in Beijing and I lost to Marc Zwiebler in a very close match that could have gone either way. 12 years later and I end up playing Marc again in Rio, only this time, it goes my way and I'd go on to have a very good Games.
"That result in Beijing though, I can't tell you how much that hurt me for so many years. Even just playing Marc. Every time I met him in a tournament after 2008, the Beijing feeling I had after I lost to him came back to me and I always found it very difficult to beat him. I just couldn't get over it."
2012 brought another Olympics and another first round loss, this time to China's Lin Dan, the world number one. There was no shame in a loss to a player of that calibre, but after his personal struggles in 2011, it just felt like the sport might be getting away from Evans a little bit. Was he wrong to have invested so much time, poured so much of his heart into a sport when it must have felt he was getting so little in return?
The night, as they say, is darkest just before the dawn and 2012 would end for Evans with — until Rio 2016 — the biggest moment of his career, victory at the Irish Open.
"I can't explain the feelings that I had the moment I won that tournament. I literally don't have the words. The amount of joy I felt in my body and my mind was out of this world. It was really a huge thing for me.
The first time I went out to watch the Irish Open as a little kid, I was probably about six or seven at the time. I went with my dad and it took place in the same hall as where I ended up winning the tournament. I remember saying to my brother a couple of times that, if I only ever won one tournament in my entire career, I would like it to be the Irish Open.
"When you've been thinking about something your whole career, with the pressure you put yourself under being Irish and with the pressure that came with being the number one seed, to go on and win it that week was amazing. I couldn't hold it together afterwards either. If you go onto YouTube there's an interview where I just can't talk after the win because I was so emotional about the whole thing but I'm still handed this fucking microphone to give my reaction and I couldn't get a word out of my mouth," he laughs.
Dan Sheridan / INPHO Dan Sheridan / INPHO / INPHO
But what had changed for Evans, what had helped him over the line to win a tournament he'd focused on winning his entire playing career? As you may have guessed by now, a large part of it was his own drive and determination, but he had some help from an unexpected source. Keith Barry.
Yes, that Keith Barry.
"After what happened in 2011, I had to find out not just who I was as a person, but who I wanted to be. People in the badminton world saw me as a certain person, they knew my attitude, they knew my personality and I needed to change that in a lot of ways.
"For the first couple of months, I took that challenge on myself and something that I learned a lot over the years — I've worked with a lot of sports psychologists — is that, at the end of the day, the best way for me was figuring it out for myself. That's what worked best for me. During that time, every minute that I was awake I spent trying to figure out who I am, who I wanted to be and that period has absolutely led on to the person I am now and the results that I've achieved since, there's no doubt about it.
"But I did have some help along the way. Keith Barry, for example, was a huge help for me in 2012 before the Olympics. I mean, the conversations that I've had with Keith, and the things that he has helped me with, it's incredible. His approach to the psychology side of things is totally different from any of the other 15 or so psychologists that I've used since I was eight or nine years of age.
"It was just a matter of finding someone who, in a way, fits with your personality and for me, working with Keith I finally felt that his way of doing it was perfect and he was absolutely the right person to help me through a tough situation, through a very rough fucking period. Not only that, he helped me get to the next level in my career. To this day I still use the techniques he gave me and the things we talked about to help me and I'm so grateful for what he did for me. I have a lot of time for him and a lot of things to thank him for."
What followed was the most successful spell of the Dubliner's career. He won the 2013 Cyprus International, the 2014 Brazil Open and, by 2015, achieved a world ranking of 23. All that was left was to get to Rio to secure a first win at the Olympic Games.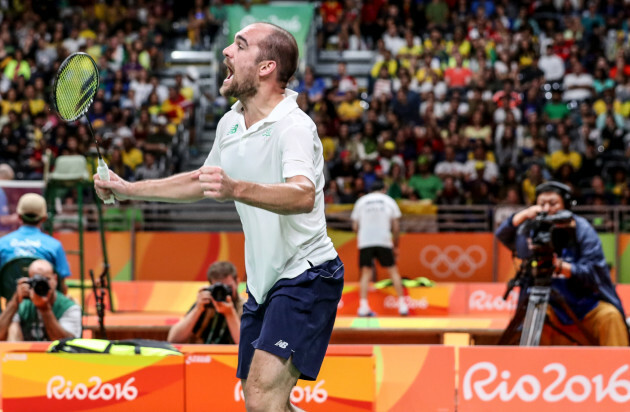 Dan Sheridan / INPHO Dan Sheridan / INPHO / INPHO
When the draw game out, the Badminton Gods had conspired to ensure that Marc Zwiebler, his nemesis from 2008 and in almost every match they had played since, would be in his group. And fate would dictate that he would play the German first.
History, world ranking and pretty quickly the score were on Zwiebler's side as he raced into a one-set lead, 21-9.
But Evans dug deep and, playing like a man possessed, took the second set 21-17. Even when he was 5-1 down in the third, Evans refused to give up and won 20 of the next 22 points to take the final set 21-7 to become the first Irish man to win a badminton match at the Olympic Games.
"People probably don't realise just how much the result in Rio meant to me," he says.
They'll look at it and say 'Yeah, great win' but it meant so much more than just a first win at an Olympic Games. I'm convinced that all these things happen for a reason. I can't help but feel it was on purpose that I was put into a group with Marc at Rio, it was just meant to be that I'd meet him and go on to finally win at what turned out to be my last Olympics."
It wasn't supposed to be his last, of course. Aged 30, Evans had hoped to qualify for Tokyo 2020 and while his announcement yesterday may have come as a surprise to many in Irish sport, he actually took the decision well before Christmas.
"It was back in November [when I decided to retire] so it's been on my mind for quite some time. I said to myself that I needed to sit down and really take a serious think about what I'm doing and really consider if I should keep going or not. The first couple of days were strange. I wouldn't say difficult, just strange. I suppose I never imagined myself having to sit down and consider stopping playing or a time when I'd have to make that decision.
"Since then, I haven't once thought of changing my mind. That's an obvious sign that it's the right decision. I have about five or six people who are very, very close to me and I started talking to them because you don't just take a decision like this on your own. You talk to people who you're close to and you write some things down and you walk away from it and go back to it and there's this process you have to go through, at least that's the way I did it. Of the five or six people who are close to me, not one of them said 'Maybe you should keep going' or 'Maybe you should give it another shot'. So, without me even realising, that was a sign it was definitely the right time to step back.
"My phone has been hopping non-stop since the announcement. A lot of people have been saying that they're so sorry to hear that I'm stopping and I understand where they're coming from. And, I suppose because of my personality and talking about the sport I love so much, a lot of people feel like they have a connection with badminton through me, which is such a lovely thing to hear. But these decisions have to be made at some stage or another and I just feel like I'm very lucky to have a really good opportunity present itself to me. You read a lot about athletes who, when they stop their career, they have nothing to fall back on."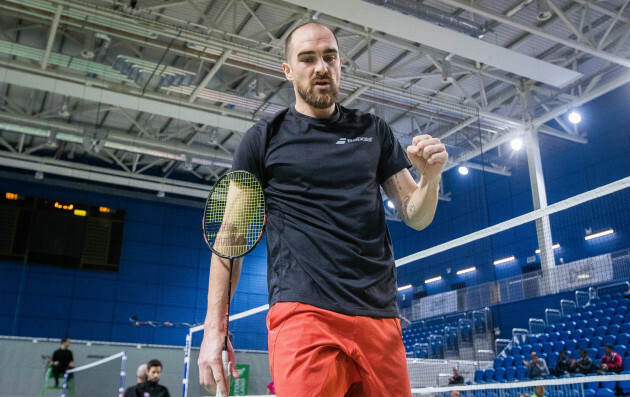 Ryan Byrne / INPHO Evans celebrates a point during his last Irish Open appearance. Ryan Byrne / INPHO / INPHO
That opportunity will see Evans remain in Denmark and stay close to the sport he loves.
"I'll be staying in Copenhagen for the near future, starting my own badminton academy. I'm not quite ready to say who with just at the moment because we're going to make an announcement on that in the coming weeks. But it's a huge part of my decision to retire. An opportunity like this doesn't come around all that often and there's no way I could let myself turn it down.
I'm extremely excited about it. I don't know if badminton is something I want to be involved in for the rest of my life but, right now, it's something that I get so much energy from and something that means a lot to me I have to stay involved. I love the sport, I'll always love the sport, no question about it, and right now it's a good time to do it.
"As with everything, I've done in my career, I'm just going to get stuck in. I'm going to work my absolute arse off, learn as much as I can now and try to be the best coach that I can possibly be. I'm going to try to be the best person I can be at passing on all the knowledge that I have gained. Obviously, with the career that I've had and the circumstances that I've been in, I really feel like I have a lot to give back and I just want to be able to pass what knowledge I have on in a way that other players can take on board and use to improve their game and take that next step forward."
There are still some matches left before we see the last of Scott Evans on a badminton court. He won't finally hang up his racket until May. He has played every day since deciding to retire and plans to continue to play every day his body will allow it.
The period between deciding to retire and announcing it officially has given Evans an opportunity to reflect on everything, from beating the shite out of his brother with a racket at the age of five to dominating a home court favourite in Ygor Coelho de Oliveira to qualify for the knockout stages of the 2016 Olympics.
But, as he has done his whole career, he's found himself thinking about the state he's left the sport of badminton in as much as his own achievements.
"I've had an incredible career, especially when you consider the circumstances and the position I was in when I started out on this journey. To achieve what I've achieved feels incredible and I never really had a chance to reflect on that during my career — I don't think people playing top-level sport every really do — but now that I've decided I'm stopping, I can't help but think back on it all.
I used to train five days a week on my own very early on in my career. It's very fucking difficult as a badminton player to train on your own. But that's where I started while people my age in Denmark had coaching with world-class coaches, getting to play with world-class players and I was able to come in, get to the same level and even become much better than some of them, even though I entered their system much later.
"People have asked me if I wonder, were my circumstances different when I was younger, what I could have achieved in badminton. But, for me, there's no point in thinking about that because it wasn't the case and I can't change anything about the past.
"But what I am really proud of is the systems in place for badminton in Ireland now. It's still not perfect at the moment for some players, but things are being put in place and that's the most important thing. You can't move forward without putting systems in place and, to be fair to Badminton Ireland, they're doing that and I've no doubt over the next couple of years there'll be more players coming into the system and getting better and better results because of that.
And I do feel like I've played a big part in that. A lot of messages I've received since the announcement was made public show that other people think I've played a big part in that. That's something I've very, very proud of.
"I'll always have a big heart for badminton, especially in Ireland and — like I said to Badminton Ireland and the Sports Council when I informed them I was retiring — if there's ever anything I can do, in any way at all, to help them or to support badminton in Ireland, then I'm only a phone call away."
Atlas may have shrugged, but you can't help but feel his respite was only temporary.
The 42 is on Instagram! Tap the button below on your phone to follow us!