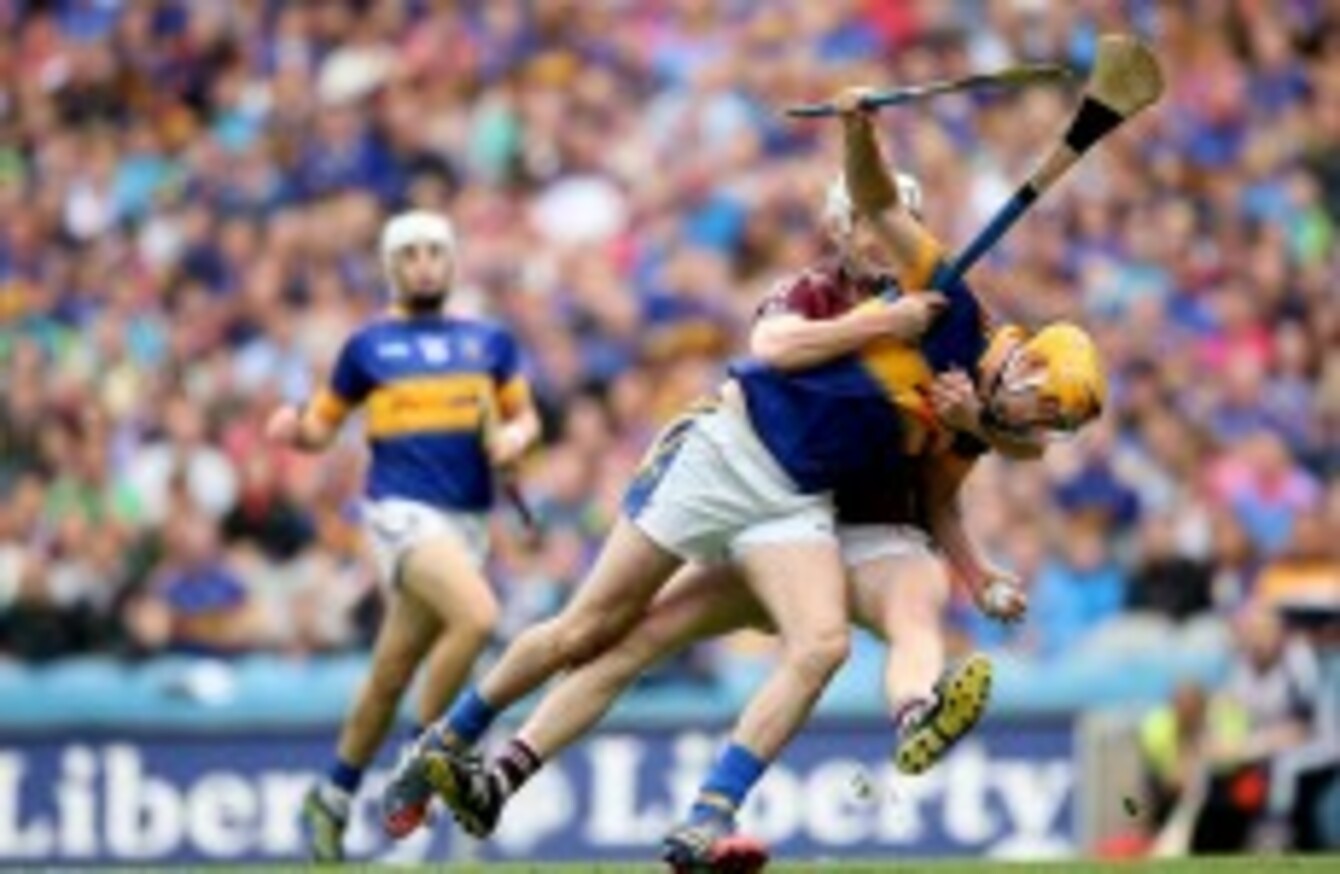 Galway's John Hanbury hauls down Tipperary's Seamus Callanan in the All-Ireland semi-final.
Image: James Crombie/INPHO
Galway's John Hanbury hauls down Tipperary's Seamus Callanan in the All-Ireland semi-final.
Image: James Crombie/INPHO
FIVE MINUTES LEFT in a breathless Croke Park clash and a key moment arrived.
Seamus Callanan was in explosive form for Tipperary in last month's All-Ireland semi-final with three goals to his name and a fourth on his mind when he closed in on the Galway goal.
Then defender John Hanbury hauled him down to concede a penalty that Galway only shipped a single point from.
In a game of tight margins that swung Galway's way by a point, it was a critical incident.
Almost four weeks on and Callanan is still feeling the effects of that clash.
"It was very sore, still is. I'm still actually getting physio on the neck. I'm getting bad pains in my head.
"There probably was (mild concussion), I didn't do anything for two weeks after it as regards club training.
"Just precautionary I got an MRI scan on it and thankfully nothing came through out of that. Just resting it, minding it and being careful.
"I'm back playing with the club already, it's nothing serious and nothing to be worried about."
Source: officialgaa/YouTube
On The Sunday Game that night the pundits deliberated as to whether Callanan was in the right frame to take the subsequent. penalty after dusting himself down.
"Maybe I shouldn't have taken the penalty but I was in a bit of form there and things were working out well for me," reasons the Drom-Inch man.
"But I was taking them in training, I was always taking them really so that was our decision to make on the field so we live by that."
He doesn't bear any ill-feeling over the challenge and is pragmatic enough to accept why the tackle was made.
"I suppose it was dangerous but I suppose if someone else at the other end of the field was after scoring three goals, someone would have to put a stop to it too," smiled the 26 year-old.
"Last line of defence and someone is going through, I think people are more aware of being cynical and stopping that.
"A goal is massive. It's more than three points, it's more a mental thing as well.
"Look Galway won the game. I'm not making an issue of that tackle, I've never thought about that tackle to be honest with you.
"I've just thought about us losing the game, that tackle meant nothing to me in the bigger scheme of things.
"It's been heartbreaking. I was at the All-Ireland final there last weekend and it was a hard day to put down when you're not involved.
"Obviously, we would have had aspirations of being there in September. From the start of the year, that was our main goal."
Callanan is one of a series of attackers who has had to get to grips with the modifications in the penalty rule.
"They're difficult to take because you're conscious of stepping over the line at the 21, you're taking it back about five yards to allow for your run-up to the ball.
"It's something probably in the back of your mind. The advantage isn't overly with the person taking it.
"In that instance, I had caught the ball on the edge of the square so it was probably a guaranteed goal.
"So to take it back 20 yards and give you the same one-on-one scenario with the goalie doesn't seem overly fair. There's nothing i can do about that."