SOMETHING HAD BEEN bothering Séamus Conneely for a long time, to the point where he mentions it on a couple of occasions over the course of the interview.
Two years ago, Conneely was part of the Accrington Stanley side that needed to beat Stevenage at home on the final day of the season to gain promotion to League One. They drew 0-0. A subsequent play-off semi-final ended in similarly heartbreaking circumstances.
After losing the away first leg 1-0, Accrington secured a 2-0 lead at the Crown Ground against AFC Wimbledon.
However, a goal by Adebayo Akinfenwa 22 minutes from the final whistle brought the game to extra-time, before Lyle Taylor's goal broke Accrington hearts.
For a team that had worked so diligently to fall at the final hurdle was a bitter blow. They had come so far, after many years of turmoil.
An obscure fourth tier side up until 1962, they resigned from the league amid financial difficulties and began the next campaign in the Lancashire Combination Division Two.
They would spend the next 44 years at various levels of non-league football, before gaining promotion to League Two in 2006. While they remained in the division for more than a decade, this period was by no means devoid of turmoil.
In addition to the two play-off disappointments, 2009 saw more financial difficulties with the club's future again under threat. Fans launched a 'Save our Stanley' campaign and their long-term future was secured, after £308,000 worth of tax debt was cleared.
Such resilience has led Accrington to become known as 'the club that wouldn't die,' so the 2015-16 campaign's culmination was nothing new to longtime supporters who have become accustomed to the numerous dramatic highs and lows that come with following the team.
After that near-miss of two seasons ago, Conneely and co had a relatively disappointing 2016-17 campaign. It was as if they had not fully recovered from the previous year's disappointment, and although they went on an encouraging run of form in the second half of the campaign, it was too little too late. They finished 13th, but were still only five points off the play-off spots.
Yet optimism remained. Before a ball had been kicked this season, the club's long-serving manager John Coleman gathered all the players for a meeting. The 13th-place finish of the previous year, he felt, had not been a true reflection of their ability and insisted that the team were good enough to secure promotion.
He said the goal this year was to get promoted and he believed we had a squad that would, could and should get promoted," Conneely tells The42.
"I think some of the lads bought into it straight away, others were a bit more sceptical. But we got off to a good start and after Christmas, it really kicked on and you could just see the belief in everyone growing — not getting carried away, arrogant or over-confident, just a quiet confidence that we were one of the better teams in the league."
AFC Wimbledon TV / YouTube
The triumph will have proved sweet for Coleman in particular, who has had an association with the club that has spanned three decades and almost 20 years. He first took over as manager in 1999. Accrington were playing in the Northern Premier League First Division at the time. Over the course of more than a decade, he guided them to three promotions, before finally gaining entry into the Football League.
In January 2012, however, Coleman left Accrington, moving up a division to take over at struggling League One side Rochdale. By that stage, he had become the third longest-serving manager in English football, after Arsene Wenger and Alex Ferguson. Explaining the reasons for his departure, he told BBC Radio Lancashire:
If the sum of your ambitions is to manage in League Two with a club who are on a small budget, I think our club wouldn't benefit from it.
"If our club didn't realise I was ambitious we'd possibly still be in the UniBond."
Yet the move proved short-lived. Coleman couldn't prevent Rochdale from being relegated to League Two and his contract was terminated just under a year after he was appointed. And following almost 12 months out of football, Coleman took over semi-professional side Southport, who were in the Conference National at the time.
It was another fleeting five-month stay in stark contrast with his lengthy Accrington reign, and Coleman was then named manager of Sligo Rovers in June 2014. But the coach's stint with the League of Ireland club would last just 88 days, before the offer of a return to Accrington Stanley proved impossible to turn down.
It was during his brief stint at Sligo that Coleman first came across Conneely. The player had been born in London, before moving to Connemara at the age of 10. He played at youth level with Mervue, before joining Galway United, and making his League of Ireland debut with them in 2007, having spent a year with the U21s.
After four years and nearly 100 appearances for the Tribesmen, in addition to a number of games representing Ireland at underage level, a 22-year-old Conneely got his big move to England, joining Sheffield United on an 18-month deal in January 2011. However, he failed to make a single appearance for the Blades. Having been signed by Gary Speed, the late former Leeds and Newcastle star accepted an offer to become manager of Wales. Micky Adams soon took charge at Bramall Lane and as Conneely bluntly put it in an interview with The42 last year, "the new manager didn't really know who I was".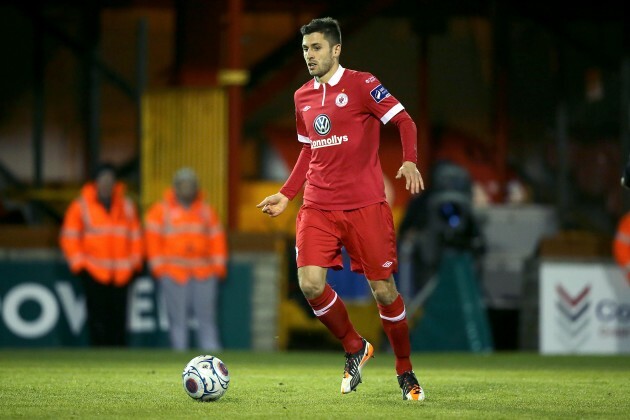 Morgan Treacy / INPHO Conneely pictured during his Sligo days. Morgan Treacy / INPHO / INPHO
He made a couple of appearances on loan at non-league outfit Alfreton Town, before returning to the League of Ireland as he signed permanently with Sligo Rovers, after his contract expired at the English club.
"I don't think I was ready to play," he says of his time with the Blades. "They were a Championship team. When I moved back over there, I never really had the confidence, never really felt accepted as if I was part of the team and for 18 months, I felt like this might be too high of a standard for me.
"Maybe if I was a bit more arrogant, I could have fit in a bit more, but I never really settled.
I wasn't that young, but I still found it very difficult. Although I knew England, I didn't know the north of England. All my family were in south-east London, four or five hours away.
"It's all part of making the move over and it's a big part of why a lot of lads don't make it. They miss the home comforts, they miss what they're used to. They're the best player in their team back home, and then when they move over, all of a sudden, you're in a group where you're not the big fish anymore, you've got to earn your way and you need to have not just the football skill, but the mental strength to make it and be successful."
Off the field, however, it wasn't as miserable as it tends to be for some Irish players who go away from home and suffer from a lack of game time.
"I met my wife over in Sheffield and now we have a child, so certainly, great things came out of it as well," he adds.
In his first season back in Ireland, after joining halfway through the campaign, Conneely made 13 appearances as Sligo claimed the league title for just the third time in their history (and first since 1977) under Ian Baraclough.
The next two years did not go quite so well results-wise, but Conneely continued to gain in confidence and he was also part of the squad that beat Drogheda 3-2 to win the FAI Cup in 2013 (he was an unused sub during that memorable day at the Aviva).
The player now looks back on this time spent in the League of Ireland as invaluable in terms of his development as a footballer.
I honestly think if I stayed in England, I wouldn't have become a professional footballer," he says. "I don't think I'd have made it through an academy, but with the League of Ireland, it gave me the confidence to believe I was able to play at a decent standard.
"To have three good seasons in the Premier Division, my belief and confidence rose from that. So without those seasons in the League of Ireland, I don't think I'd be playing full-time in England right now.
"I think I was a late developer. It's difficult to say, but at 15 or 16, I think I might have got let go. If I was playing with a team in London, I don't think I would have made it. From there, it's very difficult to get back into the game.
In Ireland, you've more time to develop. Galway had an U21 team, so that was the first side I played for. I done well and got moved up to the senior squad.
"It's all guessing, I don't know for sure, but I think the path I took was the best path for me.
"I was able to go back to Sligo and certainly, straight away felt at home again, like I was good enough to play, because I'd done it before for three years with Galway… I felt like I belonged again."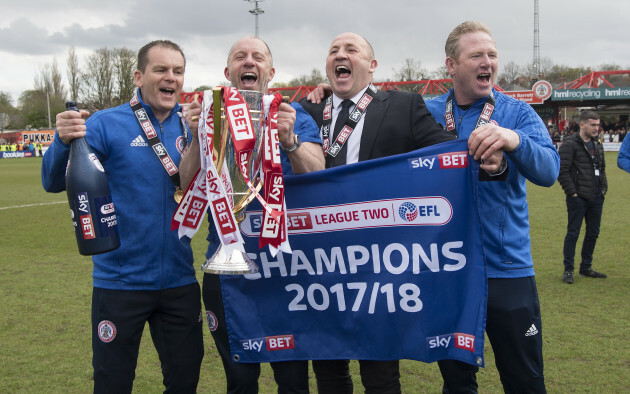 Dave Howarth Accrington Stanley's Manager John Coleman with his management team after the Sky Bet League Two match at the Wham Stadium. Dave Howarth
After impressing Coleman when the duo's paths intersected in Ireland, once the manager made the move back to England, Conneely soon followed.
It was going to be a 52-week contract on offer, which was a big thing for me. My wife is from Sheffield, which is an hour and a half away from Accrington. She'd moved with me to Sligo, so it was certainly appealing for her to move back closer to home."
It would be fair to say that after getting a second opportunity to try his luck in English football, Conneely has thrived. The 29-year-old has not only established himself as a regular in the side, but he has been entrusted with the captaincy of the club. Earlier in the season, Conneely — who can operate both in midfield and at full-back — spent time on the sidelines after a hernia operation. Speaking about the player around this period, Coleman told reporters: "Séamus probably epitomises the way we play, he is very calm, likes to get on the ball and play football. He represents our brand really."
Conneely is enjoying life off the pitch too.
"[My wife and I] live in a little village called Barrow, which is 20 minutes from Blackburn. We're very happy here. We've a little baby now, he was one last weekend — he keeps us on our toes, but it's great.
"The north of England is lovely, it's quite similar in a lot of aspects to home. The people are very friendly. It's not rural, but it's certainly not built-up city life."
Exclusive Six
Nations Analysis
Get Murray Kinsella's exclusive analysis of Ireland's Six Nations campaign this spring
Become a Member
Conneely and his team-mates have defied the odds somewhat to earn promotion, before a 1-0 win over Lincoln last weekend saw them confirmed as League Two champions.
"I was very disappointed two years ago when we didn't get promoted having been in such a strong position," he emphasises once again. "And until we beat Yeovil, and got promoted this year, I don't think we'd gotten over it. So that was such a satisfying feeling, having felt the disappointment of two years ago to put it right effectively, I'm very proud of that."
Dave Howarth Accrington Stanley celebrate winning the league. Dave Howarth
Other teams may have superior resources and finances, but Accrington more than make up for disadvantages elsewhere in terms of spirit and the kind of community feel that bigger clubs inevitably struggle to emulate.
"We often go into the bar just after the game on a Saturday and spend time with [supporters], mingle with them. We know them and they know us and we're able to talk to each other, which is great. It creates a family feel around the club. Then to get promoted and to be able to celebrate with the fans who have been on the journey as well was great.
"It's only a small club. We average about 1200 fans on a Saturday, the gate depends on who we're playing and what the away following is.
The supporters are putting their money back into the club by buying season tickets. Without them, Accrington wouldn't exist.
"It's only something small that we do for half an hour or 45 minutes. The fans certainly appreciate the chance to get to know us a little bit more personally.
"It's great, it's something that you're not allowed to do in many clubs, we have the opportunity to do it here, so I think we make the most of it."
He continues: "You get more of an appreciation of what it's going to mean, in the weeks leading up to us getting promoted, and they were really positive.
Us players, we were trying to stay level-headed. But you could see the fans were getting really excited, this was going to be a year when we went up. They'd tell you about the times they followed Accrington before. They were following them through the Conference, up through the lower leagues, and when they got promoted to the Football League.
"They'd often speak about two years ago, missing out on the final day and how much that hurt them, then losing in the play-off to Wimbledon after extra-time.
"You get more of a sense of what it's going to be like if you really do achieve promotion. Without that, you're just thinking about yourself, the team and celebrating your own achievement, whereas when you know how much it means to the fans, it definitely adds something more."
❤️️ Accrington striker Billy Kee opens up about his struggle with severe anxiety and depression. pic.twitter.com/qXniwRjgpu

— BBC (@BBC) February 12, 2018
And as much joy as this title triumph has elicited, football is still, after all, only a game, and this fact was put into perspective earlier in the season. Billy Kee, the 27-year-old English striker who joined the club in 2015 (after an earlier loan stint in 2009) and has managed over 50 goals in more than 100 league appearances bravely spoke out about his mental health problems.
If people were asked to name one player [associated with the club], people would probably think of Billy," Conneely says. "He's the goalscorer, he's scored over 20 goals for us this year, so he's certainly in the spotlight. For him to come out and speak like he did, I thought it was fantastic and it'll help others to realise that they're not the only ones going through what they're going through.
"If he helps one person, it's certainly worth it, so we were all very proud of Billy at Accrington when he did his interview [with the BBC] and I'm sure some good will come of it and that's very pleasing."
Such subjects were and to some degree continue to remain taboo, particularly in the traditionally macho environment of a football club. Former Millwall and Ireland underage player Richie Sadlier has spoken in the past about how, during his era in the late '90s and early '00s, openly discussing mental health problems would be perceived by some people in the game as akin to showing weakness, thereby potentially giving the manager an excuse to drop the player in question.
Coleman, on the other hand, showed genuine empathy towards Kee in this instance, giving him the time off needed to recover before welcoming the talented attacker back to the fold with open arms and in the process, highlighting the humane outlook and proud values that characterise this little Lancashire-based club.
Another thing that might make people wary of speaking about [their mental health] is that opposition fans can be very cruel," Conneely adds. "If you show any sign of 'weakness,' fans can jump on your back about it.
"So Billy was very brave to do what he did. He's certainly not the only person in football having difficulties in that regard.
"It's a confidential thing, but the Professional Footballers' Association will tell you that a lot of people, past and present players, speak to counsellors. People see it as a great job, and it certainly is a great job, but it's a short career and it can be difficult, so I'm glad that the help is there for players if they need it."
The42 is on Instagram! Tap the button below on your phone to follow us!