LAST NOVEMBER, SEAN Cavanagh quenched the doubts swirling around about his inter-county future.
Donall Farmer / INPHO Sean Cavanagh is back in Tyrone colours for 2017. Donall Farmer / INPHO / INPHO
He opted to prolong his days with the Tyrone senior side for a 17th season, a career that stretched back to his Red Hands introduction as a teenager in the league in 2002.
It's yielded him a treasure trove of prizes – 3 All-Ireland senior medal, five Ulster senior victories and five All-Star award.
Last season may have brought the giddy highs of an April league win in Croke Park and an Ulster title in July that resonated deeply.
But the season came to a shuddering halt when they were a single point in arrears of Mayo and Cavanagh's pain was compounded by that red card brandished in his direction in the second half.
Leaving on those terms was not an option in his eyes yet he is almost certain that 2017 will be his final throw of the dice.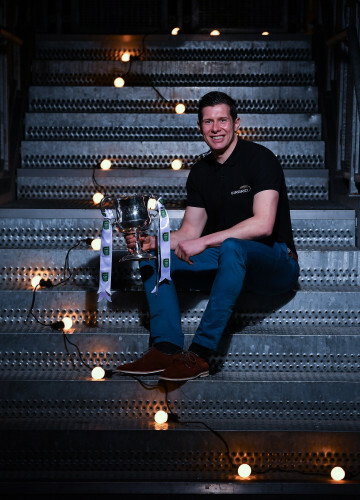 Brendan Moran / SPORTSFILE Sean Cavanagh at yesterday's launch of the EirGrid U21 football championship. Brendan Moran / SPORTSFILE / SPORTSFILE
"I'm pretty sure of that," says Cavanagh. "In my eyes, this is it.
"It was probably a week after the Mayo game, at that stage you were still demoralised, but at the same time I knew I couldn't leave it and walk away on those terms.
"My wife could read me more than I could read myself. She knew that I couldn't walk (away) in the way I left that Mayo game. Being sent-off wasn't ideal but we had greater ambitions and we expected to get through that game.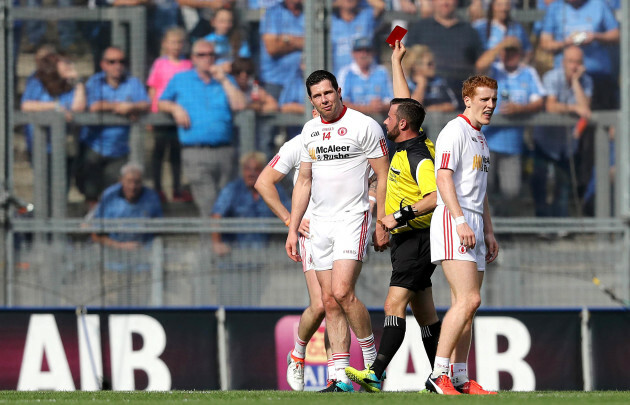 Ryan Byrne / INPHO Sean Cavanagh was shown a red card by referee David Gough. Ryan Byrne / INPHO / INPHO
"I really don't want to finish my career where I'm limping out and I know my body can't compete. It gets tougher every year but I feel quite strong at the moment and I feel as if I have something to offer.
"But I know as the years go on it will get impossible to do that. It's absolutely Baltic in Garvaghy (Tyrone's training centre) but I do love going up and training. I love spending time with the guys.
"I know that you'll never be able to replace that camraderie that you have with the team. That environment is a great environment to be in. I'm really enjoying it at the moment because I know that this will be the end of it."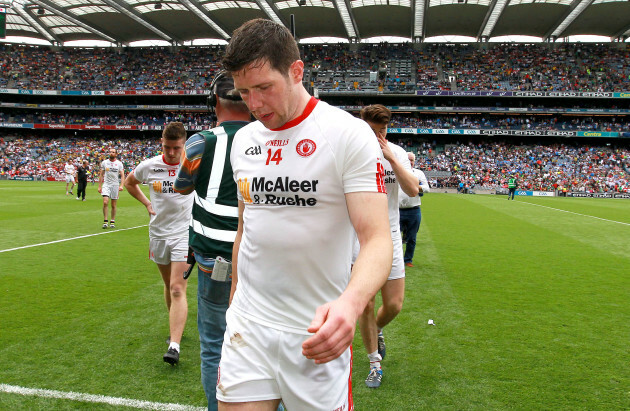 Lorraine O'Sullivan / INPHO A dejected Sean Cavanagh after last year's loss to Mayo. Lorraine O'Sullivan / INPHO / INPHO
Tyrone have returned to the top tier of league football this spring. In the last ten days, they have beaten Roscommon and drawn with Dublin but Cavanagh has been sprung from the bench on both occasions rather than starting at the heart of the battle.
"It's obviously something that I'm not all that used to," admits the Moy club man.
"But my body is feeling pretty good at the minute and I'm hoping to stay injury free. Like anyone in the squad, you want to have a starting position and I'm no different to the rest of the guys.
"It's head down in training time. That's a good place to be and I'm happy to fight like everyone else.
"I had a bit of a hamstring injury through January which meant I wasn't going to play any McKenna cup so I did miss a bit of time but I have been back this last two or three weeks."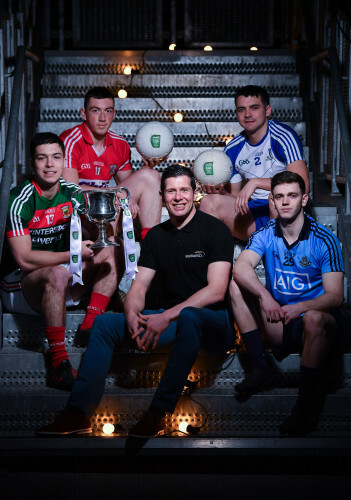 Brendan Moran / SPORTSFILE Sean Cavanagh with Brian Reape (Mayo), Sean O'Donoghue (Cork), Michael Murnaghan (Monaghan) and Cillian O'Shea (Dublin) at the EirGrid U21 football launch. Brendan Moran / SPORTSFILE / SPORTSFILE
It may be almost a decade since Tyrone reached the summit in September yet Cavanagh is absolutely convinced they have the capacity to succeed.
"Everyone keeps telling me you'll be retired long enough. so I said let's give this one more shot because I feel we do have a really strong side there at the moment and a side capable of challenging at the top.
'I feel I still have something to offer the team. I'd never like to think that I'd be living on a reputation or something like that. I have been incredibly fortunate throughout my career to win what I have won.
"But at the same time I don't want to be the person that is training once a week, where the rest of the guys are putting in the hard work. That was the basis I came back on this year that if I wasn't fit to do the things that everyone else was doing, I wouldn't do it.
"I know that will be more difficult next year and the year after, so I have it in my head that this is it."
Tyrone came so close to making a spring statement of intent last Saturday night. There were moments away from ending Dublin's unbeaten run in league and championship before Dean Rock nailed a late free to bail Dublin out of trouble.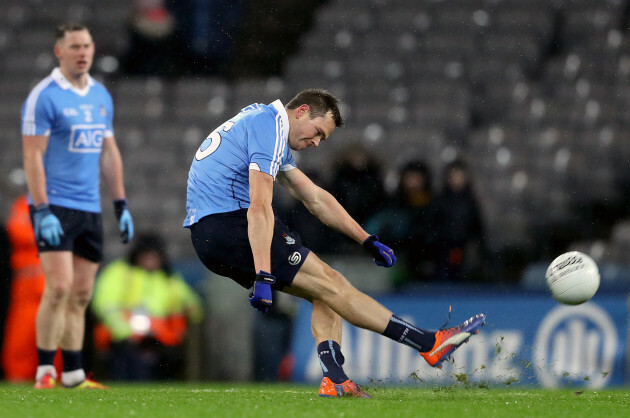 Tommy Dickson / INPHO Dean Rock's late free saved Dublin last Saturday night. Tommy Dickson / INPHO / INPHO
"Whenever you go away from that initial disappointment you realise you've just drawn with a team that have been unbeatable for the last two and a half year," says Cavanagh.
"As I said to the players afterwards, it's probably a good thing that we are disappointed because it shows where we set our standards.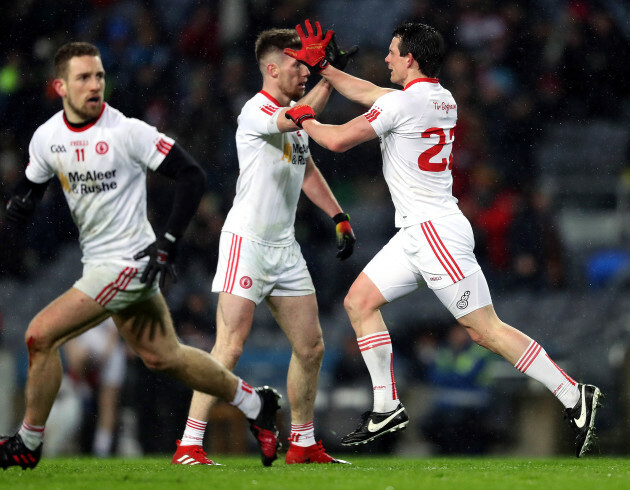 Tommy Dickson / INPHO Aidan McCrory found the net for Tyrone last Saturday night. Tommy Dickson / INPHO / INPHO
"Losing wee Sparky (Mark Bradley, who was sent-off), was a tough blow. The likes of Tiernan (McCann, black card) going off was a big blow to the way we play.
"Mattie Donnelly (missing through injury) was probably something similar. They're guys who carry the ball out and break into that space.
"I think even mentally it becomes difficult when we're down to 14 men. We probably felt that ourselves that we had to sit back and hold onto something.
"And, look, in hindsight that may not have been the right thing to do. We probably should have tried to commit more men forward and go at Dublin."
**************
EirGrid, the state-owned company that manages and develops Ireland's electricity grid, enters its third year of sponsorship of the U21 football championship
It has a programme of activity, including the introduction of the EirGrid player of the provincial championship, planned to promote the Championship and recognise the talent on display at this grade. #EirGridGAA
**************
The42 is on Instagram! Tap the button below on your phone to follow us!