LAST SUNDAY EVENING, Sean Cavanagh tweeted a heartwarming family photo with the caption 'First club championship since before I was born. Feels like I'm home'.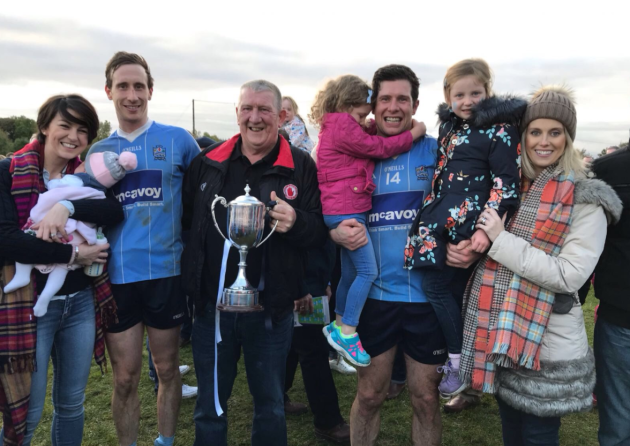 Sean Cavanagh Twitter. Sean Cavanagh Twitter.
His days in the Tyrone jersey may be over but Sean, and his brother Colm, were central to Moy lifting the county intermediate football title as they beat Derrylaughan on a scoreline of 2-5 to 1-7.
In doing so, the club ended a 35-year wait for the title.
"It was special," the 34-year-old smiles when the photo is brought up. It really showed how much winning the title meant to him, after lining out week in, week out with the club for the last 18 years or so.
"We hadn't won it since 1982 when my father was playing. We had been to a couple of finals since and lost. I played in the one in 2008 and we lost another one in 1998.
"I started out when I was 15 with the seniors so I have seen a lot of championship defeats and I thought it was never going to come. It worked out well on Sunday and we just got over the line.
"It was made all the more special to have dad there, Colm with his recent arrival and my wife — who is due again shortly — and kids. It was a lovely family moment at the end and we had great craic in the clubroom afterwards."
It was a stark contrast to the Sean Cavanagh we witnessed in Croke Park seven weeks ago, saying his final goodbyes to the inter-county game and everything that comes with it.
The Red Hand had been beaten by Dublin, and Cavanagh withdrawn in the 55th minute of his 89th and final championship appearance. From there, he sat in the Hogan Stand, spending poignant moments with his wife and daughters, until that final whistle sounded.
He made his way onto the field, shaking hands and sharing embraces, clearly emotional that this was the end of an era.
The county title win was perhaps made all the sweater because of his sorrow leaving the inter-county scene.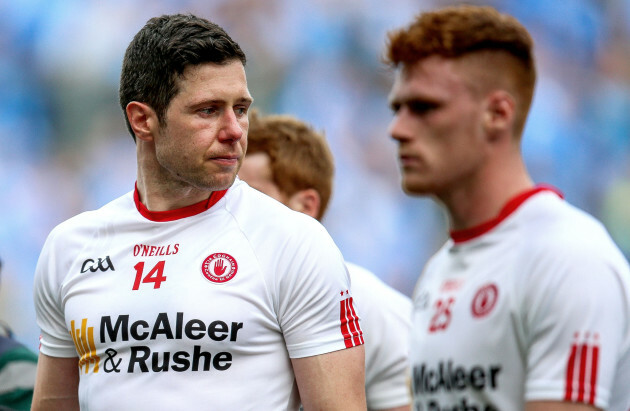 Gary Carr / INPHO Gary Carr / INPHO / INPHO
"The grieving process has probably not had a chance to set in because of the club," he admits.
"When I finished up against Dublin I knew it was over so I was able to go back to the club and go and enjoy myself. It was nice to go back playing with a smile, and to be back in among friends, having the craic at training and I've not really had the time to take in that the high pressurised environment I was involved in for so long is now gone.
"It is great be giving back something to a club that has been so good to me over so many years and that's given me so many great friends, You just feel free again, you feel you have a licence to go and play for fun again with a smile on your face and that is what I have been doing for the past couple of weeks.
"The matches have been coming thick and fast, we played the quarter-final, semi-final and final week-on-week so you don't have that much time to think about it. It has just been a very enjoyable last five weeks.
"The county thing will only hit me when I see Colm and the lads heading back to Garvaghey to go training and I'm sitting back with a newborn baby.
"I have been lucky enough to have had an incredible innings with Tyrone and at this moment I'm just fully immersed in club life. I'm really enjoying it. I didn't want to retire from football without winning something with the club.
"I didn't believe that it would come so quickly and [thought] that I would have had to hang on for another couple of years which I'll do anyway but it's a great relief."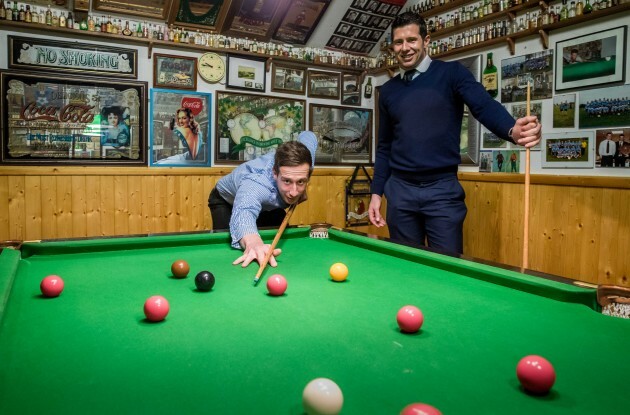 Morgan Treacy / INPHO Sean and Colm Cavanagh. Morgan Treacy / INPHO / INPHO
Focus now turns to the Ulster intermediate championship, where they've been pitted against Monaghan champions Carrickmacross Emmets for their opening clash. The fixture is penciled in for Sunday 29 October in Omagh.
Of course, the ultimatum for Cavanagh would be to reach Croke Park one more time, and with his club, but he's keeping those thoughts at bay.
"Of course that would be special," he smiles. "I would be more delighted if it happened for the guys who have soldiered so long with me.
"There are a few guys who have been there for 17 or 18 years trying to win a championship with Moy so if that happened it would be incredible.
"We're playing Carrickmacross in a couple of weeks and that game will have special significance because it will be the first time that we have ever represented Moy outside of Tyrone.
"You are getting messages from other clubs saying 'I hope that you represent Tyrone well in Ulster' and that brings it really home and it gives you a real buzz that your community is now getting the chance to stake a claim at that level.
"It's a proud time to be from Moy and it is probably perfect timing from my perspective that I have just walked away from something that I was involved in for such a long time and I am now able to put my energy into my club which I have loved even longer.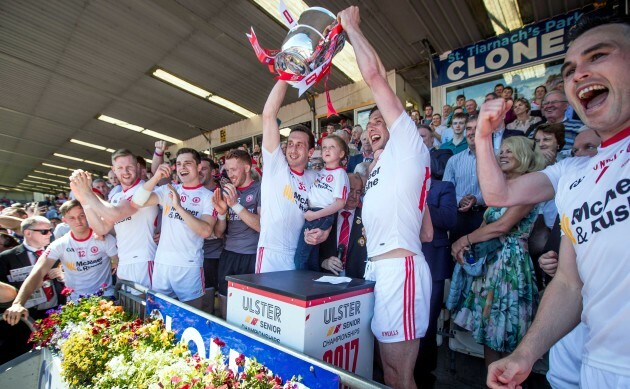 Morgan Treacy / INPHO The brothers lift the Anglo Celt Cup in July. Morgan Treacy / INPHO / INPHO
"It is a perfect ending to the year as opposed to the Dublin game than I could have ever imagined."
The county win and club commitments change Cavanagh's GAA outlook for the rest of the year.
He would have been considered by Ireland International Rules manager Joe Kernan for the Test matches in Australia on 12 and 18 November. He captained Ireland in 2008, and the International Rules is something he's always loved doing.
"But there's certain priorities," he told the Irish News the week before Moy's victory.
The future of the game is quite up in the air at the minute with the uncertainty around GAA fixtures going forward, and the Club Player's Association (CPA) rallying for change.
Cavanagh continues: "It is a game that I always loved playing and I know the guys who aren't involved with their clubs at this time of year really enjoy it but it does boil to what the GAA intend to do with the fixtures and where the AFL need it scheduled to fit in with their fixtures.
"An awful lot will be dictated by that. As well, attendances have waned slightly over the past five or six years so it needs a good series this time down in Australia for people's interest to be reignited.
"The reality is that once the fighting and the violence went out of it, interest waned. I still think it's a great spectacle and the players love it but it will come down to where it fits into the fixture schedule.
"It is disappointing for the likes of myself, I would have loved to be involved this year and I am sure so would the likes of Peter Harte but he's playing in a county final.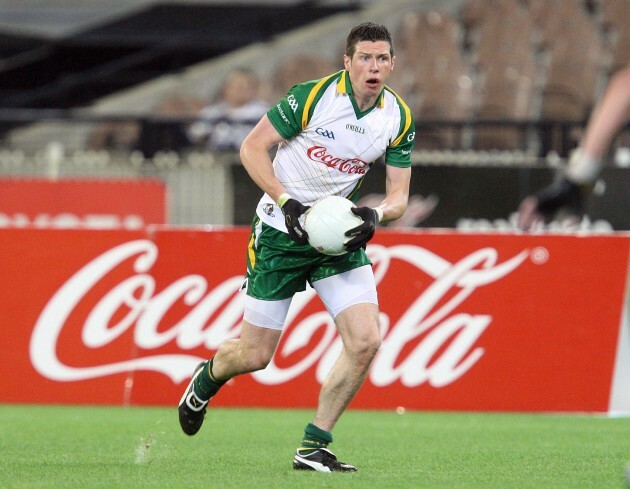 Cathal Noonan / INPHO Cavanagh in International Rules action in 2008. Cathal Noonan / INPHO / INPHO
"You are getting to the point now where the best players are not getting the opportunity to play for Ireland which also diminishes it as a concept.
"There are a lot of variables there that could pour cold water on the series, but I always loved playing it and I know so did the guys I played with. It comes down ultimately to what those in charge want to do in terms of setting fixtures."
And looking further into the future, is the management and coaching side of football something that would interest Cavanagh?
This summer also brought Karl Lacey's retirement from the inter-county game, and  this week he was confirmed as part of Donegal's coaching team from next season.
The Moy man says it is something that interests him, but not for some time yet.
"At some stage I probably will get that urge. I never want to be disconnected from the game and I am going to be involved playing the game at club level for the next few years but possibly after that I may be able to get involved in some managerial aspect.
"I have a tendency to overthink things so if I ever did go into such a role it would want to be the right time from my family's perspective.
"I would say no in the short-term but in a few years' time it is something that I would have to consider. I will spend a few years with Moy before that happens and try and catch up on the time I missed out."
Sean Cavanagh has been named as the Gaelic Writers Association 2017 Football Personality of the Year. 
Subscribe to The42 podcasts here: