THERE IS A talk from Sean Dyche that sticks in the mind of former Burnley defender Stephen Ward.
In truth, it is one Everton fans will be hoping their new manager doesn't have to repeat at the end of this season.
The 2014/15 Premier League campaign was almost over and Burnley were unable to avoid relegation before their final home game with Aston Villa at Turf Moor.
Vultures were already circling with Liverpool lurking around star striker Danny Ings and Kieran Trippier lined up for a move to Tottenham Hotspur. Morale was low as the Championship beckoned once again for a group of players unsure if they would ever return among the elite.
"He still gave us belief that we could get back there and be part of it for an even longer time," Ward says, recalling the moments before that Villa game.
"In the team meeting there was nothing about tactics or anything like that. It was 'listen lads, everyone wants to play in the Premier League, everyone is going to want to leave and everyone's agent is going to be making calls for it to happen'. But he told us he couldn't get rid of us all.
"He admitted one or two will go for the right price, but that if we stuck with him, stuck with the club and got around the fact that we might have one season back in the Championship, we would get promoted if that core group stayed together.
"And we all sort of went off that summer trusting what he told us, and the next season we were able to get back with him."
Dyche has four months and 18 games to avoid having such a conversation again. Everton are only two points away from 17th and three off 14th, so it's by no means a lost cause.
But they are close to rock bottom following Frank Lampard's departure, losing all three games in January and not savouring victory since a 3-0 win over Crystal Palace on 22 October.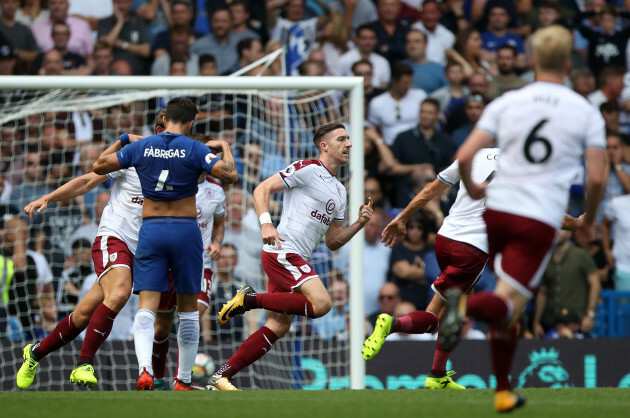 John Walton Stephen Ward (centre) celebrates scoring for Burnley against Chelsea. John Walton
The continued decay on the pitch, having barely survived the drop last season, is only part of the reason for the club being in disarray. Fans have continued to call for the entire board to leave, with the executives advised not to attend the recent defeat by Southampton for fears over their safety.
Owner Farhad Moshiri is reportedly open to offers for any willing buyers, while a new stadium at Bramley-Moore Dock is due to open ahead of the 2024/25 season.
Dyche's current contract runs out at the end of that campaign. The hope for Everton is that it's one in which he begins to make them a stable Premier League entity, rather than battling for promotion from the Championship.
It is league leaders Arsenal at Goodison Park for the early afternoon kick-off today and a week on Monday it's Liverpool at Anfield.
If Everton can somehow prevent the current gap to safety becoming a chasm, than Dyche will view his first week in the job as a success.
"He's got very strong beliefs in how own ability and ideas of the game. It's very much a place of work, it's serious. You leave ego and everything else at the door and once you step into the building all that matters is working your hardest," Ward continues.
That was evident when a video of the Everton squad doing a bleep test during one of his first training sessions went viral online.
Dyche made sure to explain that wasn't some sort of random punishment from a new sergeant major when he was unveiled, insisting it was about seeing the various benchmarks required to compete in the Premier League.
"He is honest and transparent at all times with you," Ward continues. "You know what he expects from you and if you are delivering you will keep your place. There are no excuses.
He always faced everything head on and would be up front. In pre-season when we would do those bleep tests he would say 'listen, lads, I won't lie, tomorrow is going to be a tough day'. He has a relentless work ethic and expects the same from his team."
Dyche is a manager who will take charge of a training session when it's a matter of team shape, but allow his assistant and coaches the freedom to run different elements.
"But he is immersed in it all, he is there for every kick of the ball and doesn't allow any cutting corners. He has his standards and won't miss a minute of training, it's about working every day with an intensity but also about knowing exactly what he wanted. Someone like Seamus [Coleman] will be right up his street.
"For tactics and little details within a match, Everton players will have clear and precise instructions, he's not one for barking orders and shouting for the sake of it.
"Then there will also be the freedom for players to play and express themselves at the right time. When he trusts you, he will play you."