IN 2011, FORMER Irish Supersport champion Sean Hurley sat down with his mother to discuss his future.
They talked about the possibility of him running a marathon, a potential return to school, and plans to one day set up his own motorcycle racing team. They set out goals and he left the discussion with a clearer vision of what his future would hold.
Two weeks later Sean was killed in a road traffic accident when his car hit a ditch while driving to his home in Ballinhassig, Co Cork.
"It turned out to be his bucket list," Paul Tobin tells The42. "No one was to know what would happen."
Paul is manager of Team #109 Kawasaki, the Cork-based motorcycle race team set up as part of the Sean Hurley Young Rider Development Programme.
"There was about 15 items on the list and his friends and family decided to complete it for him.
"One was to run a race school and a race team. We picked up the baton on that and ran with it. It's kind of grown arms and legs and kept going. This is where we are today."
And where they are is on the brink of history.
In his first season on track in the Dickies Junior Supersport class, Derry rider Eunan McGlinchey is on course to land a first ever British Championship title for an Irish team.
Not only can the 20-year-old clinch the title this weekend at Brands Hatch Circuit in Kent, he's on course to do it in style.
In his maiden season in the championship, he's landed seven victories and another 14 podium finishes to open up a 43-point gap ahead of his nearest rival, Brian Hart.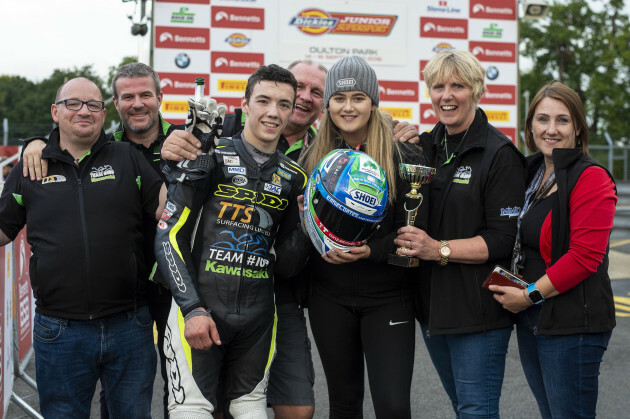 James McCann Eunan McGlinchey with Team #109 members (l-r) Martin McGlinchey, Paul Tobin, Dave Hurley, Shannon Grant, Maired Hurley; Donna McGlinchey. James McCann
In this, the penultimate race of the season, a seventh-place finish will be enough to secure the title.
"To win a British Championship would be incredible," Paul says. "I'm sure Sean would be incredibly proud. Speechless."
Eunan's progress through the campaign is symptomatic of the work the team has done to be on the precipice of a first championship crown.
"It was his first time on the track — he'd raced on tarmac for the last 18 months because he had been involved in motocross before that," Paul explains.
"He won a couple of championships last season at home and that's why we decided to take him across this year.
"In his very first race at Donnington Park, he won that race by two thousandths of a second. It was quite a tight race.
"That set the tone for the rest of the year for us and every race that he's been involved in since then.
"He's racked up so many points that he could have claimed the championship in the last round.
"What makes it so impressive is that he's never been to the UK tracks before. He had to learn the tracks as he went. He's a special talent."
Undoubtedly so, Eunan's skills had to be honed to suit the championship and he's had the help of British Supersport rider Glenn Irwin.
"Glenn does training with the guys and gives them programmes when they're away from the track. He provides them with professional advice as to how to conduct themselves in interviews and with the media while they're at the circuits.
"He goes out with the guys on a track walk every Thursday before every race meeting just to give them some of his wisdom and experience since he's been competing on those tracks for the last seven or eight years."
He added: "It's great to have someone who is so experienced in the sport on the team and he wants to help the lads because he knows himself how difficult it was to go across and compete."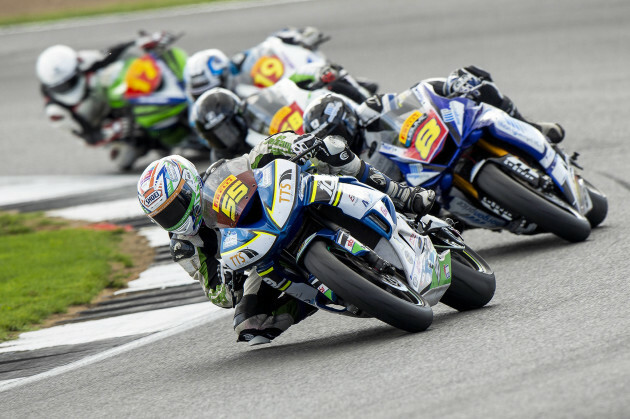 James McCann Kevin Keyes leading Grant Newstead, Cameron Lee, James Alderson and Josh Wood in the Pirelli National Superstock 600 race. James McCann
Eunan's "unusual style" made him stand out in circuits on this side of the Irish Sea, something that had to be ironed out as they went from race to race since April of this year.
"It was very loose. The bike used to get out of shape an awful lot. He was a very exciting rider to watch but he was always within an inch of crashing all the time.
Exclusive Six
Nations Analysis
Get Murray Kinsella's exclusive analysis of Ireland's Six Nations campaign this spring
Become a Member
"He was lucky to get away with crashes at home. Since riding the UK tracks, he's adapted his style to the circuits in Britain. That's a massive credit to him.
"Now, he looks far more accomplished and comfortable on the bike."
With a historic victory on the horizon, Paul is looking to next season and how he can grow the team further.
"Eunan is probably good enough to go up to Supersport [a division with more powerful bikes] next season. We felt that if he goes in there, he'd probably be running within the top 15 more or less straightaway, and before the end of the year push into the top five.
"We said we'd start him in the Superstock next season. He'll be a front-runner from the word go and therefore you'd be keeping his name in lights."
With other riders involved with the team including Kevin Keyes and James McManus, Paul doesn't need reminding how far the team has come in just four years.
"We only started out with one machine, but now you can see that this platform is working.
"Any riders that came over with us on the first day moved on into the championship themselves.
"We were able to give money to Irish riders back home to give them a bit of a head start for their season riding at home.
This is exactly where Sean would want us. He could only have dreamed of this."
Sean's absence will be felt tomorrow more than ever should Ireland's fledgling team and rider claim victory, but the result will be a credit to his legacy and the type of platform he wanted to build all those years ago when he set out a vision for his own future.
A vision, unfortunately, that he never got to see through.
– Updated 10.38am: An earlier version of this article incorrectly referred to Sean Hurley's death in 2015; Sean died in November 2011.