SEAN KELLY LEANS forward in his chair in the hotel lobby. There is nobody in a better position to assess the current health of Irish cycling but he takes a second to consider his answer.
It's ten years since he established the An Post Chain Reaction team and the landscape of the sport has changed considerably in that time. Cycling has been rocked by endless scandals and its reputation tarnished by a doping epidemic.
It has come through the other side and turned a corner but as Kelly oversees the team's preparations for the new season, he is still working within limitations.
The doping problems, personified by the downfall of Lance Armstrong, set the sport back years as it lost its integrity in the face of systematic doping.
It painted a disturbing picture, although not every team or rider could be painted with the same brush.
"It has been difficult," Kelly says of enticing benefactors on board. "We rely on a lot of Irish sponsors and it became difficult. Sponsors were scared of cycling with the doping problems we've had but the confidence is coming back.
"People feel comfortable getting involved again but it's only certain companies. If you look at a consumer product like a food or drink and there is a doping problem, that hits them big time."
An Post are team sponsor for a ninth season in 2016 and one of Kelly's primary roles is to engage with potential supporters during the winter months.
As the years have progressed, he's taken a step back with manager and Director Sportive Kurt Bogaerts overseeing the day-to-day running of the team.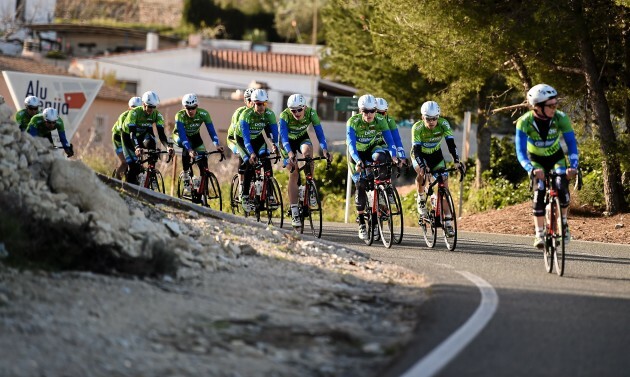 Paul Mohan / SPORTSFILE The team during their two week camp in Spain. Paul Mohan / SPORTSFILE / SPORTSFILE
They enjoyed one of their most successful ever seasons on the UCI European Tour last year with Ryan Mullen earning a contract with Pro-Continental level team Cannondale-Garmin while Conor Dunne moved to British-based team JLT Condor.
And that's ultimately what Kelly's goal is. The platform of a development team provides young Irish riders with the chance to showcase themselves on the continent and use it as a passage to the next level.
"In hindsight, things change," Kelly continues at the team's training base in Calpe. "Your expectations change a bit over two, three, four years and that has been the case for us.
"When we set up the team, we said we'll try it for a year and see how it goes and then you go on for another and we're certainly happy with the way things have gone.
"One of things that I would say from an Irish point of view, we would have thought at the beginning we would get more Irish riders into a higher level and it took a long time for us to get the first guys. Sam Bennett was the one and it took quite a number of years for us to do that.
"Other than that, if you look back on a whole for the time we've been on the road, we're happy with the way the team has worked, how things have worked out. More recently, last three of four years, we had hoped and ideas to move up to the next level but our budget hasn't allowed us to do that just yet."
The An Post team line-up was announced at the team's launch last week with the 16-man squad including 13 new signings. Riders come and go frequently, it's the nature of the business, and Kelly is only too delighted to see a large turnover if it means his riders are moving on to bigger and better things.
Once again, the squad boasts a strong Irish contingent with national road race champion Damien Shaw among those in the squad while the addition of students Sean McKenna and Angus Fyffe is further evidence of the investment in youth.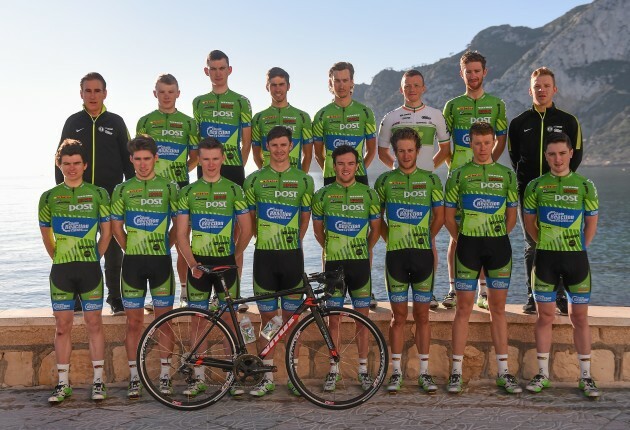 Paul Mohan / SPORTSFILE An Post supports the Sean Kelly Team to help create top sports people who represent Ireland at the highest level of the sport. Paul Mohan / SPORTSFILE / SPORTSFILE
"We want to develop Irish riders when they come out of juniors and take them along and try and move them to the next level and it took longer than we had planned to get guys moving on but now that's happened and we've done well with Bennett and Mullen and hopefully we can do it again this year," Kelly continued.
"But we haven't a lot of younger riders coming through. We've got a huge amount of people cycling as a leisure activity but in terms of racing we don't have as many as we would like to see.
"If you have someone at that level like back in the UK with Bradley Wiggins winning the Tour, that gets huge coverage and has a snowball effect. If we had something like that in Ireland that would really speed up things with younger people getting involved in the sport.
"If you look at the number of Cycling Ireland members it's gone huge but they're all leisure cyclists and then there is a lot of competing in the older cateory getting.
"But for the younger generation unless you have the glamour of TV coverage in Ireland, the struggles will continue."
With the Rio Olympics on the horizon, Kelly believes a strong performance from Dan Martin in the road race could act as a catalyst for further growth on this island.
"If you look at the Olympics and Dan Martin, if we could get a performance where he could win or get a result in the Olympic road race, well that would be huge for cycling and generating interest in the sport among young people. It would amazing to get a result like that."
Kelly has long been a central figure in the sport and has continually worked to nurture young Irish talent and provide them with the springboard for success.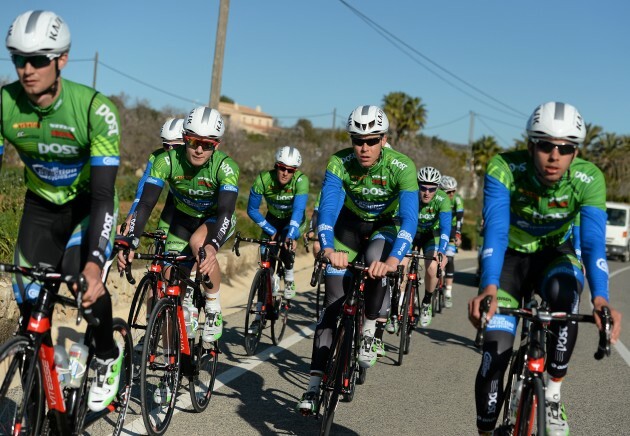 Paul Mohan / SPORTSFILE The team's season begins this weekend at the Grand Prix Cycliste la Marseillaise. Paul Mohan / SPORTSFILE / SPORTSFILE
As part of his role, the 59-year-old works closely with Cycling Ireland and the Irish Sports Council to secure the necessary funding to advance the sport.
Great Britain's cycling boom was sparked by their success on the track in the Olympics but Kelly believes money has been wasted on trying to replicate that success over here.
"A lot of money has been put into the track in the last ten years," he says. "Huge amounts of money and there has been no return. For me, they've neglected the younger generation coming through.
"I've had quite a lot of discussion with the Sports Council about the way funding is distributed and nobody has listened. Road cycling has been neglected a bit and they've spent loads of money on the track but no results or velodrome to show for it."